Washington State was at the forefront of the COVID-19 pandemic in the U.S., and our state will be at the forefront of what it takes to support our communities, help those most at risk, and restart our economy in a safe and sustainable way. Be a part of a movement that is leading the way.
---
Love our cheap ideas? Get our FREE email newsletters.
Choose from daily, weekly, and monthly lists:
---
About All In WA
All In WA is a coalition of Washingtonians coming together to support the families and workers who have been most impacted in 2020 by the COVID-19 crisis. This coordinated statewide relief effort includes public officials, companies, philanthropic leaders, community foundations, United Way organizations, community leaders, frontline nonprofits, and individuals.
The coalition is focused on addressing issues around food security, help for undocumented workers and families, small businesses, homeless youth , and communities that are disproportionately impacted by the coronavirus, especially Black, Latinx, Native, Indigenous, and LGBTQ+ peoples. The goal is to mobilize committed community and philanthropic groups than can help provide immediate critical and emergency support across Washington State.
All In WA is bringing together individuals and organizations across the state to distribute immediate resources to those who are critically affected. The coalition is also laying the groundwork so workers and small businesses that make up our communities have the support they need to get up and running again.
The scale of the crisis is vast. Yet, the generosity and compassion of Washingtonians is greater.
Communities across Washington State are facing unprecedented needs as a result of the COVID-19 crisis. From Seattle to Spokane and Whatcom to Yakima you can help communities at the local level across the state through All In WA.
Funds donated to the All In WA Fund will be distributed in the form of grants to nonprofit organizations across the state. A Fund Advisory Group has been established to oversee the grantmaking process.
The All In WA Fund has no affiliation with any government entity and the distribution of funds is independent of any government involvement. All In WA is a registered tradename of Seattle Foundation, a registered 501(c)(3) organization.
Your donations go directly to causes, communities, and those in need of housing assistance, small businesses, families and children, essential workers, and more. Donate to the All In WA Fund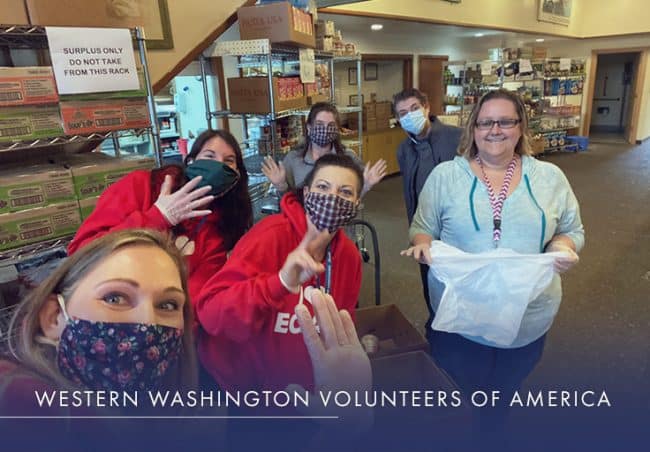 Matching donation to All In WA Fund
There is a $25M contribution in funds to match new donations, dollar for dollar, up to $1 million per unique donor. All new donations to the All In WA Fund, Community Funds, and Cause Funds will be matched dollar for dollar.
All In WA Concert for COVID-19 Relief
All In WA: A Concert for COVID-19 Relief by presenting sponsor Amazon, is a virtual benefit concert to bring attention to Washington State's needs. The funds raised during the concert will be used to help workers and families who have been most impacted by the pandemic.
The All In WA Concert live event airs Wednesday, June 24th at 7pm PDT at www.allinWA.org.
You can also catch the live broadcast on KING 5 (NBC, Seattle), KONG (Independent, Seattle), KREM (CBS, Spokane), KSKN (CW, Spokane), KVEW/KAPP (Tri-Cities/Yakima), and KGW Portland digital Subchannel 8.2 (Justice Network).
Thank you to presenting Sponsor @Amazon, Community Leadership Sponsor Microsoft, and additional sponsors including: Laird Norton Family Enterprise, Seattle Genetics, Puget Sound Energy, Avista, Madrona Venture Group, Premera Blue Cross, Russell Investments, and Zillow.
Virtual concert lineup for Concert for COVID-19 Relief
Allen Stone
Benjamin Gibbard
Bill Nye The Science Guy
Brandi Carlile
Budo
Ciara
Courteney Cox
Dove Cameron
Jeffrey Dean Morgan
Joel McHale
Macklemore
Mary Lambert
Mimi Jung
Nancy Wilson
Noah Gundersen
Pearl Jam
Pete Carroll
Prometheus Brown
Rainn Wilson
Russell Wilson
Ryan Lewis
sirmixalot
Sleater-Kinney
The Black Tones
The Head and The Heart
and more…
More info: https://www.facebook.com/events/613118722628403/
Stay home, stay safe, and go #allinWA with people across the State as we celebrate the resilience of Washington and support our neighbors in need.