President Barack Obama will deliver a commencement address to our nation's three million high school seniors on May 16 at 8PM ET/PT, 7PM CT/MT. This one-hour primetime special airs on ABC, CBS, NBC, and FOX, and will be streaming on multiple online platforms.
The event titled "Graduate Together: America Honors the High School Class of 2020" will reflect on the COVID-19 pandemic's disruption of their lives, especially seniors who have missed out on milestone rites of passage, such as proms, graduation ceremonies, parties, and senior trips.
Artists, athletes, musicians, commencement speakers, influencers, and cultural icons will show their support with performances and messages featuring students, teachers, and their families from coast to coast.
Speakers and participants will include: LeBron James, Malala Yousafzai, Megan Rapinoe, high school students from Chicago public schools, members of the Obama Youth Jobs Corps, and others.
Musical guests include the Jonas Brothers, Bad Bunny, Pharrell Williams, and H.E.R..
Graduate Together social media
Join the event on social media #GraduateTogether on Facebook, Twitter, Instagram, YouTube, Snapchat, and TikTok.
"We've been coping with this crisis together. Now it's time to look ahead together. Let's start by celebrating the graduates of the Class of 2020 and the pivotal role they will play in rethinking and reshaping the path forward." — graduatetogether2020.com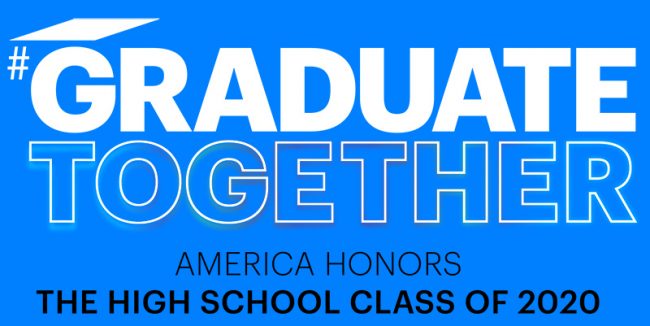 About Graduate Together
As coronavirus has prompted the cancellation of high school graduation ceremonies across the country, a broad coalition of partners joined together to pay tribute to millions of high school seniors, including The Entertainment Industry Foundation, The LeBron James Family Foundation, XQ Institute, to rally everyone around a message of hope and unity.
"This high school graduation season will be anything but ordinary — but that's all the more reason why the Class of 2020 deserves extraordinary advice, heartfelt encouragement, and hard-won wisdom about facing new challenges in an uncertain world," Russlynn Ali, CEO and co-founder of XQ Institute, said in a statement.