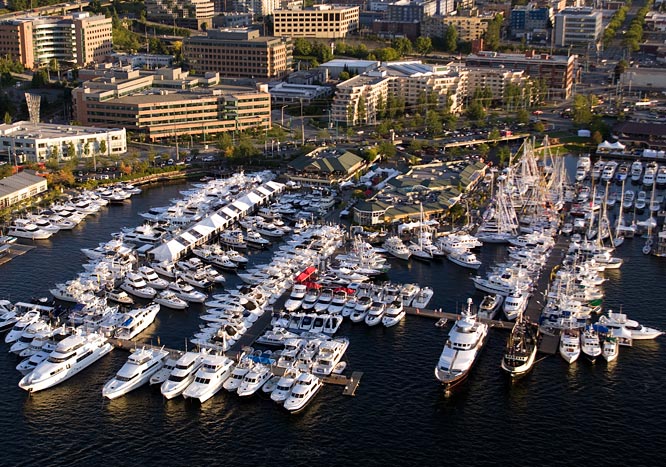 The Seattle Lake Union Boats Afloat Show is the largest floating boat show on the west coast. For the newbie looking to get into boating, or the boater just back from a summer of cruising and lusting after a bigger boat, it's the place to kick some anchors. With more than 200 new and used boats on display there are plenty to kick.
At the show you'll find new and used boats for every budget, activity, and lifestyle. From inflatables and dinghies, canoes and kayaks, personal watercraft, motor boats to sailboats, cruisers to mega yachts, working boats, and everything in between, Boats Afloat has it all.
2017 Boats Afloat Show Information
When: Thursday – Sunday, September 14-17, 2017. Hours: Weekdays 11:00 AM – 6:00 PM and Weekends 10:00 AM – 6:00 PM
Where: South Lake Union, 901 Fairview Ave N, Seattle, WA 98133.
Parking: Lots are limited near the show. For convenience, park downtown and take the Seattle Street Car directly to the show on South Lake Union. On Saturday and Sunday only, $3 all-day parking is available. Visit their website for maps and directions, or to purchase parking.
Tickets: $14 adults, $5 for kids 13-17. Kids 12 and under are free. 4-day pass: $25. Parking
Bonus online ticket purchase: Purchase your tickets online and receive free admission to the Museum of Flight, $10 to Chandler's Crabhouse and a one-year Sea Magazine/Boating World subscription. .
Free boat rides: Cruise Lake Union on a free 45-minute sailboat ride or a 20-minute electric boat ride right from the docks of the Boats Afloat Show. Every day of the show, Seattle Sailing Club will have 26′ to 35′ sailboats available to ride – get involved and help handle the lines or even steer yourself. You can also hop on an all-electric Duffy run by The Electric Boat Company. Fun for all ages.
Free boating seminars: Every day features short seminars on a variety of topics., including buying a boat, cruising, fishing, and boating safety.
Free Kids Toy Boating Building: Use traditional tools to build and decorate your own wooden boat with the crew from the Center for Wooden Boats*. Grab a hull and sail, drill a step for a mast, and build your very own toy boat! Younger children may need help using our hand drills and hammers, but everyone will have a great time decorating their boat with bottle caps, corks, and crayons.
This year's show features not only a wide selection of exceptional brokerage boats and 2018 new models, but also several brands new to the market and one returning to the market after an absence of many years.
Yacht brokers and boat dealers come from around the Northwest and across the country. Enjoy viewing boats on the docks and shore side exhibitors with products and services including marine repair and service, books and videos, galley equipment, chandlery and marine supply, clothing and footware, floats and anchors, finance and insurance, fishing equipment, safety equipment, trailers…and more.
*The Center for Wooden Boats (CWB) celebrates Seattle's rich, vital, and varied small craft heritage by preserving and sharing both the artifacts and the time-tested maritime skills of sailing, paddling, boatbuilding, and boat maintenance. CWB is located adjacent to Boats Afloat at 1010 Valley Street (a 5-minute walk).  Admission to The Center for Wooden Boats is always free. Walking the docks, exploring the boats and browsing the exhibits is always free of charge. Some programs, such as boat rentals, have associated fees, and others have suggested donations.
Love our cheap ideas? Get MORE DEALS delivered by email – yes, of course it's FREE! Click here to subscribe