Cascade Bicycle Club (CBC) offers free daily bicycle rides day of the year–more than 2,600 rides annually, from tours in exotic places to weekday rides in your 'hood, they've got a great schedule of events and daily rides to keep you riding all year long. Check the Free Group Rides Calendar.
Members and non-members are welcome to attend rides. Before your first ride, click here to read newcomers instructions.
Membership begins at $40 annually for individuals. Family and business memberships are also available. For details or to sign up, check the membership page on the CBC website.
Unless indicated, it is not necessary to RSVP to participate in a ride. Be sure to arrive 15 minutes early to hear the ride briefing. All riders must sign a waiver form. Riders should carry necessary equipment to fix a flat (tube, patchkit, pump). Cascade's Free Group Ride Leaders developed the CBC Ride SMART safety briefing. Learn how to Ride SMART.
Rides range from leisurely 10-mile jaunts to strenuous endurance events to multi-day rides and take place throughout the Puget Sound region. Whether you are entirely new to bicycling, a newcomer to the Puget Sound, or a seasoned local rider, Cascade's Free Group Ride program has a ride for you.
About Cascade Bicycle Club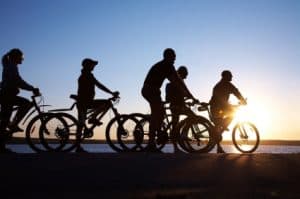 Based in Seattle, Washington, Cascade Bicycle Club is a non-profit organization creating more livable communities by promoting health & recreation through bicycle activities, advocacy, & education. The organization is operated by a 14-member volunteer Board of Directors, 32 professional staff, four AmeriCorps members, and thousands of volunteers.
Ride volunteers lead over 2,600 daily local rides each year, as well as multiple day tours and Cascade Affiliated International Tours.
CBC serves more than 15,000 members and the Puget Sound bicycling community to Create a Better Community through Bicycling. CBC is active locally in advocacy and education to improve the facilities and safety of all cyclists. The Club hosts several online message boards and forums.