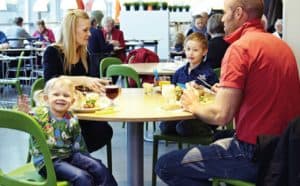 Bring the whole family to the Seattle IKEA restaurant for a delicious meal at an affordable price! The family-friendly Seattle IKEA is located near Southcenter mall in the city of Renton. The IKEA restaurant is open all day, Monday – Saturday: 9:00am – 8:30pm and Sunday: 9:00am – 7:30pm. Seattle kids will love the family eating section with its fun play area, kid sized seating, highchairs and bibs. Seattle moms like IKEA because they do all the cooking! Here are some of your options for breakfast, lunch and dinner:
Breakfast for only $2. Eggs, turkey sausage, breakfast potatoes, Swedish pancakes and strawberry jam.
Lunch for only $3. Pasta with marinara sauce, your choice of 4 meatballs.
Dinner for only $4.  Antibiotic free chicken with mashed potatoes and seasonal vegetables.
Kids' meals $2.49. Several kid-friendly choices such as chicken, meatballs, and pasta.

Kids Eat Free Tuesday. Get up to two kids meals with purchase of one adult entree. For kids 12 and under.
Seattle IKEA, 601 SW 41st St., Renton, WA 98057. Located south of Southcenter shopping mall, just off Highway 167. Take the E Valley Rd/SW 41st St, exit toward S 180th. The main IKEA entrance is located on SW 41st and offers covered parking.
About IKEA
IKEA offers a wide range of well-designed, functional home furnishing products at affordable prices. This is the idea at the heart of everything IKEA does–maximising the use of raw materials and production adaptation to meet people's needs while keeping costs are low. IKEA began in 1943 in the small village of Agunnaryd in Sweden, when founder Ingvar Kamprad was just 17. IKEA home furnishings are modern but not trendy, functional yet attractive, human-centered and child-friendly and represent the fresh, healthy Swedish lifestyle through their carefully chosen colors and materials. These ideas are closely linked to IKEA origins in Småland southern Sweden, where the people have a reputation for working hard, living on little and making the best possible use of the limited resources they have.