DAY IN DAY OUT (DIDO) Music Festival is a two-day, single-stage, all-ages festival in the heart of Seattle at Fisher Green Pavilion. It will be Seattle's first music festival of 2021 as we return to gather and celebrate music once again — together.
DIDO Music Festival offers local music-lovers a highly curated mix-tape-inspired experience to close out the summer (let's face it, we need this!). Produced by Daydream State, the team behind Capitol Hill Block Party, Neumos, and Barboza, the 2021 inaugural event features TWO headliners: on Saturday, Grammy-winning producer KAYTRANADA and on Sunday, Scottish electropop trio CHVRCHES. Northwest faves fill out the line-up, alongside local DJs playing between sets.
But wait, there's more! Topping out the fun are some of the city's most hype-worthy food trucks and a spacious indoor-outdoor beer garden. There will multiple food trucks and vendors within festival grounds. In addition, there are tons of bars and restaurants in the surrounding area. You may exit and re-enter the festival with a valid wristband.
Day In Day Out is an all ages festival, however there are specific areas that are 21+ only—with valid ID (so come prepared or shut up and don't give them any trouble—it will get you nowhere). There is an all-age viewing lawn with designated 21+ areas, including the indoor-outdoor beer garden. The VIP area is 21+ only.
The 21+ VIP upper lounge deck features panoramic views of the festival and stage with Space Needle overhead PLUS other benefits (food, drinks, BATHROOMS, merch discounts…)
Get free DAY IN DAY OUT music festival ticket at vaccine pop-up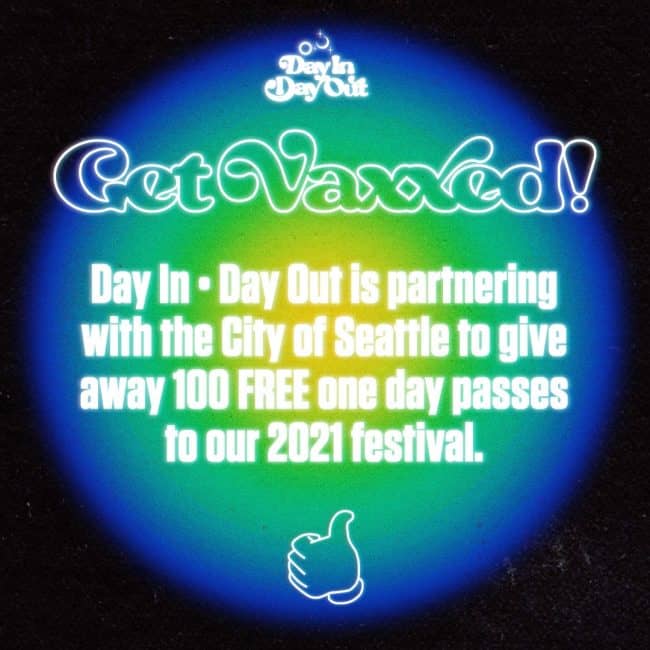 In an effort to help Washington reach it's vaccination goal, DIDO has partnered with the City of Seattle to provide 100 FREE one-day festival tickets to those who get their vaccine at the city's Welcome Back Week pop-up clinic sites.
Seattle Fire Department (SFD) will be administering Johnson & Johnson and Pfizer at the pop-ups—where you can get your first OR second dose. If you're getting your first dose of Pfizer, SFD will help you schedule your second dose while you're there.
Vaccine pop-up dates and locations
July 17-18, 11:00am – 7:00pm at Hing Hay Park, 423 Maynard Ave S, Seattle, WA 98104 .
July 24, 10:30am-3:00pm at Occidental Square, 117 S Washington St, Seattle, WA 98104
July 25, 12:00pm-8:00pm at Westlake Park, 401 Pine St, Seattle, WA 98101
More info: Day In Day Out (dayindayoutfest.com) and Seattle's Equitable Recovery – Mayor | seattle.gov
DAY IN DAY OUT 2021
When: September 4-5, 2021. 2:00-10:00 p.m.
Where: Seattle Center Fisher Pavilion.
Tickets: 1-day $80 (VIP 21+ $120 ), 2-day $145 (VIP 21+ $200).
Interested in volunteering for Day In • Day Out? They are looking for people to help with including ticketing and day-of tasks. (They don't list benefits, but typical event volunteer benefits include free admission, t-shirt, and maybe a food/beverage discount–be sure to ask. If you have volunteer experience, this helps gets you in.). More info: Volunteer — Day In Day Out (dayindayoutfest.com)
Need more info? Visit their website: Day In Day Out (dayindayoutfest.com)