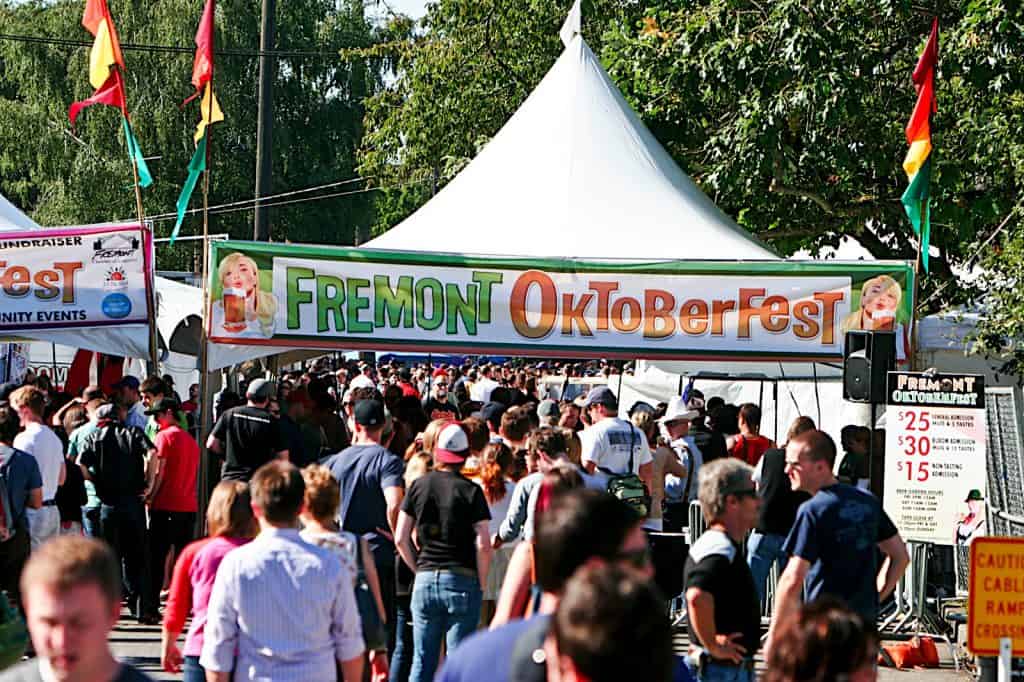 Fremont Oktoberfest celebrates the very best in Pacific Northwest craft beer and traditional German biers. There are over 100 seasonal beers to taste. This three-day festival features food, live music, Kids Area (Sunday only), and plenty of other activities. Fremont OktoberFest is held rain or shine (duh, this is Seattle), so the event includes covered areas and various indoor lounge spaces around the event.
The festival is divided in two parts:
Friday-Saturday is 21+only. All guest must be able to present valid ID at the event. No exceptions. (Yes, really.) No babes in arms. (Yes, really).
Sunday is a whole different story as guests under 21 are admitted for free as long as they are accompanied by a paying adult. Bring the whole family; while parents taste beers and the kids can taste rootbeers. Dogs are also welcome Sunday only; all dogs must be on leash at all times.
Saturday and Sunday, enjoy the gigantic, 10,000 square foot Indoor Beer Hall & Sports Bar for college and professional games on jumbo-sized projection screens. Grab full size beers, or enjoy your Mini Mug while cheering for your favorite teams. Raise a glass and make some noise as you watch the Hawks, Huskies, Cougs, and Sounders.
Sunday Kids Activities: The Zucchini 500 Race Track (build, decorate & race your zucchini car), Pumpkin Decorating, Bouncy House, Giant Slide, Rootbeer Tasting.
Sunday Chainsaw Pumpkin Carving: Watch the pumpkin guts fly as master carving artists compete for glory in the Texas Chainsaw Pumpkin Carving Contest. Don't miss this famed fall tradition, unique to Fremont Oktoberfest on Sunday at 2pm on the Main Stage.
Sunday Street Scramble: Tickets $5-$30 per person. Starting at 10:30 am on Sunday, you will be given thirty locations, each with a point value throughout the Fremont area. The quest is to visit as many as you can, on foot, in 90 minutes. In teams or solo, competitive or casual, discover the Fremont neighborhood as you complete the scrambr. Ribbons will be awarded to winners in Men, Women, Mixed, 50+, Family, Junior, and Corporate categories.
Why is Oktoberfest spelled so funny?
Oktober is simply the German spelling for the month of October.
The tradition of Oktoberfest began in Munich, Germany in 1810 when Bavarian Crown Prince Ludwig married Princess Therese of Saxony-Hildburghausen. Week-long nuptial festivities began on October 12 and ended on October 17, with a horse race concluding the celebration. And the wedding ceremony, of course.
Munich celebrations were repeated every year after that first wedding celebration, giving rise to the tradition of Oktoberfest. Over the years, the character of the festival changed to include an agricultural fair, carousels and other amusements, and beer stands that became large beer halls. The popular horse races fell out of favor and are no longer held today. The beer halls became immensely popular. Go figure.
Over 200 years later, the Munich Oktoberfest is the largest festival on Earth, with over six million visitors from around the world spending nearly a half-billion dollars during the two-week event. Attendees drink million of gallons of beer, eat thousands of pounds of sausage, and consume nearly a half-million spit-roasted chickens. Zum wohl!
Beer-themed Oktoberfest celebrations are held in many other cities around the world, some in October and some in September, which has more predictably favorable weather. The largest Oktoberfest outside of Germany is "Kitchener-Waterloo Oktoberfest" in Ontario, Canada. The largest in the United States "Oktoberfest Zinzinnati" is in Cincinnati, Ohio. Fremont Oktoberfest is Seattle's largest fall beer festival.
2017 Fremont Oktoberfest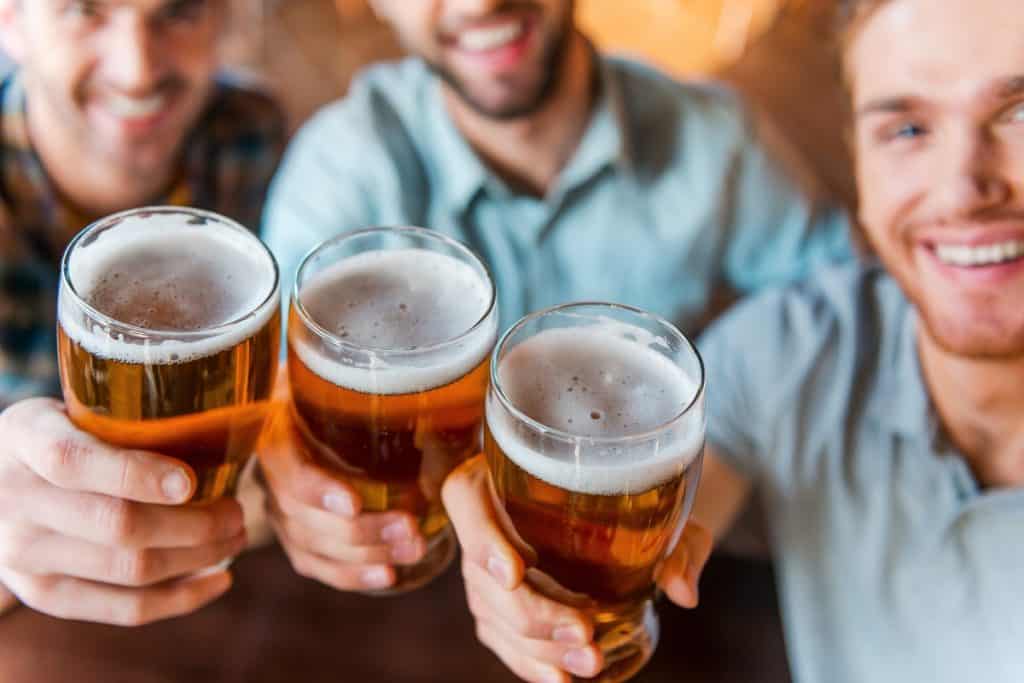 When: Friday-Sunday, September 22-24. Hours: Friday 5pm – 12am; Saturday 12pm – 12am; Sunday 12pm – 6pm.
Where: Festival Entrance is at 3503 Phinney Ave, Seattle, WA 98103. The event is held in the streets of Fremont between Phinney Ave N and 1st Ave NW and N 35th St and N Canal St.
Discount Ticket with Advance Purchase:
Save when you buy advance tickets online by September 21.
Prices increase by $5-$10 on opening day of the festival. So buy tickets in advance if you plan to go to Fremont Oktoberfest.
Grand Admission for $30 includes one day entry, 10 tasting tokens and mini tasting mug, while supplies last.
General Admission for $25 includes one day entry, 5 tasting tokens and mini tasting mug, while supplies last.
Bonus beer tokens: enter promo code DOUBTER when you purchase tickets online for two extra tokens courtesy of Fremont Oktoberfest. Amazing. Just for asking, free beer.
Need more tokens? Additional tasting tokens may be purchased individually or in packages inside the Tasting Garden at the Merchandise Booth.
Festival admission $20 includes one day entry, 4 non-alcoholic beverage tickets.
Parking: Don't drive. Be safe and take a taxi cab, Uber, Lift, or good 'ole Metro. If YOU HAVE TO drive, Fremont has lots of street parking and many U-Park lots in the area.
Fremont neighborhood in Seattle, WA