The Tacoma Rainiers is the Triple AAA Affiliate of the Seattle Mariners Professional Baseball Club, and a member of the Pacific Coast Minors League. The Rainiers play their home games at Cheney Stadium, just 26 miles south of the Mariner's at Safeco Field in Seattle.
About the Tacoma Rainiers
Following a three-year effort begun in 1957 by Tacoma businessmen Ben Cheney and Clay Huntington, the San Francisco Giants agreed in the fall of 1959 to relocate their Triple-A club Phoenix Giants to Tacoma, provided the city construct a new stadium in time for the beginning of the 1960 season. And so, in 1960 the Phoenix Giants moved to Tacoma and became the Tacoma Giants, the first team to play at brand-new Cheney Stadium.
In 1965, the Giants decided to move the team back to Phoenix. However, the Chicago Cubs moved their affiliate, the Salt Lake Bees, to Tacoma and renamed the team the Tacoma Cubs, which lasted for six seasons.
From 1972 to 1977, an affiliate of Minnesota played in Cheney as the Tacoma Twins. Then, from 1978 to 1984, the Tacoma franchise was renamed as owners and affiliates changed, first as the Tacoma Yankees (1978), and then the Tacoma Tugs (1979), followed by the Tacoma Tigers (1980-1984).
Since 1995, The Tacoma Triple-A team has been associated with the Seattle Mariners. Tacoma adopted the Rainiers name in tribute to the Seattle Rainiers minor league teams that played in Seattle in the PCL, from 1938 to 1964 and again from 1972 to 1976.
In 2011, Cheney Stadium underwent a historic renovation, which set the seating capacity at 6,500. Every addition was built using local materials, with Tacoma and the Pacific Northwest in mind. Cheney now features amenities that include luxury suites, a club/restaurant, club seats closer than any other seat in any other ballpark across the nation, double the number of concessions, more ADA seating and better ADA access, and a grass berm located along right field. What has not changed are the views fans have grown accustomed to over the last five decades of Cheney Stadium. The ballpark's grandstand is still the same one constructed more than five decades ago with the steep pitch that makes every seat in the house a great one.
In March 2015, the Tacoma Rainiers announced a set of new logo marks, an updated version of the team's primary script logo and the standalone "R" logo secondary mark. In addition to new logos, a new look was given to the club's home alternate, away, and batting practice uniforms. A red alternate jersey, worn with a new red hat, was added to the rotation of uniform sets. The club's new road uniform was modeled after the Tacoma Giants uniforms of the 1960s with a gray color scheme and block letters on the front. The final addition to the uniform set was a new batting practice cap, adorned with a mountain outline and a climbing axe with a baseball bat handle.
2018 Tacoma Rainier's baseball season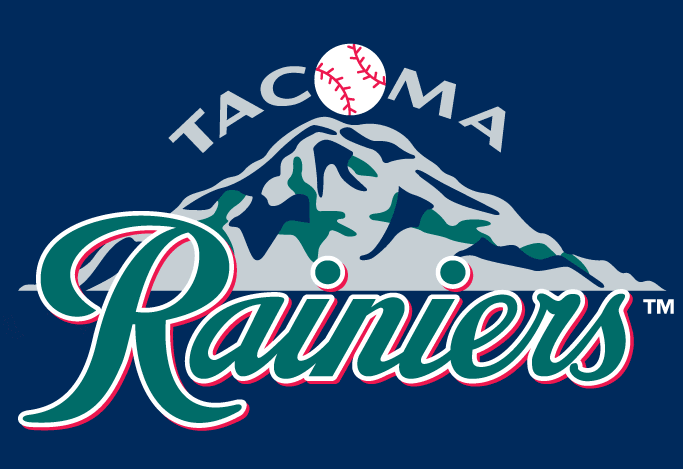 April 5 – August 27, 2018. First home game: April 5 vs Sacramento. Last home game: August 27 vs El Paso.
Tickets: Single game adult ticket prices are $13.50. Seniors 60+, children <14, and Military get a $1 discount. Everyone can sit on the grass terrace in right field for $7.50 per game. For more ways to save, see below for single ticket promotions and season tickets.
Listen for free. The Rainiers baseball games are broadcast on TuneIn, Tacoma Rainiers Baseball Network by play-by-play announcer Mike Curto (Twitter @CurtoWorld).
How to  save on single ticket Tacoma Rainier home games
Single Ticket Promotions. These specially price promotions include reserved seats and other perks. More info: http://www.milb.com/promotions/index.jsp?sid=t529
Silver Bullet Saturday. $20 gets you a ticket to the game in the exclusive R Yard at Coors Light Landing, early entry to watch batting practice, a limited-edition collectible t-shirt with a new design every month, and your first 12oz Coors Light when you walk in.
Little Caesars Family Meal Deal (selected games). $44 scores you 4 Reserved Seat tickets, 4 hats, 4 Group Express meals, 2 Hot-N-Ready pizzas, 2 orders of Crazy Bread, 2 free youth/tot admissions to Point Defiance Zoo & Aquarium or Northwest Wildlife Park, and 2 free youth passes to the Museum of Glass.
Chick-fil-A Bring the Herd (selected Sundays). $44 gets you 4 Reserved Seat tickets to a Sunday Rainiers game, 4 Chick-fil-A Chicken Sandwich meals, 4 Group Express meals at the stadium, and 4 exclusive hats.
Specialty Nights: Price includes reserved seat, ballpark meal, plus other perks. More info: http://www.milb.com/content/page.jsp?sid=t529&ymd=20130130&content_id=41256880&vkey=tickets
Little League Night, June 16. $13-$19 per ticket, includes food and a hat.
Girl Scout Night, June 15. $20-$30 per ticket, includes food and souvenirs.
Boy Scout Night, June 29. $20-$30 per ticket, includes food and souvenirs.
How to save on season tickets to Tacoma Rainier home games
We R Family Membership (Max 8 Members Per Plan). This is a great group deal that can include up to 8 people. For $300, each Membership grants access on the Day of the Game to Reserved Seats to Any Monday-Thursday 2017 Regular Season Rainiers Home Game (Subject to Availability). PLUS, each member receives access to $10 weekend tickets (based on availability).
Reserved Seat Season Ticket Plans begin at $77 and offer a savings over single game ticket prices.
Friday Night 7-Game Plan
Saturday Night 7-Game Plan
Sunday 7-Game Plan
18-Game Plan
24-Game Plan A
23-Game Plan B
24-Game Plan C