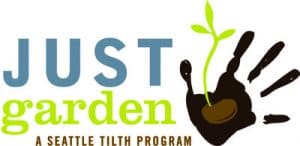 Just Garden builds subsidized raised garden beds for low-income families and individuals. Between March and September, the volunteer group builds gardens in neighborhoods, back yards, apartment complexes, and community centers
Each garden recipient receives between one and three 4' x 8' raised garden beds, three gardening workshops, a copy of Seattle Tilth's Maritime Northwest Garden Guide, and supplies to begin their food garden.
Want to help build gardens? No experience necessary. As a volunteer, you can haul soil, hammer boards, help coordinate logistics, set-up, clean-up, and provide other support.
Want a garden? See if you qualify and APPLY NOW!
About Just Garden
Just Garden started as a party. Each garden they build is a celebration of food and community. Just Garden has built hundreds of gardens for local families, providing tens of thousands of dollars of fresh, local, organic produce for families who otherwise wouldn't be able to afford it.
About Food and Faith Initiative community food gardens
Seattle Tilth Alliance started working with faith communities in 2012 to support the mission of Just Garden by building food gardens at houses of worship. These community food gardens support local food banks and meal programs.
The Food and Faith Initiative provides support for houses of worship and faith-based community organizations who would like to grow food. This coalition of faith-based organizations, leaders and individuals use food gardening as a way to connect with those in need in the larger communities. Your community could grow a garden in order to donate food to food banks, feeding programs and your members.