Here's a list of free (and low cost) places in Seattle and around the Puget Sound region where teens can hang out and do the things teens do. Like, hang out.
Greater Seattle Teen Hangouts
Seattle Parks & Recreation Teen Programs. Seattle Parks Department offers a wide array of programming to Seattle area youth including: special events, Late Night, computer labs, recording studios, cooking classes and much more.
Teen Life Centers at locations throughout Seattle have programs Monday – Friday afternoons, and Friday and Saturday Night.
Late Night for Teens at several Community Centers throughout Seattle has been run in the City of Seattle for over 15 years. Late Night provides a safe place for teens 13-19 to hang out between the hours of 7 p.m. and midnight on Friday and Saturday nights. Each site offers a variety of programs for each weekend.
King County Boys & Girls Clubs offer drop-in programs for after school activities and during summer at affordable prices. There are over two dozen locations throughout King County.
Kirkland Teen Union Building (KTUB + YMCA), strives to meet and exceed the social and cultural needs of young people. KTUB offers resources that empower teens to become active, caring and responsible community members. A variety of programs and drop-in activities. 348 N. Kirkland Ave, Kirkland, WA.
Redmond Old Fire House Teen Center provides engaging activities with a focus on teens grades 9th through graduation. Teens are provided leadership opportunities and a space to connect with their community. Open Wednesday-Saturday afternoon. 16510 NE 79th St Redmond WA.
Libraries in Seattle, King County, and Pierce County
Regional libraries offer books, movies, music, podcasts, gaming, study zones, homework help (in person and online), and special events like writing contests, design contests, LEGO building events, and more.
Listed roughly going north to south throughout the Puget Sound region
Greater Seattle Teen Crisis Help
If you're in trouble or need help right away:
Use TXT 4 HELP: text the word "safe" and your current location (city/state/zip) to 4HELP (44357). Within seconds, you will receive a message with the closest Safe Place site and phone number for the local youth agency. You will also have the option to text interactively with a professional for more help. It's quick, easy, safe and confidential.
Call: 1-800-422-TEEN (8336).
Go to the nearest Safe Place (see list below) and tell the staff member you need a Safe Place.
Just want to talk it out?
Teen Link is a confidential, anonymous, and non-judgmental help line answered by teens from 6-10pm, 365 days a year. "Talk it out" is the tagline and mantra. It's the message that, just by talking about your problems, things can get better. Sure, calling Teen Link doesn't mean your problems magically disappear, but expressing your feelings and what you're going through is a good first step! The goal of Teen Link is to empower youth by supporting them as they make healthy decisions.
Greater Seattle Safe Places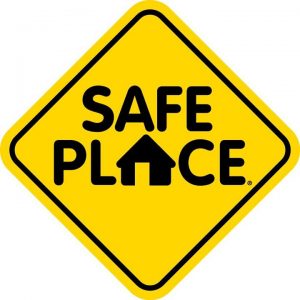 Safe Place is a national youth outreach program. Safe Places display the yellow and black diamond-shaped Safe Place sign. You can approach any established Safe Place site and a coordinator will respond 24/7, providing resources, connecting you to services, or reuniting you with family when safe and appropriate.
Here are some of the safe places in the greater Seattle area:
Everett Transit buses
Mukilteo Fire Stations
Metro Transit buses
King County libraries
Seattle Public libraries
Seattle Parks and Recreation's Community Centers
YMCA facilities
Find another safe place in Washington State
Greater Seattle Teen Support Services
Friends of Youth has provided services for unaccompanied minors for the Federal Government under a contract with the Department of Health and Human Services, Office of Refugee Resettlement. Friends of Youth delivers a broad range of services to youth and their families to improve their emotional stability and self-sufficiency.
Youth Eastside Services provides substance abuse treatment education and prevention, and counseling and psychiatric services in East King County for youth ages birth to 22 and their families. They help children, teens and families struggling with depression, grief, trauma, substance abuse, anxiety, gender- or cultural-identity issues, behavioral issues, ADHD, autism and more.