The Bellevue Botanical Garden is an urban refuge, encompassing 53-acres of cultivated gardens, restored woodlands, and natural wetlands. The living collections showcase plants that thrive in the Pacific Northwest and inspires visitors to create their own beautiful, healthy gardens. Throughout the year, natural and manmade vistas of color and greenery change, delighting the eye, regardless of the season or weather.
Things to know about Bellevue Botanical Gardens
Admission is free. Donations encourage.
Parking is free.
Open daily, including holidays, from dawn to dusk.
No pets are allowed in the garden.
Visitor Center open from 9am to 4pm, where you will find restrooms, a gift shop, and library
Free weekend tours. From April — October, on Saturdays and Sundays at 2:00pm there is a docent-led Garden Tour. No Reservations are required.
Address: 12001 Main Street, Bellevue, WA 98005
There are many fun things to do at Bellevue Botanical Garden throughout the seasons: plant sales, community celebrations, summer concerts, art exhibits and holiday light festivities. Two highlights of the year include Mother's Day and Garden D'Lights.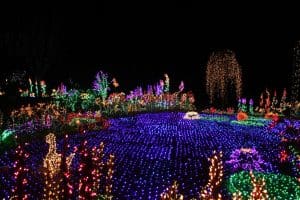 Garden d'Lights light display from Thanksgiving until Christmas features over half a million lights, transforming the Bellevue Botanical Garden into a winter wonderland. Thousands of visitors enjoy this dazzling display each year. Tickets for Garden D'lights are just $5; children under 10 are free.
The K-5 Living Lab Program is offered free as an outreach of the Bellevue Botanical Garden Society.  The botany-based 2-hour educational field trip/workshop is for students in kindergarten through fifth grade.  Teachers from public and private schools can reserve a date through an online sign-up. If you are a homeschool parent, you can contact them to include your child with a school group.
The Bellevue Botanical Garden is a successful partnership between the City of Bellevue Parks and Community Services and the nonprofit Bellevue Botanical Garden Society.