Here's a list of places to find a map for Seattle bicycling, a King County bike map or Washington state bike map, plus bicycle maps for other regional and local areas and plenty of useful bicycling information.
Seattle, King County, and Washington State Bike Maps
Seattle Bicycling Guide Map from the Seattle Department of Transportation (SDOT) includes information about biking in the city, including green bike lanes, bike boxes, and signed routes.
Seattle Bicycle Club maintains a Maps Library on their website with a large number of routes, including locations around Seattle as well as throughout Washington state.
King County provides links to Washington state and other regional bike maps.
City of Bellevue provides bike information on their Choose Your Way website, including bike maps, safety tips, helmet information, bike laws, bike parking and links to other regional maps.
City of Redmond provides has an extensive network of on-street bike lanes and off-street trails and provides bicycling maps and other information to make it easy to get around the area.
Washington State Department of Transportation (WSDOT) provides state and local bike maps, plus plenty of information about commuting and bicycling safety.
These maps are intended solely to assist bicyclists in selecting routes. Conditions on any route may change due to normal wear and tear, weather, motorized traffic and other factors. Routes may contain pavement imperfections as well as debris.
Bicycle Helmet Laws and Bike Safety
Use a Helmet When You Ride a Bike. Head injuries cause about three-fourths of the 800-900 deaths resulting from bicycling-related accidents in the U.S. each year.
According to a study conducted by the Harborview Injury Prevention and Research Center, helmets that meet ANSI or Snell standards can cut the risk of riders' head injuries by 85%.
Currently, there is no Washington state law requiring helmet use. However, many cities and counties do require helmets, such as King County (including all of Seattle).
See Localities Requiring Bicycle Helmets.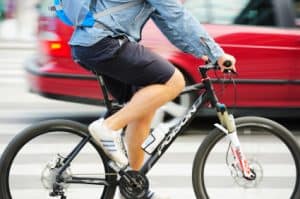 Always ride with care for your own safety and the safety of all other users of the road or right-of-way. With more people riding bicycles, following the rules of the road is especially important.
A bicycle is a legal road vehicle, just like a car. This means that bicycle riders have the same rights and responsibilities as drivers. Check the links in the list above for more information about bicycle laws in the area where you plan to ride.
It is the responsibility of the individual rider to remain alert at all times as to the conditions of the road, pedestrian and other traffic on the road, and the inherent potential for conflict in any shared-use space.