Seattle Chamber Music Society offers free classical concerts every summer, outdoors at various parks around Seattle and indoors in a relaxed setting in the Nordstrom Recital Hall at Benaroya. Originally composed for playing in homes (or small palace rooms), chamber music ensembles are suited to intimate performance venues rather than to the large concert hall.
Chamber music ensembles can range from two to nine musicians, playing string, wind, brass, and percussion instruments. There is often (but not always) only one musician playing a particular instrument (as opposed to a symphony orchestra of 50-100 musicians, with several violins, horns, flutes, etc.)
Large symphony orchestras typically demonstrate the different instruments through musical expression full of striking effects and crescendos that reverberate throughout the musical hall.
Because of the limited size of chamber music ensembles, the music is much more intimate and refined. In contrast to symphonies, chamber music demonstrates an economy of resources that blend individual instruments into one cohesive refrain.
About Seattle Chamber Music Society (SCMS)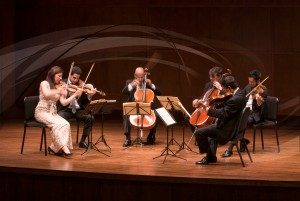 SCMS presents performances featuring world-class musicians in accessible and inviting formats, with an emphasis on developing a broad-based sustainable audience through education and community outreach. Each year, the music company presents a winter festival in January and a summer festival in July at the Benaroya Hall.
In addition to these festivals, SCMS offers community engagement programs for adults, youths and the community-at-large to encourage audience appreciation and understanding of chamber music. The programs bring audiences of all ages in close contact with musicians and their music through informal, accessible and enjoyable formats.
SCMS Summer Music Festival Performances
Free Music Under The Stars. Bring a picnic, stretch out on the lawn, and enjoy a live audio broadcast of each of our Summer Festival concerts, provided directly to neighborhood parks by KING-FM. Each evening begins at 7:15pm (7:00pm at Freeway Park) with live chamber music performed by an outstanding student ensemble, and continues at 8:00pm with KING-FMs live broadcast, direct from Benaroya. Music Under The Stars will be broadcast in the following parks:
2017 summer chamber music concerts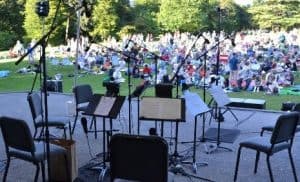 Delridge Playfield in West Seattle – Monday July 3, 10, 17 & 24
Volunteer Park Amphitheater on Capitol Hill – Wednesday, July 5, 12, 19 & 26
Freeway Park in Downtown Seattle – Friday, July 7, 14, 21 & 28
Columbia Park in Columbia City – Friday, July 7, 14, 21 & 28
Free Informal rehearsals at Benaroya Hall
Gain a behind-the-scenes glimpse into the intense collaborative effort of professional musicians preparing for a chamber music performance in these informal rehearsals. (Pieces subject to change.)
Benaroya Hall / Nordstrom Recital Hall – Friday July 7, Wednesday July 12, Monday July 17, Friday July 21
$12 Children's concert – The Emperor's New Clothes
A delightful and humorous adaptation of the Hans Christian Andersen tale about two scoundrels who promise to weave an Emperor a new suit of clothes that is invisible to anyone not smart enough to appreciate its quality. When the Emperor parades before his people in his new finery, a child cries out, "The Emperor isn't wearing any clothes!" A 40-minute concert–ideal for children ages 5-10. Free Pre-concert activity: Musical instrument "petting zoo" in the lobby at 10am, courtesy of Music Center of the Northwest.
Benaroya Hall / Nordstrom Recital Hall – Saturday, July 22
Free Chamber Music at Volunteer Park
Pack a picnic dinner, or stop by the food truck and order something right there, stretch out on the lawn at the park, and enjoy some beautiful music.
Volunteer Park Amphitheater on Capitol Hill – Saturday, July 29