Drawing upon more than 50 years of culinary experience, Williams-Sonoma has designed and developed exclusive collections of kitchen tools, professional-quality cookware, and essential electric appliances that offer you performance and style. Enjoy comfortable ergonomics, quality materials, and innovative kitchen equipment and tools.
It all started in 1953 when Chuck Williams visited Europe. There, he saw the tools and equipment used by French, German, and Swedish cooks and was inspired to bring the same high-quality cookware to Americans. By 1959, he was importing some of Europe's best cookware to his store in San Francisco. Over the years, he introduced American cooks to gourmet equipment and foods, including (among may others) the Cuisinart food processor, All-Clad cookware, the KitchenAid stand mixer, the Bundt cake pan, Wusthof cutlery, balsamic vinegar, extra-virgin olive oil, and Parmigiano-Reggiano cheese. Chuck also wrote over 100 cookbooks.
The Williams-Sonoma Company has donated millions of dollars to charitable organizations and community causes including childhood cancer, meal programs for children in need, and AIDS education and research.
In addition, the company invests in the people who make Williams-Sonoma products by increasing economic opportunities for workers in the supply chain through programs that enhance benefits and education. They strictly prohibit child labor, prison or forced labor, unsafe working conditions, and unfair wage practices through implementation of a Fair Trade Factory Certification program.
Williams-Sonoma Cooking Classes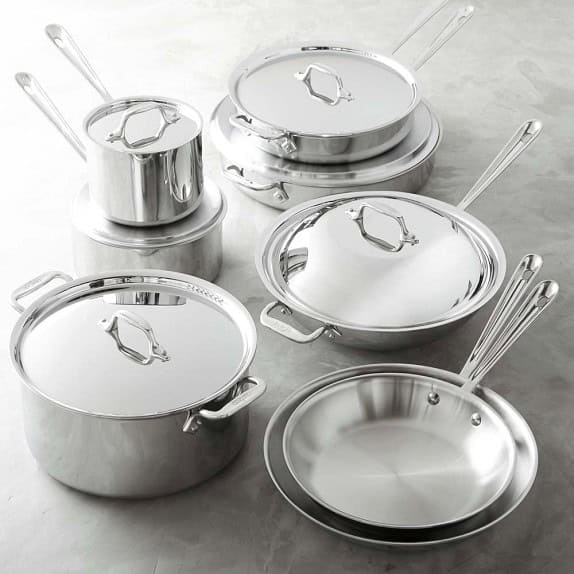 As a leading retail authority on kitchen products and entertaining, Williams-Sonoma offers complimentary technique demonstrations, in addition to cooking classes for a fee. For more than fifty years, people who love cooking and good food have gathered at Williams-Sonoma stores. Today there are more than 250 stores across the U.S. and Canada, each with its own schedule of special events and cooking classes.
Free Technique Classes. Head to your local Williams Sonoma store for Free Technique Classes where Culinary Specialists will show you favorite tips and techniques as they prepare great recipes. These free 1-hour technique cooking classes include sample tastes of prepared dishes.
Cooking Classes. Seasonal cooking classes for a nominal fee are also taught by William-Sonoma chefs and culinary specialists. These classes include a cooking demonstration, samples of featured dishes, recipes to take home, and often include a culinary gift. Cooking Class attendees also enjoy 10% savings on select same-day store purchases. It's a great way to not only try products, but also to save money as you do some gift shopping.
Cookbook Club. If you love collecting cookbooks and enjoy trying new recipes, join a monthly Cookbook Club class for a fee. Each month, culinary experts showcase recipes from a different featured cookbook. Each cookbook club class features cooking tips and techniques, and a three-course tasting menu from the book's best recipes, prepared while you watch. Cookbook Club participants also enjoy 10% savings on select same-day store purchases.
Technique, Cooking, and Cookbook Classes are available at all Williams-Sonoma stores; however, class times vary by each store location.
Class size is limited, so be sure to call ahead to your local store to register.
For classes at a store near you, check the store events page.
Williams-Sonoma locations in and around Seattle:
University Village, 2530 NE University Village. Seattle. (206) 523-3733
Bellevue Square, 216 Bellevue Square, Bellevue. (425) 454-7007
Alderwood Mall, 3000 184th Street SW, Lynnwood. (425) 778-8053
When
Weekly on Sunday @ 10:00 am (starting February 19, 2017)
Where
Williams-Sonoma Stores
Reader Interactions