Make Music Day (MMD) is a free worldwide celebration of music always held on June 21 during the summer solstice (longest day of the year). The event encourages and provide opportunities for anyone–amateur or professional–to participate in and enjoy FREE live music at public venues.
This is the one day a year people around the world celebrate the importance of music in our lives through free, open and accessible events across the U.S. and around the world. Entire communities come out to listen, dance, and join in making music.
In the Puget Sound region, MMD events are organized by Issaquah, Port Townsend, Redmond, and Seattle. Each community organizes its own events, and each celebration has a distinct expression. We've listed each cities website below, check them out for schedules and other details in a venue near you.
Make Music Day Festivals around Seattle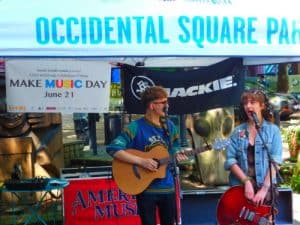 Issaquah Make Music: Musicians are taking to the streets in Downtown Issaquah from 5-9pm. There will be several outdoor and indoor spots. Outdoor areas include City Hall Steps, Historic Train Depot, Library Corner, Pedestrian Park, Tiger Mountain Stage located next to Pelage Spa and the historic Shell Station. Indoor venues include the Senior Center, artEAST, Art by Fire, Yum-E Yogurt and Levitate. OPEN MIC FOR ALL AGES AND SKILL LEVELS: sign-ups start at 4pm at Music and Arts on a first come basis.
Port Townsend Make Music: Begins at 11:30am in downtown Port Townsend and continues at venues all around town. A day full of performing, teaching, learning, jamming and enjoying music in diverse venues and musical genres.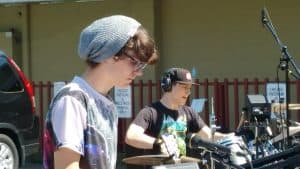 Redmond Make Music: Downtown Redmond will be filled with music through performances on the Moving Art Center stage (on the Redmond Central Connector near the Leary Way) and buskers on street corners (near the SIGNALS art installation and Western Wear). The Day will conclude at Idylwood Park with evening programming at various stages and attendees will even be able to make their own instruments. Family-friendly where everyone can participate in music, whether by playing it, listening to it, or making it.
Seattle Make Music: Events include interactive activities all day at Music Works Northwest in Bellevue, afternoon Vocal Lessons at The Vocalist Studio in Belltown, Songwriters showcase & open mic at Kennelly Keys Music on Lake City Way, School of Rock Seattle Youth Jam, and events all day long at Westlake Park in downtown Seattle.
About worldwide Make Music Day and Fete de la Musique
Make Music Day  launched in 1982 in France as the Fête de la Musique. It is now a worldwide celebration of music during the Summer Solstice, always held on June 21. The festival takes place in hundreds of cities and most countries around the world. It is free and open to the public.
Completely different from a typical music festival, Make Music is open to anyone who wants to take part.
Every kind of musician — young and old, amateur and professional, of every musical persuasion — pours onto streets, parks, plazas, and porches to share their music with friends, neighbors, and strangers.