Oddmall is not your ordinary arts & crafts show. As a celebration of the unusual, Oddmall strives to showcase arts, crafts, and products that are a bit different from what you'd find at most other craft fairs. Anything weird, freaky, bizarre, off the cob, or just plain different. Browsing Oddmall's indoor profusion of vendors is a great and fantastic way to spend an afternoon with the family.
First of all, admission to Oddmall shows is FREE. Parking is usually free as well, but depends on location.
Plus, many of Oddmall's vendors and artists are on hand to host workshops and demonstrations of their unique creations. You might not only learn something, but you'll also have fun doing it.
Oddmall Arts & Crafts Shows are the perfect place to nab some sweet gifts and indulge all your various shopping dreams; the perfect place to find something unique for that special someone
So, what is Oddmall?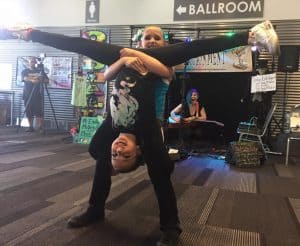 Oddmall arts & crafts shows celebrate uniqueness, creativity, imagination, and wonder. It's a show where artists and crafters offer unusual creations for your consideration.
It's a juried show, featuring the best Pacific Northwests Artists, Crafters, Authors, Illustrators and purveyors of unusual things. If it's creative, unusual, and handmade it's at Oddmall.
You find familiar things: jewelry, art originals, prints, t-shirts, stuffed animals, clothing, games, toys, home decor, and holiday ornaments. But you find them in unfamiliar forms…just about anything you haven't imagined. Adult themed material is allowed, but must be clearly marked as such and hidden from the eyes of passing children and the faint of constitution. (In case you were wondering.)
As it says on their website:
"It's a forum for creative expression, a classroom for esoteric wisdom, a soapbox for wild ideas, a miraculous marketplace of the unconventional, a metaphorical Serengetian watering hole where the zebras and wildebeests of inspiration and artistry congregate amidst the snapping crocodiles and scorching sunbeams of originality and ingenuity…umm, yeah."
Um yeah, is right.
More about Oddmall Emporium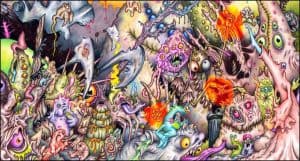 Oddmall began in Hudson, Ohio in May 2009 as a way to showcase artists who don't quite fit in at your typical craft show. Oddmall Ohio continues to run shows thru-out Northern Ohio. Founded by artist, author, illustrator, convention director and father of two, Andy Hopp and his work is featured at Oddmall.
In 2013, Andy and his brother David, who lives in the Pacific Northwest, decided it was time to expand west. The first Oddmall Pacific Northwest (PNW) show was held in September 2013.
Oddmall PNW currently hosts shows in Everett, Tacoma, and Bellevue.
In addition, smaller Oddmall "vendor villages" can be found at various Seattle-area events, such as the Georgetown Carnival and Outdoor Summer Movies at Red Hook Brewery in Woodinville. (Note that some of these events may have an admission fee.)
Oddmall Emporium Shows
For more information about upcoming Oddmall shows, visita; https://oddmall.co/upcoming-shows/
June 2 – 3, 2018 Oddmall Emporium of the Weird at Evergreen State Fairgrounds in Monroe.
June 9, 2018 Oddmall Emporium of the Weird at the Georgetown Carnival in south Seattle.
November 10 – 11, 2018 Oddmall Emporium of the Weird at Evergreen State Fairgrounds in Monroe.
Free Oddmall arts & crafts shows feature unusual things
When
Daily (November 10, 2018 - November 11, 2018)
Where
Evergreen State Fairgrounds, 14405 179th Ave SE, Monroe, WA 98272
Evergreen State Fairgrounds, 14405 179th Ave SE, Monroe, WA 98272
Reader Interactions