Kirkland Uncorked is Washington's weekend summer outdoor food and wine festival, a culinary classic and an iconic fixture in the northwest epicurean landscape.
Taking place in Kirkland's scenic Marina Park (25 Lakeshore Plaza Dr), the festival features wines from world-class Washington wineries, bite-sized feasts from notable Eastside restaurants, and appearances from the Northwest's most prestigious celebrity chefs and culinary personalities.
The festival is split into two parts, a 21+ Tasting Garden and an all ages Street Fair.
The Tasting Garden features wine tasting, live music, a Friday Burger Brawl and a Saturday Grill-Off.
The Street Fair features a Boat Show, the Uncorked Market, the CityDog Dog Modeling Contest, and a Saturday Food Truck Feast.
2017 Kirkland Uncorked Festival Information

When: July 14-16, 2017
Where (general location): Marina Park, 25 Lake Shore Plaza Dr., Kirkland, WA 98033
All Ages Street Fair features a Boat Show, the Uncorked Market, and a Sunday Food Truck Feast. FREE and open to the public. The Market features booths selling jewelry, canvas art, handmade clothing, and imported goods with the beautiful beachside backdrop of Marina Park. Hours: Friday: 2pm-8pm, Saturday: 11am-8pm, Sunday: 11am-6pm
Tasting Garden (21+ only with valid ID) features wine tasting, grilling demonstrations, live music, a Friday Burger Brawl and a Saturday Grill-Off. Hours: Friday: 5pm-10pm, Saturday: 12pm-10pm, Sunday: 12pm-6pm
Kirkland Uncorked Tasting Garden Tickets (21+ only)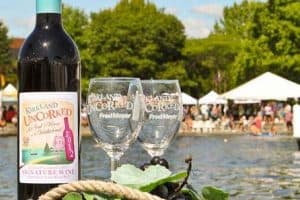 Best deal: Purchase your Tasting Garden ticket (while supplies last) at selected Fred Meyer locations and receive an additional 4 wine tasting tokens for the same great price as General Admission. Locations: Fred Meyer – Seattle/Lake City, Kirkland, Issaquah, Bellevue, Redmond, or Bothell.
Tasting Garden General Admission – $25 in advance ($35 beginning July 18). Enjoy 10 tastes of the eclectic blends of whites and reds featured in Kirkland Uncorked's wine menu and the event's signature cocktail. Included in the admission is a commemorative glass (while supplies last).
Non-drinking Admission – $15 in advance ($20 beginning July 18). If you're not a wine drinker, are an expectant mother, or the designated driver, enjoy the entertainment of Kirkland Uncorked with four tickets for soda and water.
Marina Park, 25 Lake Shore Plaza Dr, Kirkland, WA 98033