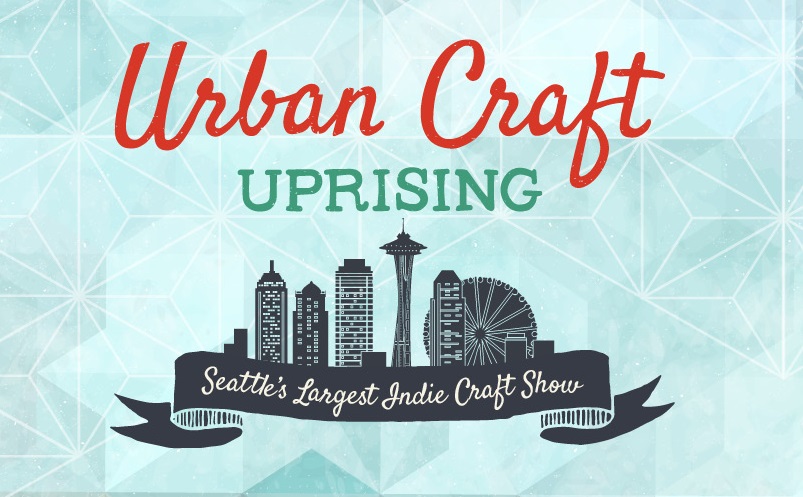 Urban Craft Uprising (UCU) is Seattle's largest indie art and craft show featuring hand-crafted crafts and gifts including clothing, toys, accessories, jewelry, DIY kits, handbags, buttons, housewares, paper goods, candles, food, and much, much more.
The UCU shows at Seattle Center Exhibition Hall feature 150+ vendors excelling in the world of craft, art and design. 10,000 fans swarm the show over the weekend to peruse aisles full of quality, original merchandise. While admission to UCU shows is free, you will see a donation box as you enter, and on the raffle table. Any amount that you are able to give is most appreciated. Your donation helps to offset the cost of the show and keeps this event free for the public.
Over the years, UCU has added many smaller shows at festivals and markets in neighborhoods across Seattle. These craft markets feature a smaller selection, but still a wonderful curated mix of quality, original crafts and arts.
About Urban Craft Uprising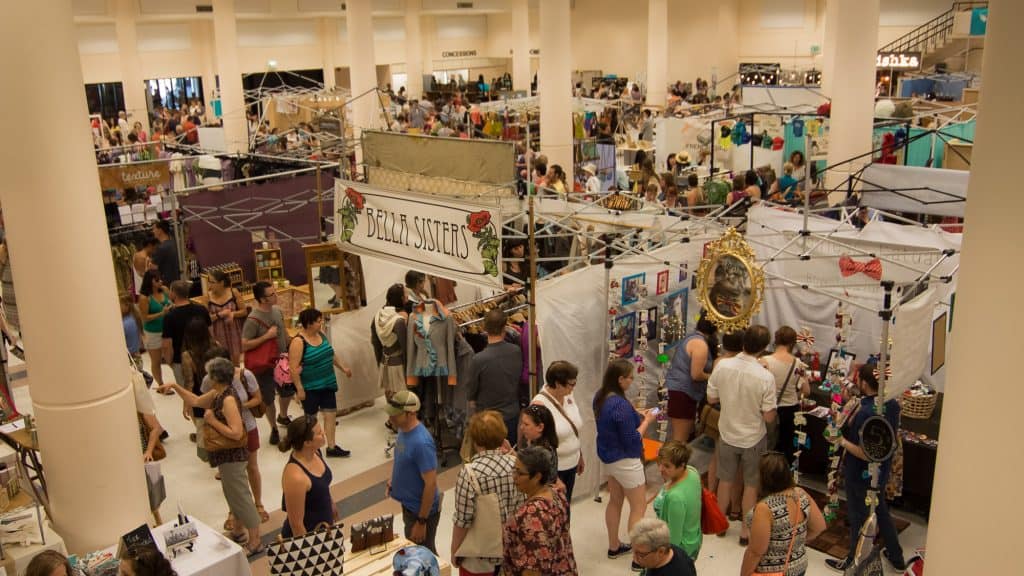 Urban Craft Uprising was started in 2005 to showcase the work of independent crafters, artists and designers — to provide a unique, high quality, hand-crafted alternative to "big box" stores and mass produced goods.
UCU now holds the largest indie craft event in Seattle and the Pacific Northwest.  In 2009, Urban Craft Uprising expanded its horizons to include a summer show, which has now also become an annual event, in conjunction with an exclusive wholesale event which allows our vendors to connect directly with wholesale buyers.
From 2014-2016, UCU began partnering with the Seattle Street Food Festival and Amazon to put on a smaller shows in the South Lake Unions (SLU )neighborhood, as well as many other shows and art walks. If you're a maker who would like to get involved with any of UCU show or festivals, be sure to get on their mailing list so you'll receive updates about application openings and deadlines.
Urban Craft Uprising aims to build a local (and beyond) community of artists, crafters and designers by organizing and providing events where indie crafters and artists can connect with their fans. In addition, Urban Craft Uprising promotes other community building activities, including our crafting shows, showcases, classes, events, sponsorships, online presence and other local activities.
2017 Urban Craft Uprising shows
Occidental Park Shows Every First Thursday, April through September, 4-9pm: April 6, May 4, June 1, July 6, August 3, and September 7.
Spring Show, May 6, 2017 at Seattle Center Exhibition Hall, 10am – 5pm
Summer Show, June 24 – 25, 2017 at Seattle Center Exhibition Hall, 10am – 5pm
Craft Market, Jul 15 – 16, 2017 at South Lake Union Seattle Street Food Festival, 217 9th Ave N, Seattle, 12pm – 6pm
Magnolia Summerfest, August 5, 2017 at West Magnolia playfield, 2518 34th Ave W, Seattle, 9am – 5pm
Urban Craft Fall Market, October 27, 2017 at The Meeting Center, 2031 7th Ave, Seattle 98121, 

10AM

–

6PM

Gobble Up Indie Arts & Crafts Fair, November 25, 2017 at Meydenbauer Center11100 NE 6th St, Bellevue, Washington 98004, 10AM – 6PM
$8 UCU Preview Night for Winter Show (limited to 1500 tickets), December 1, 2017 at Seattle Center Exhibition Hall, Seattle, Washington 98109, 5 PM – 9 PM
UCU Winter Show, December 2-3, 2017 at Seattle Center Exhibition Hall, Seattle, Washington 98109, Saturday 10AM – 6PM, Sunday 10AM – 5PM
Holiday Market at Westlake Park, every weekend November 24 – December 23, Friday – Sunday, at Westlake Park, 401 Pine St, Seattle, Washington 98101, 12PM – 5PM. Each week there will be a different set of curated makers.
UCU Retail store in downtown Seattle
In-between shows, you can shop at the UCU Retail Store, located in downtown Seattle just a few blocks from the Pike Place Market, on Second Avenue right next to the historic Moore Theater. The UCU shop carries handmade products from many of the wonderful vendors you'll find at UCU shows. The featured products will rotate seasonally, so there will always be fun and fresh items, every time you come in to shop. The UCU retail space is also available for events, trunk shows, art shows, and classes.
Seattle Center Exhibition Hall, 299 Mercer St., Seattle, WA 98109
Meydenbauer Convention Center, 11100 NE 6th St., Bellevue, WA 98004
Westlake Park, 401 Pine St., Seattle, WA 98101
The Meeting Center, 2031 7th Ave, Seattle, Washington 98121