Washington State grows nearly 70 wine grape varieties, about 44% white and 60% red. The principle white varieties are Riesling, Chardonnay, and Sauvignon, followed by Gewürztraminer, Semillon, Pinot Gris, Viognier, Chenin Blanc, and many more lesser known varieties often used as blending wines. Red grape varieties include Cabernet Sauvignon, Merlot, Syrah, Cabernet Franc, Malbec, Pinot Noir, Sangiovese, Lemberger, Grenache, Zinfandel, Barbera, and a few more.
Washington is one of the highest latitude wine regions in the world. However, Washington wine growing areas have several characteristics that make wine growing in our state particularly, uh, fruitful.
While high latitude makes viticulture difficult in other parts of the world, the dry climate in Eastern Washington is classified as a Continental Semi-Desert, due to the "rain shadow effect" created by the Olympic and Cascade Mountain ranges in the Western portion of the state. These mountains force clouds rolling-in from the Pacific Ocean to dump their rain in Seattle and prevent it from reaching the eastern part of the state.
This Rain Shadow Effect results in only 7 to 12 inches rain fall during the eastern growing season (compared to 35 to 38 inches in Western Washington). Due to this very dry climate, the Washington wine growing region is remarkably fungus free. As a result, very few chemicals are required and most vineyards use sustainable practices that enrich, rather than deplete soils and water sources.
Also unlike Seattle, the eastern part of the state experiences sun 300 days a year and incredibly long days, with 16 hours of sun at the summer solstice. The angle of the sun is similar to the great wine regions of Northern Europe, as they share similar latitudes.
Woodinville Wineries & Tasting Rooms
Located 30 minutes northeast of Seattle on State Highway 522, the city of Woodinville offers the opportunity to visit over 100 wineries and tasting rooms, plus several microbreweries and distilleries along the Sammamish River Valley. Nearly all of the Woodinville wineries grow grapes across the Cascade Mountains in Eastern Washington's Columbia Valley, where soil and climate provides ideal growing conditions for wine grapes. In the scenic Sammamish valley, the fruit of Eastern Washington meets the people who pour their passion into food and beverages with distinctly Northwest flair.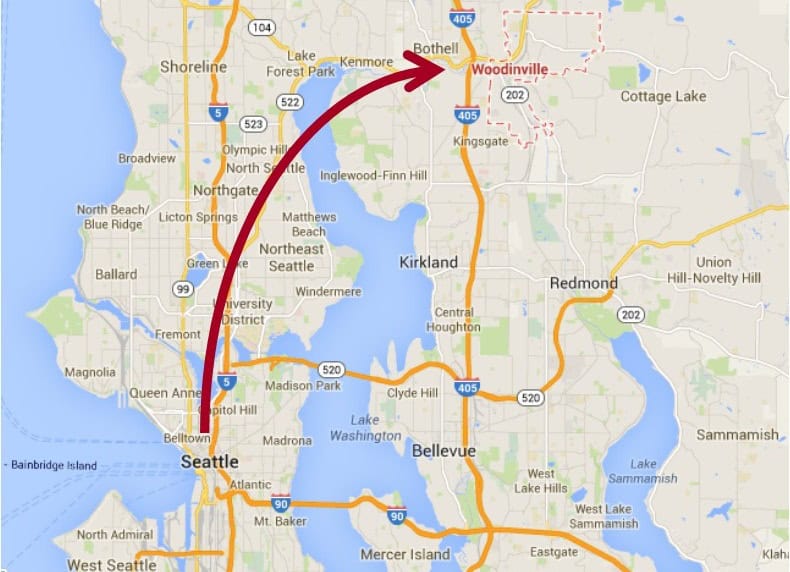 There are several distinct Woodinville wine tasting districts starting in the north in the Warehouse District and proceeding south through the Downtown District, West Valley District, and Hollywood District. All tasting rooms are open weekends and many are open daily. Many, but not all, are open on holidays and holiday weekends.
Before you go, also check the Winery Event Calendar for any special events on the day you plan to visit. Especially look for happy hours, freebies, and live music to maximize your fun without spending a lot. If bang-for-buck is your goal, check the list of Woodinville wines under $25. Other handy information includes a list of Winery Hours.
Most tasting rooms charge a tasting fee, which is usually applied to wine purchases you take home. Most tasting rooms also offer wines for sale by the glass, and some offer food for purchase.
Woodinville Breweries & Distilleries
Woodinville also has a growing list of microbreweries, distillers and cideries, making the community an "equal opportunity pourer". So whether you prefer wine, beer, cider, or something stronger, you'll find something to try. These establishments are also listed on the Woodinville tasting map
Woodinville Tasting Map
The Woodinville Wine Tasting Districts map includes wineries, breweries, and distilleries.
Get a copy of the map at the Woodinville Visitor Center, 14700 148th Ave NE, Woodinville, WA. Hours: 11am-3pm, seven days a week. However, maps and magazines are always available at the door.
You can also download a (large format) copy of the map here.
Tasting tips
Plan ahead before you go and scope out parking options. Plan to park in a central spot and walk to most or all of the tasting rooms you want to try.
No perfumes or strong flavors. Scented toiletries will adversely affect your tasting experience. This also goes for strong flavors including smoking, gum, mints, and coffee.
Eat before you begin wine tasting. Crackers or small bites are available at some locations. But small tastes can add up, so be sure to start tasting after you have had a meal.
Share a tasting to save money on tasting fees as well as to taste more wines, but please let the tasting room staff members know before you start.
Talk with the tasting staff. Ask about the wines, grape varietals, winemaker's philosophy or goals, and other questions you may have.
Discard unused wine in the vessel provided on the tasting bar.

With so many great wines to taste, you'll want to pace yourself. And certainly pour out anything not to your taste.

Buy what you like. The best wines are the ones you truly enjoy.
Buy what's special. Wine available at tasting rooms may not be readily available at a store near you, so it's a chance to get something special.