Fans of the fantasy HBO television series "Game of Thrones" eagerly anticipate the final season. Season 8 premieres Sunday, April 14, 2019.
Brief Synopsis of Games of Thrones
If you're a fan of the HBO series, you already know the story and follow your favorite characters. If you want to jump in the fray, we'll give you a very brief synopsis of the series.
Game of Thrones premiered in 2011. The series is based on the epic fantasy book series "A Song of Ice and Fire" written by George R. R. Martin. The story is set on the fictional continents of Westeros and Essos, where summers span decades and winters can last a lifetime. The costumes are lavish, the characters are complex, and the stories are detailed.
The series unfolds in three major story arcs: the civil war raging among the lords of Westeros for claim to the Iron Throne, the northern army who protects Westeros from the mythical creatures beyond a massive wall, and the rise of exiled Daenerys Targaryen as she builds an army in the harsh desert lands of Esso.
Rated TV-MA for strong brutal medieval warfare, gore, violence (including rape and torture), profanity, frightening intensity, sex, and nudity.
For more detailed summary of the series and each season, read the Sparknotes Game of Thrones Summary or visit the HBO Games of Thrones series page.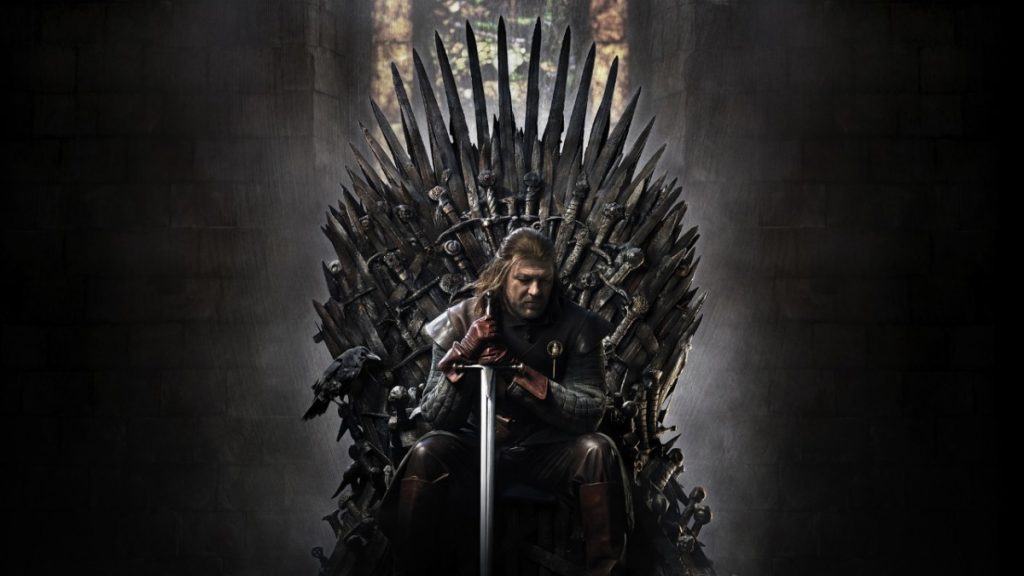 Game of Thrones Season 8 Premiere viewing parties
The following venues are hosting GoT premiere viewing parties on Sunday night, April 14, 2019. Some venues continue the series each week.
(Listed roughly going north to south in the Puget Sound region.)
April 14, 2019. 6PM. The Independent Beer Bar in Everett. Game of Thrones beer from Ommegang and bottle pours. GoT death pool. 16+ taps of great beer and ciders, wine list. Russian dumplings and crunchy pretzels available until late. Free admission. 21+ only. More info: https://www.theindependentbeerbar.com/
April 14, 2019. AFK Tavern in Everett. GoT inspired Drinks at a geek and gamer themed dive bar. Large game library free to play. Themed food and specialty drinks. Continues with a new episode every Sunday. Free admission. Under 18 requires Adult supervision. More info: https://www.facebook.com/AFKTavern/
April 14, 2019. 9PM. Barking Dog Alehouse in Seattle (Phinney Ridge). Happy hour pricing, the volume on, and every TV tuned in to the epic final season. Family-friendly neighborhood pub with local craft micro beers, rotating brews from around the country, and menu of snacks, sandwiches, and burgers. Continues with a new episode every Sunday. More info: https://www.facebook.com/events/344822329479109/
April 14, 2019. 7-9PM. Nectar Lounge in Seattle (Fremont). Game of Thrones: Season 8 Premiere Viewing Party. The premiere starts at 9pm but get here early. 7pm doors. 7:30pm Season 7 finale screening. 9:00pm Season 8 premiere. Food and drinks available all night. Pizza by the slice (half price until 8:30pm). Free entry with RSVP. 21+ only. RSVP does not guarantee entry–subject to capacity. So…get there early! More info: https://nectarlounge.com/. RSVP: https://www.eventbrite.com/e/game-of-thrones-season-8-premiere-viewing-party-tickets-58763209341
April 14, 2019. 6-8PM. queer/bar in Seattle (Capitol Hill). Enjoy fried chicken sandwiches and drink specials while living all the hype of the hit show on a giant 200" screen. Continues with a new episode every Sunday. Free admission. 21+ only. More info: https://www.thequeerbar.com/
April 14, 2019. 6PM. The Runaway in Seattle (Capitol Hill). Full bar with 18 taps, signature cocktails made to order, local beers, and wines. Bok A Bok Korean fried chicken menu also available. Free admission. More info: https://www.therunawayseattle.com/
April 14, 2019. 4:30-7:30PM. OnePiece Work in Seattle (Central Business District). Get a sneak-peek of OP's new office along with a Game of Thrones viewing party. OP is for tech-focused companies and entrepreneurs seeking an innovative, cross-border coworking space and business incubator. Food, games, and prizes. Come dressed as your favorite character and meet new friends from the Seattle Tech Community. Tickets: $1. More info: https://www.eventbrite.com/e/onepiece-work-seattle-game-of-thrones-premiere-night-tickets-59980243523
April 14, 2019. 8PM. Backyard in Seattle (Columbia City). 21+ only. The neighborhood's newest sports bar located behind its sister bar, Rookies. Full menu and bar. Watch the final season of GOT on big screen TVs while you enjoy free popcorn and GOT-inspired cocktails. Continues with a new episode every Sunday. Free admission. More info: https://www.rookiesbackyard.com/