For national discounts and store coupons, our "mother ship" Living On The Cheap keeps updated information about downloadable coupons, the latest coupon codes, and daily deals on all kinds of products, entertainment, and travel.
About Living On The Cheap
Living on the Cheap is owned and operated by a group of like-minded frugalistas and consumer advocates, with decades of experience in journalism or marketing. More than 20 veteran consumer journalists and frugalistas produce smart, original, well-researched articles filled with actionable advice on personal finance, lifestyle, technology, health, travel and entertainment.
Our goal is to help readers find a myriad of ways to not merely survive tough economic times, but to enjoy themselves and not feel deprived. We offer readers useful tools for living well on less, plus the latest deals and freebies from national retailers and restaurants.
Living on the Cheap is the flagship website of a national "cheap" network of 30+ local sites in cities across the country. The network attracts more than 250,000 unique visitors monthly, with a combined reach of 47,000 daily newsletter subscribers, 43,200 Twitter followers and 41,300 Facebook fans, as well as communities on Google+ and Pinterest.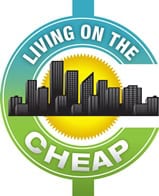 Coupons, coupon codes, and daily deals
At the links below, you'll find hundreds of discounts and freebies on your favorite brands or products and other goods, including groceries, household goods, personal products, travel, entertainment and much more.
Print-at-home coupons for groceries, baby items, household products, personal care, and more.
Coupon codes for retail stores, travel deals, home electronics, and more.
National deal-of-the-day programs (also called "flash sales"), from Travel Zoo, Groupon, and Living Social.
Let us know in a comment or email if there are any special deals you are looking for, and we'll be happy to hunt them down.