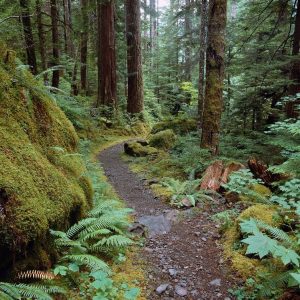 The Washington Native Plant Society (WNPS) is a forum for individuals who share a common interest in the unique and diverse plant life in Washington state. For more than 40 years WNPS has been a great source for native plant information and action. Begun by a small group of individuals ed at the Pacific Science Center in 1976, the Society has now grown to nearly 1400 members with twelve active chapters throughout Washington state.
The Society is an important voice for Washington's native plants. It has long supported the protection of rare plant species and numerous research projects: plant succession in the Mt. St. Helens' blast zone, a plant inventory of the Big Beaver Valley in the North Cascades identified a 1,000 year old cedar stand near Ross Lake that was protected from flooding by Seattle City Light which had planned to raise the level of Ross Lake to meet the increased consumption needs of Seattle. The Native Plant Stewardship Program is one of the Society's most successful educational efforts by offering training on the importance and use of native plants in restoration and landscaping.
Membership begins at $35/individual, $45/family.
Membership benefits include a quarterly publication, chapter meetings, plant sales, workshops, and field trips to admire, study and photograph wildflowers and plant communities. There are also volunteer opportunities to help restore habitats, conduct native plant inventories, and monitor rare plant populations. Your active membership strengthens the Society's role as the voice for Washington state native plants.