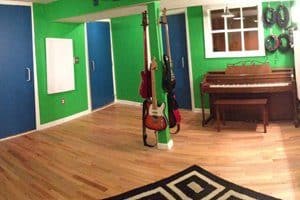 Hoot House Productions provides low-cost studio production while still having access to professional equipment. If you're in a band and just starting out in Seattle, it's crucial to have professional recordings to build a fan base and to book gigs. Hoot House Productions wants to make it easier for that to happen for musicians who are strapped for cash.
Hoothouse has a versatile collection of mics from Neumann, BLUE, Peluso, Rode, Sennheiser, Shure, and more and can run either Pro Tools or Cubase through a few different choices of quality preamps and through a 16 channel Mackie mixer and an Echo Audiofire12. Check out their full list of gear on their website.
And, if you have great song ideas, but need help turning them into a finished product, they can help produce your next album. Hoothouse wants to work with you to give you the services that you need, for a reasonable price.
Contact them to get the conversation started, email adam@octagonal.org or call Adam at 309-335-3561.