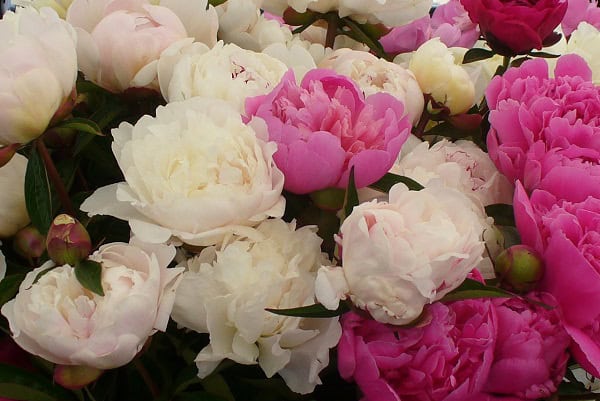 These May fairs and festivals in Seattle and the Puget Sound region have free or cheap admission ($15 or less). We sometimes include significant events with an admission fee higher than $15, if there are discounts or volunteering opportunities that allow you to enjoy the event for free. We're all about the free.
April 26 – May 6, 2018. Washington State Apple Blossom Festival:
Getaway: Washington State Apple Blossom Festival in Wenatchee
May 1, 20128. May Day Celebration and Potluck in Seattle at Woodland Park. Bring a potluck dish, play games, sing, and dance around the Maypole to celebrate a pagan tradition extolling Spring and the rites of fertility. Sack races for the kids. FREE admission.
May 4-13, 2018. Sequim Parade and Irrigation Festival on the Washington Peninsula is the state's oldest festival, celebrating the initiation, development and support of the irrigation ditches which brought water to the once dry prairies of Sequim. May 4-6 is Crazy Callen Weekend with a breakfast ($10), art walk, free family activities, kids parade, arts & craft fair, operetta ($10-$18), and driftwood art show. May 11-13 is Grand Finale Weekend with carnival ($22-$27), walking tour ($5 donation), golf tournament ($1-$25), competitions (FREE-$25), car show ($15 entry), operetta ($10-$18), and parade. FREE admission.
May 5, 2018. Opening Day boat races and boat parade in Seattle. Watch the Windermere Cup Regatta, followed by the boat parade through the Montlake Cut near the University of Washington. [Montlake Bridge is closed 9:40 a.m. to 3 p.m.] FREE admission.
May 5, 2018. iFEST Indie Game Festival at Seattle Center is devoted to indie games of all types, including video, board, and card games. Experience, play and have fun with cool, innovative, unique and imaginative games produced by indie game developers. Other activities include industry speakers and an opportunity to cast a vote for your favorite game via the "People's Choice" award. FREE admission.
May 5, 2018. Cinco de Mayo Celebration in Seattle on Beacon Hill. There will be a mercado, children's activities, raffle prizes, vendor and informational booths, traditional food for sale, and live music. FREE admission.
May-5-6, 2018. A Festival for May in Carnation. Mayday, 'somour games', was a popular holiday in the middle ages. Bringyng in the May was the traditional form of this celebration. Many towns had a year-round Maypole in their village square around which villagers would enjoy dancing, games, contests, choosing a May Queen, and feasting. Tickets: Adults $10, Seniors (60+) $7, kids 12 and under $7, kids 5 and under free.
May 6, 2018 Asian Pacific Islander Heritage Celebration at Seattle Center:
May 6, 2018. Japanese Children's Day Festival (Kodomo no Hi) in Seattle is a fun and exciting introduction to the rich world of children's culture in Japan. Families can take part in the festival as an opportunity to experience multiculturalism while celebrating the health and growth of all children. Enjoy activities like Japanese style dancing performances, Yukata dress up, taiko, martial arts, kids' tea ceremony, games, and food for purchase. FREE admission.
May 6, 2018. Taco Libre Truck Showdown:
May 11 – 12, 2018. Northwest Paddling Festival at Lake Sammamish is the largest event of its kind in the Pacific Northwest. Featuring more than 60 paddle sports businesses offering canoes, kayaks, stand-up paddleboards, paddling equipment, accessories and gear. Shop, compare and browse the best in paddle sports brands side-by-side, enjoy a tour down Issaquah Creek, or learn a new skill at a seminar. There is a nominal fee for on-water demonstrations and tours. FREE admission.
May 11 – 13 and 19-20. Art Studio Tour on Camano Island:
May 12, 2018. Penn Cove Water Festival on Whidbey Island has Native American canoe races, arts and crafts, food, dance, music, traditional storytelling, and children's activities. FREE admission.
May 12, 2018. Maritime Family Festival in Seattle:
May 12, 2018. Pierogi Fest on Seattle's Capitol Hill is a dumpling extravaganza featuring several kinds of stuffed pasta dumplings. Eat leisurely, listen to Polish music, and have a good time. Cost: 10 pierogis for $10. Also available for purchase: sausage & sauerkraut, Polish beer, beverages, and desserts. Also for sale: other Polish goods, arts, and crafts.
May 12, 2018 Spirit of Africa festival at Seattle Center:
May 12, 2018. The Backyard Wildlife Festival in Tukwila features presentations from local experts, along with a variety of educational exhibitors, arts & craft vendors, speakers and native plant sales. Don't leave the kids at home, there is plenty to keep the entire family entertained and excited – be sure to check out the Kids Garden Party area. FREE admission.
May 12-13, 2018. Peony and Bamboo Festival at Seattle Chinese Garden. Highlights treasures of Chinese horticulture with plant sales, culture entertainment, displays, Chinese food booths, and activities for all ages. Free admission.
May 12 – 13, 2018. Artist Studio Tour in Kirkland:
May 16 – 19, 2018. Ballard Jazz Festival in Seattle:
Advance purchase online for best ticket discount to Ballard Jazz Festival
May 17, 2018. Norwegian Constitution Day parade and festival in Ballard includes kids' activities, free museum admission, an evening parade, and more. FREE admission.
May 17 – June 10, 2018. Seattle International Film Festival (SIFF):
May 18 – 20, 2018. Viking Festival and Parade in Poulsbo celebrates Scandinavian heritage with a parade, music, street festival, contests, food, carnival, tours, and more. The day commemorates Norway's Constitution Day, May 17 (in Norwegian, "Syttende mai"), when Norway's parliament adopted their constitution, modeled on the constitution of the U.S. FREE admission.
May 18 – 20, 2018. Rainier Independent Film Festival (RIFF) in Ashford, WA (80 miles southeast of Seattle):
Big list of Seattle, Puget Sound film festival discount tickets
May 18 – 20, 2018. Bluegrass Music Festival in Shelton (85 miles southwest of Seattle) offers many activities in addition to multiple-band shows, including workshops, vendors, contests, all night jamming in the campground (midnight hot dogs included), open mic and more. One thing's for sure – there is something to keep you occupied at any time throughout the weekend. Tickets: Friday evening, Saturday afternoon, Saturday evening, OR Sunday $15.00 $15.00. All day Saturday $25.00. Weekend pass $45.00. Age 12 – 17 are half price. Age 11 and under are free with paying adult. Family weekend pass includes: 2 adults and up to 4 kids for $90.00. Weekend camping pass $20.00 or $10.00 per day.
May 19, 2018. Aviation Day at Paine Field in Everett:
May 19, 2018. Jazz Connection music festival in Edmonds includes a full day of performances from nationally recognized and award-winning High School and Middle School jazz programs from throughout the Pacific Northwest. Jazz Connection is an encore for accomplished students to perform for the community and showcase their improvisational talents while playing side-by-side with professional musicians.  Admission is FREE, donations are encouraged. All proceeds from this annual event go directly to student scholarships and district grants to help further enrich music education in our schools.
May 19, 2018 Chinese Culture & Arts Festival at Seattle Center:
May 19, 2018. Petpalooza in Auburn at Game Farm Park. Animal-related entertainment stage, flydog and agility demos, pony rides, Mud Bay's Northwest Pet Contest, an agility area, over 150 vendor booths, adoptions, low-cost animal services, giveaways and lots of activities to keep both humans and pets entertained. Free admission.
May 19, 2018. Spring Fairy Festival in Tacoma is an indoor/outdoor street fair with artists, craft vendors, dancers, magicians, musicians, and costumed fairies & elves. There are many fine food establishments within walking distance, plan a picnic in nearby Wright Park (weather permitting). Street parking. Free admission; donations accepted.
May 19, 2018. Armed Forces Day at Joint Base Lewis-McChord. JBLM opens its gates to the public to celebrate service men and women with historical reenactments, military vehicles, music, entertainers, food vendors, a beer garden, and carnival rides. Be sure to read the requirements for entry onto the military base (valid ID, vehicle inspection, weapons, pets, etc.). Free admission, some activities with a fee (food, carnival, etc.)
May 19-20, 2018. U-District StreetFair in Seattle:
U-District StreetFair (3rd weekend in May) features art, music, food
May 20, 2018. JazzED Jamboree in Seattle at Langston Hughes PAC. Seattle kids play jazz in the final performances for the ensembles season. Free admission; donations appreciated.
May 25 – 28, 2018. Northwest Folklife Festival at Seattle Center:
Free Folklife Festival Memorial Day weekend at Seattle Center
May 26 – May 27, 2018. Classic Workboat Show in Seattle. Come down to Lake Union Park to the Historic Ships Wharf and see a collection of visiting working vessels: tug boats, fishing boats, and emergency response vessels. Activities for the whole the family, sea storytelling, and a beer garden. Free admission; donations gratefully accepted.
May 26 – May 27, 2018. Kitsap Harbor Festival is the opening of the summer boating season in Bremerton. Enjoy historic ships, pirates (take your picture with your favorite pirate),  food and crafts vendors, beer garden, and Main Stage Entertainment.
May 30 – June 3, 2018. Bellevue Jazz Festival includes a diverse lineup of jazz musicians. Enjoy free and ticketed performances by international jazz icons, celebrated local artists, and top student musicians. Dozens of free shows are scheduled throughout Downtown Bellevue. Ticketed festival performances will take center stage at the Meydenbauer Center and Bake's Place in downtown Bellevue. Tickets for headliners and featured artists $19-$50.
You might also like:
But wait, there's more!
Any day you are looking for something fun to do, find half-price and discount tickets on our half-price tickets page, and many more free and cheap things to do every day on the Greater Seattle on the Cheap calendar.