World famous Penn Cove Mussels will be the centerpiece of two days of festivities at Coupeville's annual spring tradition. The event includes the crowd-favorite chowder tasting, plus mussel eating competitions, farm tours, and activities for all ages.
Highlights of MusselFest (FREE and paid)
Visitors to the festival should start at the MusselFest Headquarters, located at the Recreation Hall in the heart of historic downtown Coupeville on Whidbey Island.
Mussel Mingle: an informal kick-off for Musselfest. Held at the Coupeville Rec. Hall on Friday, it's a chance to listen to music, eat mussels, celebrate the weekend, and get ready for Saturday's official start of Musselfest. TICKETS: $30 (cash/check only)
Tour the Mussel Farm: During MusselFest Weekend, you have a chance to go out to rafts in Penn Cove to see where the mussels grow! You'll learn all about why the farm is located there and how that makes for better-tasting mussels. $10 per person. First 100 kids are free. Buy tickets at Coupeville Rec Hall on Saturday or Sunday.
Waterfront Beer Garden: a great lineup of local and regional talent. Beer will be from Oak Harbor's Flyers and Coupeville's Penn Cove Taproom. For wine drinkers on Saturday, Bloom's Winery will be serving and on Sunday Spoiled Dog Winery will be serving.
Penn Cove Shellfish Tent: buy and eat mussels.  Stay and enjoy beer, wine, and great live music.  The tent features amazing music all day long with Spicy Southwestern Mussels served from 10: a.m. – 7:00 p.m.
Mussel Chowder Tasting Competition: Buy tickets at the Coupeville Rec. Hall – On sale at 10 a.m. – tasting starts at 11 a.m.  Saturday tickets often sell out by noon. There are four tickets you can buy, each gives you four different places to taste chowder.
Cooking demonstrations.
More info: http://thepenncovemusselsfestival.com/.
About Coupeville and Penn Cove Mussels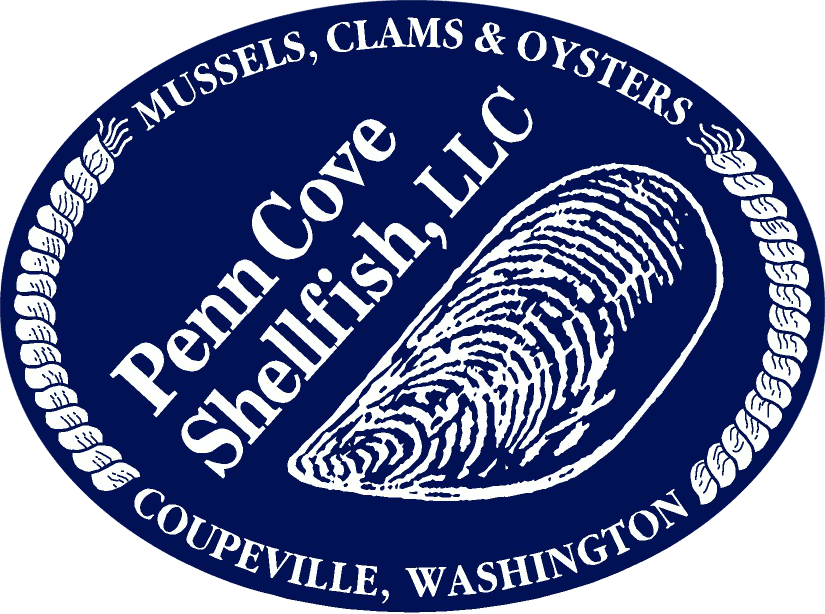 Coupeville
, located on Whidbey Island in northern Puget Sound, is the second oldest incorporated town in Washington and the County Seat of Island County. Whidbey Island, along with Camano Island, Ben Ure Island and six uninhabited islands, comprises Island County, Washington. Whidbey Island is approximately 55 miles long, making it the largest island in Washington State. Often referred to as Puget Sound's Largest Artist's Colony, Whidbey is home to numerous working artists, writers, and performers.
Penn Cove is the most prolific mussel growing area on the West Coast due to the proximity to the Cascade Mountains and the geographical shape of Penn Cove which captures the snow melt of fresh mountain river waters and the minerals they contain. Those factors combined with the sunshine provided by the rain shadow effect of the Olympic Mountains tends to turn Penn Cove into a bay of nutritious plankton soup to feed and grow our mussels and other shellfish. Penn Cove Mussels, Inc. was established in 1975 in Coupeville, Washington and is the oldest commercial mussel farm in North America. In 1996 the company formed a joint venture with Coast Seafoods Company, to form the HAACP-certified joint venture currently known as Penn Cove Shellfish, LLC.
2018 Musselfest
When: March 2-4, 2018. Friday 5:30 p.m. – 8:30 p.m. Saturday-Sunday 10:00 a.m. – 4:30 p.m.
Where: Coupeville, WA on Whidbey Island
Coupeville is about a two-hour drive from Seattle or the eastside via the Mukilteo ferry to Whidbey Island. From Tacoma or the Kitsap Peninsula, head to Pt. Townsend and take the Coupeville ferry to Whidbey Island. From Seattle via Mukilteo ferry is about 2 hours or 70 miles including the 20-minute ferry ride (ferry fare is about$35 round-trip for 2 adults and 2 kids by car from Mukilteo and about $25 from Pt. Townsend). Or, avoid the ferry by driving north on I-5 through Burlington, then south on Whidbey Island to Coupeville (about 2 hours or 100 miles from Seattle).
Where to find FREE parking at MusselFest
There are several options for parking:
BEHIND THE COUPEVILLE LIBRARY – $5 to the Coupeville Boys and Girls Club.
COUPEVILLE TOWN HALL AND ISLAND COUNTY BUILDINGS – Free.
COUPEVILLE ELMENTARY, MIDDLE, AND HIGH SCHOOL – Free and shuttles run from 11: a.m. – 4:00 p.m.
SHERMAN'S PIONEER FARM ON EBEY ROAD – $5 to the Friends of Ebey's Reserve.   Shuttle operates from 9 a.m. to 5:00 p.m. on Saturday.
Church parking lots may be closed or require payment.
No parking on the lot at 8th and Main Street due to the moisture in the ground.
More info: http://thepenncovemusselsfestival.com/.
Getaway: MusselFest celebrates bivalves on Whidbey Island
When
Daily @ 10:00 am-4:00 pm (March 2, 2019 - March 3, 2019)
Reader Interactions