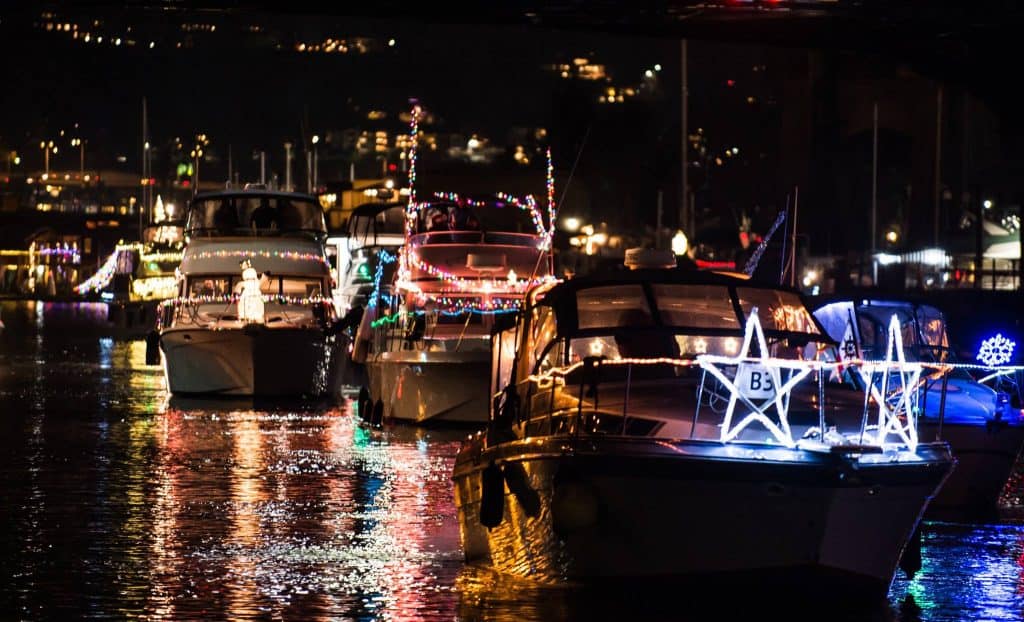 These December festivals in the greater Seattle metropolitan region have free or cheap admission ($15 or less). We include a few higher priced festivals that offer a discount or another way to enjoy the event at a reduced (or free) price. (We're all about the free.)
As you might expect, these December events are mostly Christmas-themed festivals with a focus on food and holiday entertainment. Some do include gift shopping. However, if you are looking for arts & crafts fairs that focus on holiday gift shopping, see our list of Seattle Christmas gifts, arts and crafts fairs as well as our holiday shopping page.
Finally, December is not all about Christmas. So, check our list of free Hanukkah public menorah lighting events throughout the Puget Sound region.
Saturday, December 2. 10:00am-7:00pm Poulsbo Scandinavian Bazaar and Julefest by Sons of Norway features a bazaar until 4:00pm, then Santa arrives at 6:00 for Julefest. The day features a Scandinavian Bazaar with arts & crafts, traditional foods, and entertainment. The evening Julefest features Christmas tree lighting, Lighting of the bonfire, and of course Santa Claus. Hot chocolate, hot cider, hot dogs for sale. Take the Bainbridge Island or Bremerton Ferry from Seattle, The Kingston Ferry from Edmonds, or drive around Puget Sound through Tacoma and up Highway 3.
Saturday-Sunday, December 2-3. 10am-5pm. Seattle Winter Festival & Crafts Fair at the Phinney Center. Two historic buildings full of specialty items by local artists and craftspeople, curated by a jury. The event is a perennial favorite of shoppers and vendors alike, and has gained a reputation as the perfect destination for unique holiday gifts. Winter Festival offers something for everyone: home goods, jewelry and accessories, art, pottery, gifts for cooks, apparel, gifts for guys, gifts for gals, gifts for kids, gifts for yourself. All day entertainment, food & beverages for purchase. Admission $4/public, $2/PNA member, children 12 and under are free. Requested can of food to donate to the FamilyWorks Food Resource Center. Winter Festival supports Phinney Neighborhood Association (PNA) programs such as the Hot Meal Program, childcare, the Greenwood Senior Center, the tool library, and art gallery as well as various community projects.
Saturday, December 9. Dickens Festival in Tacoma from 11am-5pm in the Circus Tent across from Stadium Thriftway. Entertainment, Lumins, Dickens Costume Contest, and Vendors. Carriage Rides from 1 – 3pm, from Rankos' to the Conservatory for their Victorian Holiday Festival at W.W. Seymour Botanical Conservatory in Tacoma from 10am-3pm. Enjoy live music, crafts and delightful refreshments.
Friday-Sunday, December 1-17. Christmas Lighting Festival in Leavenworth, WA (120 miles east of Seattle). A variety of free and paid activities, including live entertainment, window shopping, food, and winter sports. Want to leave the driving to someone else? Relax while Customized Tours takes you via bus to and from Leavenworth. OFFER DATES: Saturdays, December 02, 09, 16, 23. FULL PRICE: $130. DISCOUNT PRICE: $65. Check Availability. More info:
Getaways: festivals in Leavenworth, WA (120 miles east of Seattle)
Daily, December 1-23 (began November 24). The Argosy Cruises Christmas Ship Festival is a ship-to-shore holiday celebration that has been a Northwest tradition since 1949. The Christmas Ship and Follow Boats are decorated with hundreds of lights and sail to different waterfront communities each night. Choirs perform to guests aboard the Boats, as well as to communities who have gathered to watch the flotilla from shore. General admission boat ride tickets are $34-$62. But, there are several ways to enjoy Christmas Ships for free: watch the spectacle at a public shore viewing party, join the flotilla in your own boat, or head to the Fremont Cut on December 15 for the Parade of Boats. For more information:
Daily, December 1-23. 10:30AM to 4:30PM (or dusk). Issaquah Reindeer Festival at the Cougar Mountain Zoo is unique holiday celebration in the Northwest since 1988, offering a variety of activities for the whole family. Admission: $14.50 General (13+), $12.50 Senior (62+), $10.50 Children (2-12), Under 2 is FREE. Discount for groups of 12 or more; $1.00 off each admission when paid in one combined payment. There are also snacks for purchase, photos with Santa (starting at $15), and a gift shop.
Daily, December 1-24, 9AM-6PM (began November 11). Swanson Nursery Reindeer Festival in north Seattle. Bring the whole family to celebrate the season with shopping, Santa's reindeer, a holiday yurt photo op, and much more. Learn about these incredible animals during "Meet the Reindeer" sessions Monday-Friday at 10am and weekend at 10am and 4pm. Reindeer selfie, anyone? Note: the 4pm session on December 24th will be held at 2pm to accommodate early closing at 3:00PM for the Christmas holiday.
Daily, December 1-24, 11AM-5PM (began November 11). Free live reindeer in Bothell. Two of Santa's reindeer are at Country Village Shops amidst twinkling lights and holiday displays.
Daily, November 24 – January 1, 2018. Monday – Saturday 10 am – 8 pm, Sunday 11 am – 7 pm. Winter Wonderland at Redmond Town Center. Holiday activities for the entire family, extended shopping hours, and special events all season. Free entertainment stage. Springfree Trampoline. Noel Tree Farm. Santa's Photos, packages begin at $24. Holiday Horse Carousel, $4 per person suggested donation (cash or check only), benefitting Hopelink. Holiday Train, $4 per rider (cash or card). Skating Rink (ages 3+, covered, synthetic surface), $7 per session  (credit/debit card only) includes skate rental.
Daily, December 1, 2017 – January 1, 2018 (began November 24). Winterfest at Seattle Center is five weeks of free and affordable, fun-filled activities and live performances, including free ice sculpting, free lively weekend performances and student showcases, Winterfest Ice Rink (admission and rental fees), Winter Train & Village (suggested donation). For more information:
Free Winterfest at Seattle Center runs Thanksgiving to New Years
December 15, 2017. 11AM-6PM. Festival at The Fields in Monroe, WA. A holiday bazaar and fundraiser (with free activities!) featuring local vendors, businesses, chairities, bakeries, a coffee cart, multiple raffles, a family photo opportunity, Story Time with Mrs. Clause (hosted by Healthy Family Chiropractic!) and much much more. Our Goal is to bring together our community for the holidays! Come enjoy free hay rides, story time, crafts and more. We are a private wedding and event venue sharing our beautiful farm to bring together the community for a family festival.
December 15, 2017. 7:30 – 9:30 PM. Parade of Boats at Evanston Plaza in the Fremont Lake Union Center. Watch from shore as lighted boats and ships make their way through the Fremont Cut. Or, participate with your decorated boat. Register your boat (it's FREE to register and be part of the Parade). Participating vessels will be judged by an onshore panel of local media and maritime personalities and awards will be given to the most creative and festive boats.
Saturday, December 16, 3:00 pm Free Tuba Christmas Concert in Poulsbo at Muriel Iverson Williams Waterfront Park.
Christmas Week, December 22-23, 26-31, and January 1, 2018. Model Train Festival in Tacoma. History and holiday magic unite at the Washington State History Museum during the Annual Model Train Festival in December, a showcase of the most spectacular and detailed model railroad scenes in the Pacific Northwest and the largest permanent model train layout in Washington. Santa Claus will be available for pictures with you and your family on December 22 and 23 from 11 AM – 3 PM. The free pictures will be instantly e-mailed to an address of your choosing. Admission: Adults (18+)  $14, Seniors (65+) $11, Students (6-17) $11, Military $11, Children (5 and under) FREE. Family (2 adults, 4 children under age 18) $40. EBT Card Discount: $1/person and $2/family. December 23 is also Teen Tix day! Show your Teen Tix card and get in for just $5.00.
But wait, there's more!
Check our Christmas page for Santa photos, Christmas lights, coloring pages for Christmas and Kwanzaa, and other holiday events.
Any day you are looking for something fun to do, find half-price and discount tickets on our half-price tickets page, and many more free and cheap things to do every day on the Greater Seattle on the Cheap calendar.