Seattle Tree Ambassadors are volunteers who care for Seattle's trees. They help make a positive difference in Seattle's urban forest by creating a culture of caring for the city's trees.
Tree Ambassadors are trained to host tree walks, adopt sites, and organize work parties. Check their events calendar to find out about future opportunities to join Seattle Tree Ambassadors on a walk or at a work party.
All Tree Ambassadors attend an orientation training and at least one project area training. Training for new volunteer Tree Ambassadors is held once a year in the spring. Join the email list to get updates about future training opportunities.
Tree Ambassador is a project of the Green Seattle Partnership, a collaboration between the City of Seattle, Forterra, community groups and non-profits, businesses, schools, and thousands of volunteers working together to restore and actively maintain the City's forested parklands.
About Green Lake
Green Lake is one of Seattle's most beloved parks. Geologists say the glaciers that formed Puget Sound also formed Green Lake 50,000 years ago.
The lake was included in the Olmsted Brothers' comprehensive parks plan, and was given to the City by the State of Washington in 1905. During the next 15 years, Green Lake underwent a series of changes: it was diked, dredged, and filled in, until it shrunk by nearly 100 acres. The last fill deposited in Green Lake was from the excavation of Aurora Avenue.
Today, the lake is located in the center of a dense urban neighborhood, yet is a natural preserve for hundreds of species birds and waterfowl, trees and plants.
Green Lake draws thousands of people to its shores from all over the city. The 2.8-mile paved path around the lake provides a perfect recreational spot for runners, bikers, skaters, and walkers. Many others use the athletic fields or visit the park for boating, picnics, and swimming.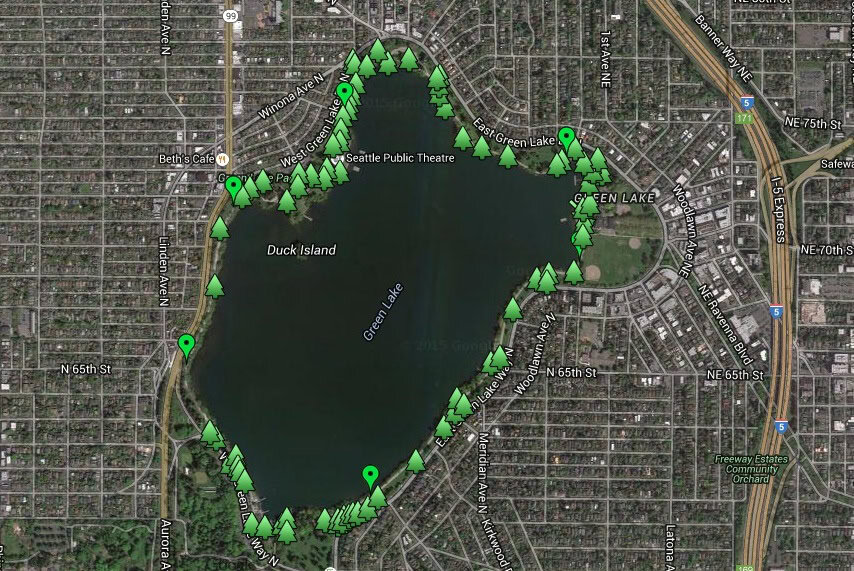 This online map of trees at Green Lake in Seattle helps you identify the significant trees along the walking path around Green Lake.
The start of the map is on the path in front of the Green Lake Community Center, and the walk continues counterclockwise around the lake. However, there are also starting points at the Wading Pool area, the Bathoouse, the Aurora strip, Aqua Center, and the southeast shoreline.
For each tree, there is a popup detailing the tree's size, habitat, and location, along with a photo of the tree in the landscape, as well as closeups of leaf and flower forms.
This is a way cool map. Check it out!
The map has been created as part of the Seattle Tree Ambassador program.