Gov. Jay Inslee has issued a Stay at Home, Stay Healthy order in Washington state which will be effective through May 4th. All gatherings of people for social, spiritual and recreational purposes are prohibited.

This applies to both private and public gatherings which include everything from sleepovers for children to weddings.
Listed below is a breakdown of retail stores that are closed and what's still open.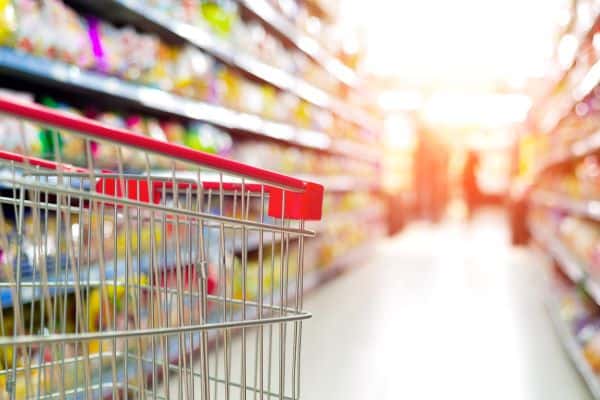 What's open
It's crucial to reduce social interactions where the highly contagious coronavirus can spread.
Essential stores and services are open: grocery stores, pharmacies, gas stations, food supply chains and other businesses that offer people basic, crucial needs will remain open. Some childcare facilities, hardware, office supply, and pet supply stores are also open. However, many of these stores offer curbside pickup of phone or online orders only.
Grocery stores may have reduced hours, especially to accommodate restocking activities. Some also designate special shopping hours for senior citizens, usually the first 1-2 hours on certain days of the week. (Scroll down for a more complete list). Many stores offer ordering online or in their app, with curbside pickup–so be sure to check for these services. Many grocery stores offer delivery service.
Food banks and food pantries are essential services that will remain in operation through this restriction.
Drug stores and pharmacies may have reduced hours or service (such as drive-thru only). Locally owned Bartell Drugs has 67 locations, some open 24-hours and most offering delivery, including prescriptions.
Costco stores are open but control the number of members in warehouses and have reduced some services.
Big box stores with general merchandise such as Fred Meyer, Target, and Walmart may have reduced hours. Some are focused on delivery pickups and online orders.
3R Technology is an essential services business. Retail Stores are completely closed, including for recycling drop-offs. Phone orders and shipping is available on some items. Pickup is available on a case-by-case basis. Online stores will continue to operate and fill orders.
Convenience stores such as 7-Eleven and Circle K are open and observing heightened sanitation practices. 7-Eleven is offering delivery.
Restaurants may remain open for takeout and delivery.
Engaging in activities essential for the health and safety of family, household members, and pets, which includes things such as seeking medical services, obtaining medication, and caring for someone (family or friend) in another household or residence.
Engaging in outdoor exercise activities, such as walking, hiking, running or biking, but only if appropriate social distancing practices are used.
Post offices remain open, some postal services are available at many other locations (drug stores, grocery stores, shipping centers, etc.)
King County Solid Waste Division has a staggered entry system for self-haul customers at transfer stations. Self-haul customers are encouraged to postpone visits to their facilities to avoid long lines and possible service delays. Self-haul customers who cannot delay a visit are being asked to take the following actions:
Practice social/physical distancing by staying at least six feet from others.
Stay in their vehicle while waiting at the scales.
Pay with a card rather than cash.
If you or someone in your household is sick or exhibiting symptoms of COVID-19, do not visit their facilities.
Some government services are being offered remotely: https://kingcounty.gov/about/news/covid-service-changes.aspx
For the most up-to-date list from Washington State DOH, visit: https://www.coronavirus.wa.gov/whats-open-and-closed
Senior hours, curbside pickup, and delivery
Senior hours (can also include pregnant women or other "vulnerable" shoppers or caregivers). For stores with no special shopping hours, curbside pickup and delivery is widely available and recommended. Order online or in their app for free pickup. Delivery is often free with qualifying orders.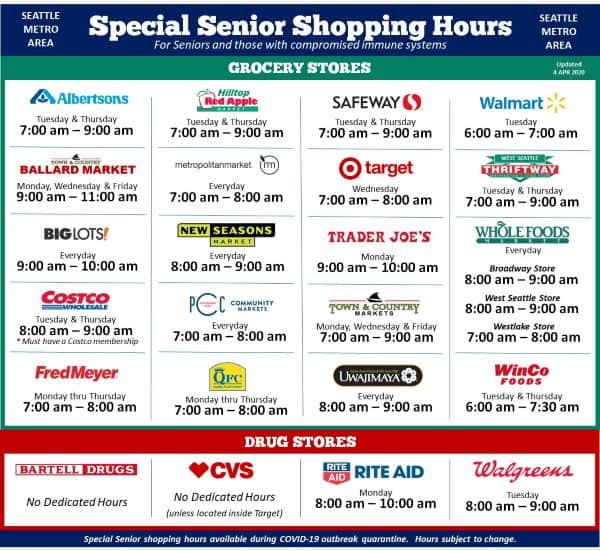 We've found the following published special senior shopping hours during the COVID-19 pendemic. Subject to change, of course. So call or be patient if things change.
More delivery services
Transportation
All public transportation systems in the Puget Sound region have reduced service by 30% or more. Some routes are cancelled. Sunday service is cancelled for some routes.
Extra cleaning is being conducted especially for high contact surfaces. Passengers are encouraged to practice social distancing by sitting in every other row, if possible. Do not use public transit if not required for work or essential tasks or if you or anyone in your household is showing symptoms.
Fare collection is temporarily suspended on all routes. Enter and exit buses by the rear doors only. To stay informed, sign up for text alerts on any system you use:
Washington State Ferries are operating on winter schedules. Car passengers are encouraged to remain in their vehicles for the duration of the crossing and to avoid congested public areas. Those in the passenger cabin should try to maintain a personal distance of six feet; according to the CDC, that is a safe distance to avoid catching most respiratory viruses.
What's closed – uh, pretty much everything
There is a statewide ban on gatherings and going out ("stay home"), except for essential tasks.
The stay-home order applies to private and public gatherings. These include some of the most deeply meaningful gatherings in communities, such as weddings and funerals.
All non-essential businesses are closed, such as movie theaters, performing arts venues, museums, health and fitness clubs, indoor recreational facilities, and attractions such as the Space Needle.
Non-essential stores include: clothing, shoe, sporting goods, furniture, household goods, cosmetics, jewelry, and second-hand goods (Goodwill).
Personal services such as nail, hair, and massage are closed.
Elective medical procedures such as health checkups are postponed.
Public Parks and Recreational facilities have cancelled all programming and closed facilities. This includes rentals, permitted events, community centers, teen programs, swimming pools, and environmental learning centers.
Parks across the state are closed, including parks and facilities managed by state, county, and city governments. Parking lot and trailhead gates will be locked and restrooms will be closed.
Schools
Schools are closed for the remainder of the 2019-2020 school year. Sources of information that educators and families should monitor are