In order to slow the spread of rapidly increasing COVID cases in Washington state and ensure that hospital and medical systems are not overwhelmed, difficult but necessary steps are being taken to protect public health.

Washington has avoided overwhelming the state's health care systems throughout this pandemic so far through rigorous safety measures, such as physical distancing and masking, as well as social and economic restrictions. This new recovery system aims to safely ease some restrictions while also maintaining crucial hospital capacity, ensuring care for Washingtonians that need it and paving the way for economic recovery.
---
Love our cheap ideas? Get our FREE email newsletters.
Choose from daily, weekly, and monthly lists:
---
Healthy Washington — Roadmap to Recovery
The "Roadmap to Recovery" plan intends to offer a way forward that balances economic recovery and public health issues as Washington State continues to slow the spread of COVID-19 while vaccinations are rolled out in 2021. The path to recovery relies on multiple key metrics, including health system capacity and case numbers. A
Washington State has been divided into eight regions of four or more counties, each region according to available health care services. Every region will begin in Phase 1. The regions are mostly based on Emergency Medical Services (EMS) regions used for evaluating healthcare services.
Each region's phase will be determined by the Washington State Department of Health in response to data such as rate of COVID-19 cases and hospital capacity, including ICU occupancy.
For more information about the data used to assess phases, visit the COVID-19 dashboards.
For more information, visit: https://coronavirus.wa.gov/–this page will be updated on January 11, 2021 when the governor's new regional-based Healthy Washington plan goes into effect.
Face Masks requirements in Washington State
Face coverings are required statewide in all public spaces because they are effective in slowing the spread of COVID-19, especially when combined with 6 feet of physical distance. Wear a face covering in indoor public spaces and outdoors when you can't stay 6 feet apart from others. A governor's order directs businesses to require and enforce the use of face coverings by all customers or visitors.
More info about Face Masks rules in Washington State and Guidance on Cloth Face coverings.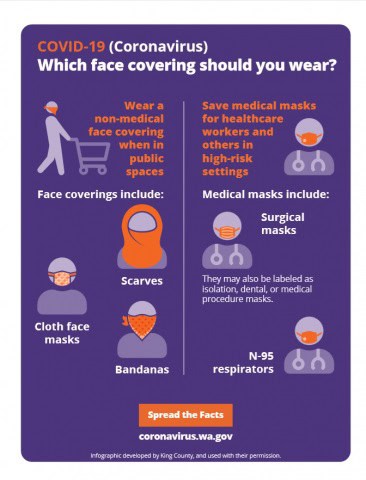 Delivery Services
Senior hours,
Many grocery stores and other retailers in western Washington offer a special "senior hours" for the most vulnerable customers during the pandemic. Senior hours can also include pregnant women or other vulnerable shoppers or caregivers with pre-existing health conditions who are more susceptible to COVID-19.
For stores with no special shopping hours, curbside pickup and delivery is widely available and recommended. Order online or in their app for free pickup. Delivery is often free with qualifying orders.
The following graphic is only a guide, check with your neighborhood stores to find out if they offer special shopping hours. Listed below the graphic is another list of stores across Washington State and their hours.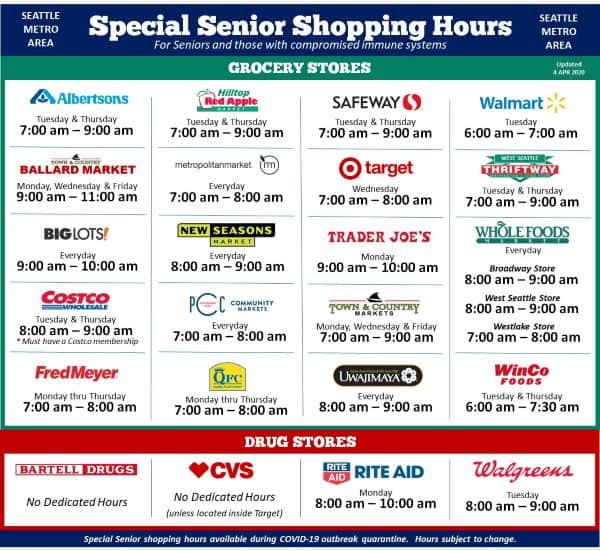 We've found the following published special senior shopping hours. Subject to change, of course. So call or be patient if things change.
Public Parks
Most parks are open for day use. Most camping and overnight stays are closed. Group activities are, of course, restricted. Check their websites for more details.
Public Transportation
All public transportation systems in the Puget Sound region are operating, with some reductions of services. See their website for more details.
Schools
Washington State Office of Superintendent of Public Instruction (OSPI) provides guidance on schools re-opening. Sources of information that educators and families should monitor include:
Love our cheap ideas? Get our FREE email newsletters. Choose from daily, weekly, and monthly lists. Click here to subscribe.