The Global Game Jam® is an annual event usually occurring over a weekend in January. In today's heavily connected world, GGJ brings people together to share creativity through video games.
The GGJ is essentially a hackathon* focused on game development. It is the world's largest game creation event around the globe and seeks to stimulate collaboration.
*A hackathon is when a large number of people meet to engage in open-source, collaborative computer programming, often to solve problems.
---
Love our cheap ideas? Get our FREE email newsletters.
Choose from daily, weekly, and monthly lists:
---
About The Global Game Jam
The GGJ is not a competition. The weekend stirs a global creative buzz in games, while at the same time exploring the process of development through programming, iterative design, narrative exploration, and/or artistic expression.
People with all kinds of skills participate and contribute to this global spread of game development and creativity. The jam is known for helping foster new friendships, increase confidence and opportunities within the community.
The jam is always an intellectual challenge. Participants are encouraged to explore new technology tools, try on new roles in the development process, try out new ideas, and push themselves (within reason!) and do something that requires them to design, develop, create, test, and make a new game–all in the span of 48 hours.
GGJ also strongly encourages participants to be aware of their mental and physical wellness during the event (to eat and sleep!), so they can stay at their creative best!
The GGJ is open source, hardware and software agnostic, and all projects are released under a Creative Commons license.
In 2009, the first GGJ had 53 sites in 23 who created 370 games in one weekend! In 2020, the event had grown to 934 sites in 118 countries who created 9,601 games!!
In 2021, the jam is going virtual with GGJ Online!!!
More info: About | Global Game Jam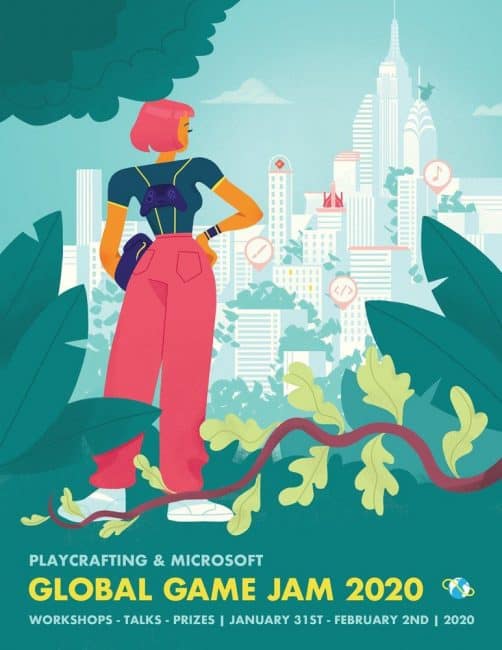 How does the GGJ work?
GGJ participants work concurrently around the globe, rallied around a central theme.
The structure of a jam is usually that everyone gathers on Friday late afternoon and watches a short video keynote with advice from leading game developers.
Then the year's secret theme is announced. All sites worldwide are then challenged to make games based on the same theme. Everyone has 48 hours to create a game by Sunday afternoon.
The hope is to see some very experimental prototypes that participants can continue to work on after the jam. Many games developed in previous Game Jams have become fully realized games. Here are some of the notable GGJ games:
Screencheat
Home Improvisation
How Do You Do It
Surgeon Simulator
Mushroom 11
Keep Talking & Nobody Explodes
A Normal Lost Phone
Read about all the GGJ Success Stories | Global Game Jam Online.
Global Game Jam 2022
Global Game Jam is scheduled for January 28-30, 2022 and will be a hybrid event that allows for both live and virtual sites. Registration opens November 1, 2021.
More info: Global Game Jam | 28 – 30 January 2022