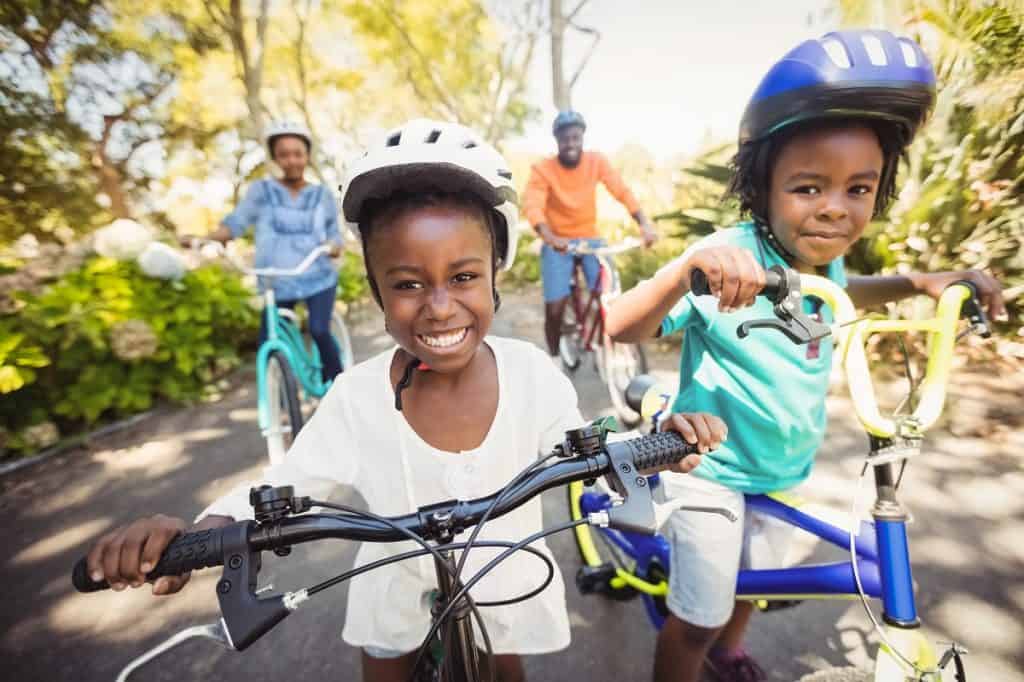 Seattle and the Puget Sound region is ranked among the best areas for biking in the country, providing ample choices in urban routes, as well as a wide variety of available bicycle rides through parks and forests, over mountains, and along beachfronts.
There are several types of bicycle riders: those who ride strictly for fun and recreation (occasional riding), those who commute to work by bicycle (regular riding), goal-oriented recreation (regular riding for distance and endurance), and competitive riders (amateur and professional riders for distance and speed).
Bicycle riding is a great family activity, so get everyone involved if needed.
Plan bike rides that match your skills and interests. It will not only improve your bike riding skill, it will greatly increase your enjoyment of the sport.
Tips to increase bike ride distance
Experienced bicyclists recommend two (or more) short weekly rides rather than one long, occasional ride. If you are a recreational rider who wants to bike more often, start by committing to a bike ride every weekend. Then add one weeknight bike ride or commute to work by bicycle one or more days per week.
Increase your total ride distance to 10 miles per week; for example, a weeknight 3-mile ride and a weekend 7-mile ride. Note that this works out to a mere one-hour of riding time at a modest pace of 10 miles per hour.
If you increase your total ride distance by two miles every week, you could be doing 100 miles before the end of the year (10 hours per week, or less if you increase your pace). Of course, you can always stick with 10 miles per week. Nothing wrong with that.
Besides distance, there are other aspects of bicycle riding that you can increase, including elevation and pace. Paying attention to these details can help improve your bike riding skill, and increase your enjoyment of the sport.
Tips to increase bike ride elevation
No matter what distances you are riding, you can increase the elevation gains whenever you ride. Elevation on your route is available by mapping your route ahead of time or by using tracking apps (more about tracking later in this article). Simply track the total elevation gains in your ride and set a goal to increase this number.
To calculate elevation gain per mile, divide the elevation gains by total ride distance (in miles) to get the elevation per mile. Modest elevation gains range from 25-50 feet elevation gain for every mile ridden, to strenuous rides at over 100-foot gains per mile.
Another aspect of elevation besides total gain is the grade percentage, that is, elevation gains over a set distance expressed as a percentage.
To calculate grade percentage, divide the total elevation gains by total miles in feet (1 mile=5,280 feet). Easier rides have a grade change of five percent or less, modest rides between 5%-10%, and strenuous rides over 10%.
For example, if you ride for 10 miles with total elevation gains of 400 feet, that's an elevation gain of 40 feet per mile (400/10=40) and a grade of just under 2% (400/(4*5,280)=0.0189×100=1.89%)
Of course, Seattle and the Pacific Northwest is notorious for hilly terrain, but flat bike routes certainly exist (Alki Trail, Burke-Gillman Trail, and Sammamish River Trail, to name just a few). For more bike ride routes, check our list of free bike maps for Seattle, King County, and Washington State.
Tips to increase bike riding pace
Frequent bikers state that consistently flat routes are boring. So biking is more enjoyable when you mix it up by increasing elevation, which can also influence the pace at which you ride.
To calculate your average pace (miles per hour), simply divide the distance (total number of miles ridden) by the total ride time (be sure to subtract any time you stopped to take a break).
Average bicycling speed is 12-14 mph. You will of course go slower if you are new to biking or an occasional rider, and of course when biking up hills or with the wind in your face.
Conversely, you will naturally ride faster on flat routes, when riding downhill, or with the wind at your back. Some bicyclists never average more than 10-12 mph, and that's perfectly fine.
Pace can also affected by the number of steep hills versus small rolling hills (indicated by elevation gain and grade percentage), and whether long uphill rides come early or late in the rides, and of course whether you are properly conditioned, fueled, and hydrated for your ride.
Maintain whatever pace suits your biking riding skill, style, and most of all, your enjoyment of the sport.
How to track your bike rides
Manually tracking your bike riding statistics
If you want to track your bike riding statistics (time, distance, elevation, pace), you can do so manually by planning routes using an online map tool such as Google Maps.
After completing a planned ride, record in a notebook the total ride time, as well as the distance and elevation reported by the online map tool. Then calculate elevation gains, percentage, and riding pace.
You can also record your stats in a digital file and use software (such as Excel) to perform the calculations.
Technology to help track your bike rides
Rather than manually logging and calculating your bike riding stats, you can use technology to make it easier to track your bike riding adventures. Some of these technology solutions are free and do a lot of the manual recording and analyzing for you.
You can use a free smartphone app such as Strava or MapMyRide. Both of these activity tracking apps also offer premium versions, beginning around $6 per month–with a discount if you pay annually. But for occasional bike riders, and even for most non-competitive bike riders, the free versions are all many bike riders may need.
You can invest in a tracking device such as a Fitbit (wristband or clip). Basic models begin around $60. If you find yourself growing out of one of the above manual or free methods, you may want to make the jump to something more sophisticated if your bike riding style warrants it.
The advantage of using any of these technology tracking methods is that they automatically record distance and elevation. Plus, they immediately provide data (even during a ride) such as elevation gains, grade percentages, and your bike riding pace. You can focus solely on the fun of bike riding, while the technology keeps track of your statistics and analyzes the data for you.
Use these tips to increase your bike riding skills, as well as the enjoyment of getting outside and taking a spin around the beautiful Puget Sound region.