Senate Bill S.3548, also known as the Coronavirus Aid, Relief, and Economic Security Act or the CARES Act provides emergency assistance and health care for individuals, families, and businesses in need.
Among other things, the bill provides funding for $1,200 tax rebates to individuals, with additional $500 payments per qualifying child. The rebate begins phasing out when incomes exceed $75,000 (or $150,000 for joint filers).
The bill has several parts. For example, it provides relief for businesses, including several types of loans, grants, and technical assistance. It also temporarily suspends payments for federal student loans.
There are several other provisions, you can read a summary of the CARES Act or dive into the full text of the CARES Act. You might want to do this while waiting for your check to arrive.
How much can you expect?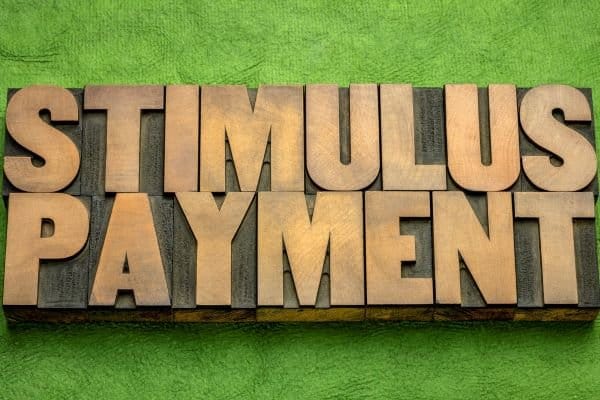 First of all, not everyone will get a payment of $1,200. However, many people will.
Your adjusted gross income (AGI) will determine whether you qualify for a payment, and how much. You need to have an AGI of less than $75,000 to receive the maximum amount of $1,200. For parents, there is a $500 payment for each child under the age of 17.
However, the payment amount is reduced if the AGI earnings for a single filer is between $75,000 and $99,000. For joint filers, payment is reduced for AGIs from $150,00 to $198,000.
When will you get the CARES Act stimulus check?
When (and how) your stimulus check arrives depends on your 2018 tax return (or your 2019 tax return if you have already filed). The IRS will start sending payments to most Americans in April. Most people won't need to take any action.
If you supplied the IRS with direct-deposit information when you filed your 2018 or 2019 return, you don't have to do anything. Your payment should arrive via direct deposit by April 15.
If you are on Social Security retirement and disability, your stimulus payment of $1,200 will also arrive automatically, whether or not you filed a tax return in 2018 or 2019.
If you did not provide direct deposit information when you filed your taxes, you will receive a paper check at your last known mailing address. The IRS will start sending paper stimulus checks May 4, 2020. About 5 million checks will be sent each week, so some Americans may not receive their check until the week of August 17 or later.
The IRS has a web portal for tax payers to offer banking information in order to receive those payments electronically. To get to the portal, go to IRS.gov and look for "Non-Filers: Enter Payment Info Here." The link will take you to a page to provide your SSN, address, dependents, direct deposit information if you have it, and other information. Direct Deposit info will reduce the time it takes to receive your money.
TurboTax has a portal for those who want to calculate their AGI and submit direct deposit banking information.
Do not call the IRS. Get more up to date info from the IRS here.
If you haven't filed your 2018 or 2019 return, file your return now to get your check as soon as possible. These economic impact payments will be available throughout the rest of 2020.
Beware of scams. The government will never call you, send you an email, or try to communicate with you through social media. If you receive a message of this kind, do not reply, send any money, or offer any personal information (social security number, banking information, etc.). It is most likely a scam.