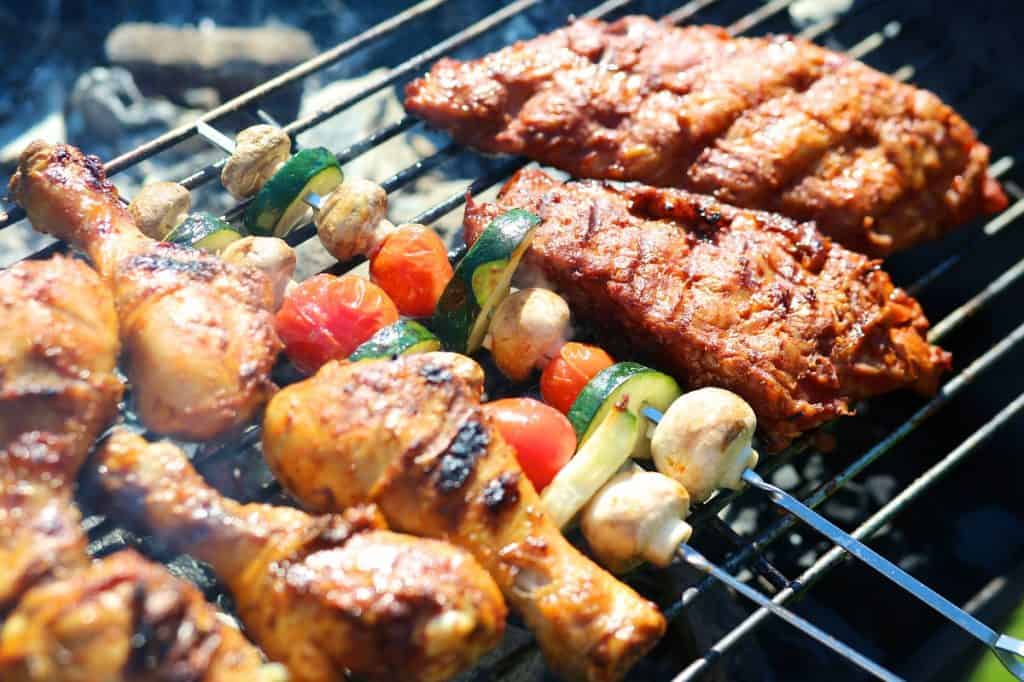 Every month of the year, certain items are discounted due to overstock, leftovers from holidays, or transitions from one season to the next. Some foods are more economical when purchased at certain times of the year. Here are the shopping highlights for March in Seattle stores.
Barbecues and grill accessories: it might be a good time to think ahead for Father's Day, or summertime outdoor cooking. Check out deals on gas or charcoal barbecues, perhaps a portable grill for picnics or camping, and accessories or supplies such as fuel, smoking woods, covers, long-handled tools, gloves, fire starters, grill baskets for vegetables and fish, cleaning tools, burger press, and any other tool to make outdoor cooking easy and fun. Last year, I couldn't use my charcoal grill most of summer due to the burn ban, so I'm considering a small, table top gas model that can double as a picnic or camping grill.
Cleaning products: get ready for spring cleaning by taking an inventory of your supplies and stocking up for the year when prices are low on chemicals, gloves, mops, and other cleaning supplies. You might also like:
Tips for Spring Cleaning
Golf clubs and gear: golf clubs, golf shoes, golf travel bags, and other golf accessories.
Luggage: March is a good month to buy new luggage, including duffel bags, "personal items" and carry-ons for air travel, wheeled luggage, or any other travel necessity. Here are some considerations for buying luggage:
Tips for Buying Luggage
Many travelers prefer four-wheel luggage for maneuverability, so make sure they spin 360 degrees. Two-wheel luggage is best if your primary use is for business or to walk along uneven city streets and over curbs.
Whether you prefer two wheels or four, play with the wheels and make sure they're firmly attached; screws are more long-lasting than rivets. And, recessed wheels are less likely to get lopped off inadvertently.
Metal zippers are sturdier and more difficult to break into than plastic zippers.
If the handle retracts, it should feel sturdy and smooth as you pull the bag. A handle that retracts completely into the bag is less likely to get damaged. And check how much space inside the bag is taken up by the handle.
Hard or soft? This is mostly a personal preference. A hard-sided bag offers more protection and security, while a soft bag can be over-stuffed when needed. Hard-sided bags tend to weigh more than soft materials.
Measure the bag to ensure it meets regulations for the airlines you travel frequently. Generally, the domestic carry-on size is a 22-inch bag, or a total of 45 linear inches (9-by-14-by-22 inches)–including wheels if they are not recessed. But the requirements vary from one airline to another and the rules for international travel are different–carry-on sizes are often smaller for international carriers.
Frozen foods. It's Frozen Food Month, so if you have freezer space, it's a good time to stock up on foods you know your family eats regularly. It might come as no surprise that Clarence Birdseye got the idea for preparing commercially frozen foods when he worked in the Arctic and saw how the native people (Inuit, Yupik, and Aleut) kept their fish fresh by freezing quickly in the cold northern climate. He experimented with the process and introduced frozen foods to the public around 1930. Of course, you know the rest of the story. Before you shop for frozen foods, look for digital and paper coupons. You might also want to enter this $10,000 sweepstakes and Gift Card Giveaway (you have to give them your digits, but you get a newsletters with recipes, tips, and other money saving info). Here are some quick recipe ideas using frozen foods:
Recipe Ideas for Frozen Foods
Pasta primavera: Simmer your favorite frozen vegetables (such as corn, carrots, broccoli, spinach, or a California or Italian blend) with marinara sauce (bottled or homemade). Serve over cooked spaghetti or pasta with some grated Parmesan cheese. If you wish, heat frozen meatballs or shrimp in the sauce as well.
Stir-fry over rice: Stir-fry meat or fish (such as boneless chicken, ground beef, shrimp, or seafood blen), frozen stir-fry vegetables, and soy or stir-fry sauce (bottled or homemade–soy sauce "jazzed up" with garlic, ginger, sesame oil, and sugar to taste). Serve over rice.
Fried rice or quinoa: Stir and cook eggs in a small amount of oil or butter, add frozen vegetables (peas and carrots are common, but any favorites will do) and stir-fry sauce (bottled or homemade) and heat to simmer. Tossed with cooked rice or quinoa. You can also add some cooked meat with the vegetables–Chinese sausage, diced chicken, and shrimp are classics. Frozen edamame (young green soybeans) added with the vegetables works, too.
Vegetable Soup (with or without protein): Simmer cooked meat, fish or other protein (chicken, meatballs, sausage, shrimp, edamame, etc.) with frozen mixed vegetables, frozen chopped spinach, frozen potatoes, broth or water to cover, Italian seasoning, and salt and pepper to taste.
Breakfast Smoothies: frozen fruit (such as berries or peaches), plain or fruit yogurt, and sweetener to taste blended until smooth.
You might also like: