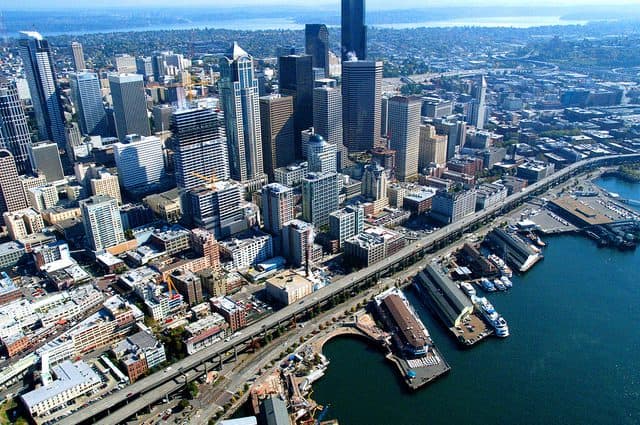 For the weekend of April 20-22, 2018 there is an enticing salmagundi of free and cheap events in Seattle and around the Puget Sound region. The biggest FREE events include the Skagit Valley Tulip festival up north, the Clipper Round the World Yacht Race in Seattle, a Cherry Blossom Festival at Seattle Center, water safety events at Seattle Parks Pools, and Earth Day events. Other major events include a JBF consignment sale in Bremerton & Gig Harbor, the Spring Fair in Puyallup, an African American Film Festival in Seattle, and many other free and cheap activities listed in the calendar below.
The Clipper Round The World Yacht Race is expected in Seattle after crossing the mighty Pacific Ocean–more than 5,530 nautical miles–from Qingdao, China. The race teams, made up of ordinary people (like you and me…but not you and me) are expected to arrive between Thursday, April 19 and Saturday April 21, dependent on race progress and weather conditions. It's free to see them at Bell Harbor Marina (Bell Street Pier/Pier 66). Track their progress online.
On the weekend event calendar, the items listed first each day in GRAY are FEATURED EVENTS, some that require an RSVP or advance registration to attend. So be sure to check them out. Featured events are followed by the usual free fun and cheap events and things to do including games, meditation, music, comedy, dancing, art, story times, distillery tours, and nature events.
Get a list of free and cheap things to do sent to you automatically each week, if you sign up for our email list. Click here to subscribe. (Yes, of course it's FREE.)
Free and cheap events in Seattle this weekend
Love our cheap ideas? Get DEALS delivered by email – yes, of course it's FREE! Click here to subscribe