Seattle's hometown favorite burger joint serving juicy burgers, hand-cut fries, and creamy old-fashioned shakes for over 67 years.
In celebration of Dick's Drive-In's 69th anniversary, they'll will be rolling back the price of a cheeseburger or hamburger to the original price of 19¢, just like in 1954. In order to serve all of customers with the same efficiency and quality, they will celebrate over three consecutive days, each day at a different location. Limit of one 19¢ burger per customer present at the Dick's window (not waiting in the car) and only on each location's specific day. See list of dates/locations below.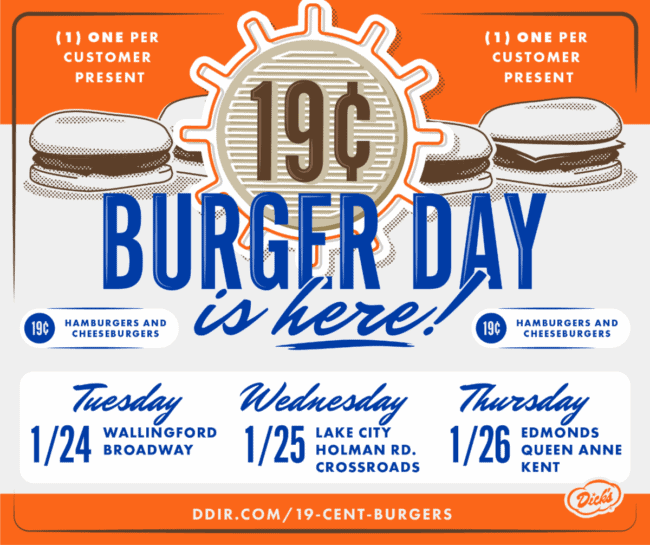 Dick's Drive-In 19-cent Burger Day locations
Tuesday, January 24th – Wallingford & Broadway
Wednesday, January 25th – Lake City, Holman Road & Crossroads
Thursday, January 26th – Edmonds, Queen Anne & Kent
More info: What's Your 19¢ Day? | Facebook and Dick's Drive-In: Home (ddir.com)
About Dick's Drive-In
In the early 1950's, people who went out for a a burger, shake and fries usually had to sit down in a restaurant, order, and wait. Not to mention, it was expensive for middle-class Americans. What was needed was a place where you could park easily, get good food in a hurry, and pay a lot less. It took some finagling with the bank, but then 29-year old Dick Spady and partners opened the first Dick's Drive-In on Northeast 45th Street in the Wallingford neighborhood of Seattle on the January 28, 1954.
What else was happening in 1954?
Bannister shattered the four-minute mile.
Salk perfected the polio vaccine.
Hemmingway won the Nobel Prize for Literature.
A young Elvis sang his first great hits.
Soon, other locations followed. The Broadway Dick's opened in 1955, Holman Road Dick's in 1960, the Lake City Dick's in 1963, and Queen Anne Dick's in 1974.
Keeping the menu simple has always been part of the Dick's philosophy. While other fast-food restaurants added fish sandwiches, onion rings, tacos, turnovers, and chicken, Dick's stayed with the classic American meal of burgers, fries, and shakes. In fact, the menu didn't change for twenty years. In 1971, two new burgers were added to the menu: the Dick's Special (with lettuce, mayonnaise, and chopped pickles), and the Dick's Deluxe (quarter-pound Dick's Special with cheese). About the same time, Dick's dropped orange soda and added diet Coke. But that's been just about it.