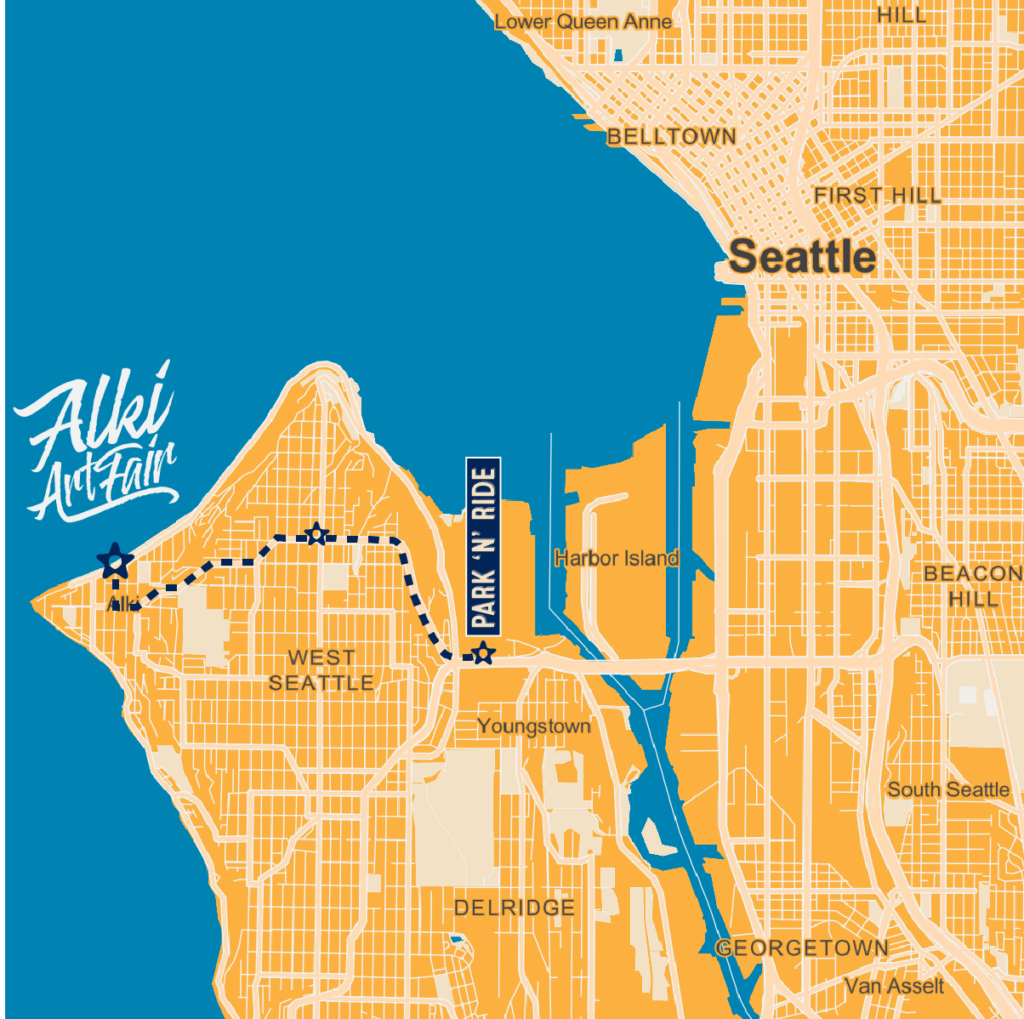 The annual Alki Art Fair on Seattle's most scenic beach is West Seattle's premier summer art showcase and features juried art, presented and offered for sale by artists from West Seattle and other communities throughout the Puget Sound area. The Alki Arts Fair is free and family-friendly.
The Alki Art Fair is held on the promenade of Alki Beach and showcases the work of over 90 artists of all mediums.
The Art, plus music, food, and family-oriented activities annually draw thousands of visitors to Alki Beach Park to enjoy Seattle's most scenic beach.
More than 40 local musical acts of all genres perform live on three music stages. A variety of food trucks and concessions are on hand to keep you fueled for the day. There is free shuttle service from the the Southwest Spokane St Park & Ride, 3267 W Marginal Way SW, Seattle, WA.
2017 Alki Arts Fair
When: July 23-24 from 10AM to 6PM (live music runs until 9PM Saturday).
Where: Alki Beach Park and Alki Bathhouse on Puget Sound; along Alki Avenue SW in West Seattle from 60th Ave SW to 64th Ave SWAbout Alki Arts Fair
About Alki Arts Fair
Alki Art Fair is a Washington State nonprofit all-volunteer organization that seeks to advance art education and appreciation while encouraging community involvement and cultural diversity for the community's benefit.
The first Alki Art Fair occurred on Alki Beach in 1997, under the guidance of the Alki Community Center and its advisory council. For 14 consecutive years the Art Fair was supported, sponsored, and operated by Seattle Parks and Recreation, Alki Community Center, Alki Advisory Council, Associated Recreation Council, and of course many volunteers.
In 2010, Seattle Parks and Recreation, both Councils, and Alki Community Center withdrew sponsorship due to budget cuts. However, each group continues to be supportive of the Fair today.
In 2011, a group of artists and other community members formed the Alki Art Fair nonprofit organization. Today, the Fair continues to be produced with the leadership and guidance of its volunteer Board of Directors along with many other active community volunteers.