Northwest African American Museum (NAAM) in Seattle embraces the important histories, arts, and cultures of people of African descent. NAAM exhibits the history, art, and culture of people of African descent and the Black experience in America, including roots in slavery as well as recent immigrants from Somalia, Sudan, Ethiopia, and other countries.
The museum especially highlights Pacific Northwest connections and the Black experiences in America through exhibitions, programs, and events. The learning opportunities nd multicultural exploration are an essential part of our shared heritage and future.
"I have decided to stick with love. Hate is too great a burden to bear."
— Dr. Martin Luther King, Jr.
---
Love our cheap ideas? Get our FREE email newsletters.
Choose from daily, weekly, and monthly lists:
---
Martin Luther King, Jr. Day events at NAAM
Virtual NAAM MLK Day
In 2021, Northwest African American Museum (NAAM) Presents A Virtual King Day Experience on Monday, January 18 on NAAM's YouTube Channel.
NAAM Drive-thru giveaways
There will also be a drive-thru book giveaway from 11AM-4PM in the parking lot at the Amy Yee Tennis Center, 2000 Martin Luther King Jr. Way S., Seattle 98144. Masks are required for the drive-through experience. The "Knowledge is Power: Books & Balls" giveaway will distribute 2,500 free, new, beautifully-illustrated African American children's books.
In addition, former Sounders FC player & ambassador, Brad Evans, will be distributing books & soccer balls from 11AM-12PM!
Finally, the City of Seattle Parks and Recreation Rec'N The Streets will distribute play kits that include all the tools you'll need to get moving from home! This program is free & open to the public. More info: NAAM | Annual Martin Luther King Day Celebration (naamnw.org)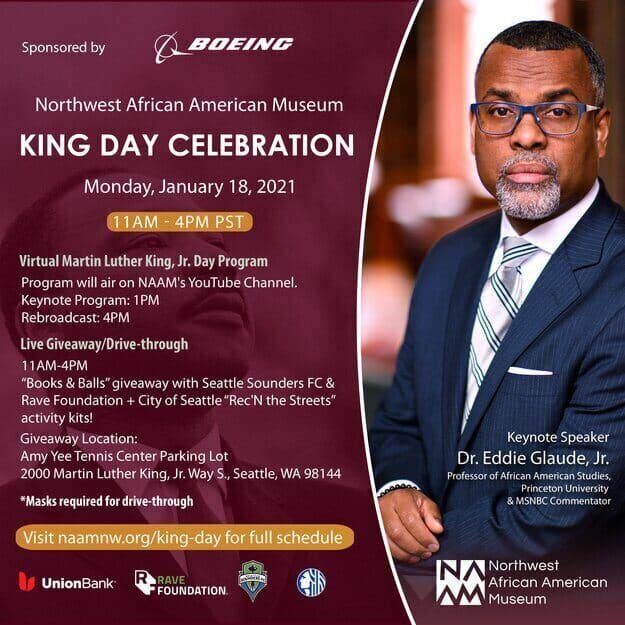 More MLK Day events
The following events will honor the life and legacy of Dr. Martin Luther King, Jr. Some are fun, some are thoughtful, and others are thought-provoking.
Amy Yee Tennis Center
2000 Martin Luther King Jr. Way S.
Seattle, WA 98144