Here are suggestions for brunch or dinner menus suitable for a Mother's Day celebration. Ideas include restaurant delivery options, "to go" meals, meal kit options, and links to recipes for a do-it-yourself party.
Don't forget flowers. Buy from your local florist, or check out flowers at Pike Place Market.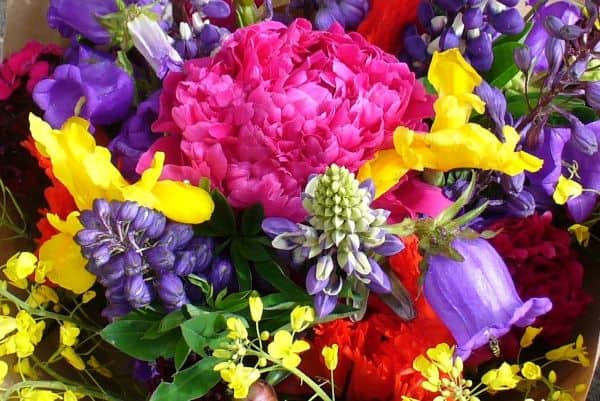 Restaurant take out and delivery
In the Seattle-Tacoma metro area OpenTable lists over 100 modestly priced restaurants offering takeout. Some included meal kits, cocktails-to-go, wines, and more.
But wait, there's more! We have another long list of ways to find restaurants offering takeout and delivery.
OpenTable also offers information to Create a Restaurant-Like Experience at Home.
Suggested restaurants from OpenTable
We focus on restaurants throughout the Puget Sound region with modestly priced menus. Many also offer wine, growlers, and cocktails kits to go.
(Listed alphabetically by city and in Seattle roughly north to south)
Bonefish Grill (Bothell, Marysville): There are a variety of other Family Bundles available every day of the week, starting at just $29.9 and include salad, fresh bread and pesto and house-baked cookies.
Grazie Ristorante (Bothell/Canyon Park, Tukwila/Southcenter) features pasta dishes and wood fired pizzas.
Bar Dojo (Edmonds) features an inspired takeout menu of Asian comfort foods.
TerraCotta Red Asian Bistro (Everett) menu for takeout or delivery features fresh ingredients from local farmers.
Shawn O'Donnell's (Everett, Seattle/Fremont, Seattle/Pioneer Square) offers their American Grill & Irish Pub menu for takeout at all locations.
Al Lago Ristorante Italiano (Lake Tapps) offers a menu of takeout specials serving 4 people for $35-$45. Full menu is also available.
Vino At The Landing (Renton) is a fun, vibrant retail wine shop & wine bar featuring a takeout menu of small plates, soups, sandwiches, pastas, and more.
Junebaby takeout menu (northeast Seattle). Takeout hours are Thursday-Sunday 4pm-7pm, for pick up only. Order early as they sell out of popular items.
Relay Restaurants Joule (Seattle/Fremont) are open for dinner takeout and brunch on Sunday from their seasonal rotating menu.
Vito's Restaurant & Lounge (Seattle/First Hill) offers takeout and dine-in menus from their classic Italian menu.
White Swan Public House (Seattle/South Lake Union) features a seasonal rotating menu featuring local farm products. Dine-in and limited to-go menu.
Shaker + Spear (downtown Seattle) is open for dine-in.
BluWater Bistro (Seattle/Leschi) is open for dine-in lunch/dinner and offers a weekend brunch menu on Saturday and Sunday.
Gateway to India (Tacoma) offers takeout and delivery from its Tacoma location only (Gig Harbor is closed). Serving authentic North Indian cuisine and can accommodate vegan and other specialty diet requests.
Indochine Asian Dining Lounge (Tacoma). Dine-in or order online for pickup.
Outback Steakhouse (multiple Puget Sound locations). Dine-in, pickup or delivery. Price and participation will vary by location.
Mother's Day recipe ideas
We've gathered local recipes that are suitable for a Mother's Day brunch or dinner, with a focus on budget-friendly meals. Many are simple to prepare.
Isernio Sausage Recipes
Frank Isernio was born in Seattle's Beacon Hill neighborhood, surrounded by first and second generation Italians. The Isernio family took great pride in sharing special dinners with friends and relatives. Over time, Frank became the one in charge of the sausage, first for the family get-togethers, then for others, and eventually for local restaurants, while working full-time as a pipefitter. Today, Isernio's Sausage is found in hundreds of supermarkets and fine restaurants across the country.
The following Isernio's recipes are suitable for a brunch menu:
Uwajimaya recipes
Since it's beginning in 1928, Uwajimaya has become one of the largest Asian grocery retailers in the Pacific Northwest, specializing in all things Asian, from produce, sauces, and noodles, to saki, seafood, special cuts for hot pot, and much more. They also have a large kitchenware and gift shop with tools for prepping vegetables, making sushi, and cooking rice and oriental goods. Here are several recipes from their files, suitable for a celebratory family meal:
Tom Douglas recipes
Chef Tom Douglas has been cooking up Pacific Northwest cuisine since 1984, opening his first restaurant in 1989, the Dahlia Lounge in downtown Seattle, which expanded to 13 full-service restaurants, plus the Palace Ballroom event space, a cooking school, and a product line including rubs, sauces, mustards, cookbooks, and knives. Here are a few recipes using Tom's "Rub with Love" products that could be used for a dinner menu:
Sunset Magazine recipes
The monthly Sunset magazine focuses on home and garden design, outdoor living ideas, and recipes that showcase the unique lifestyle of the Western United States. Sunset.com is a resource for recipes and ideas. Subscribe to their free e-mail newsletters, featuring inspiring home ideas, travel tips, gardening ideas, recipes, and more, is delivered to your inbox 8 times per month. Here are a few main dish recipes from their archives, suitable for a mom's day brunch or patio picnic if the weather is nice:
Things to do for Mother's Day 2021
Here are some events and things to do to honor your mom over Mother's Day Weekend. If you are looking for gift ideas, check out our Mother's Day gift ideas.
Friday, May 7, 2021
Saturday, May 8, 2021
Sunday, May 9, 2021