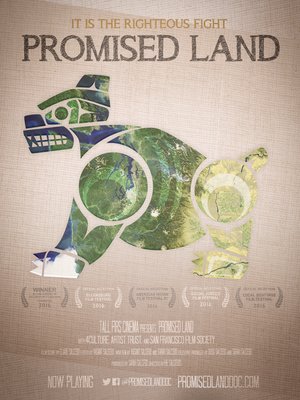 Promised Land is an award-winning social justice documentary film that follows two tribes in the Pacific Northwest: the Duwamish and the Chinook. The film tells the story of these indigenous peoples–from opposite ends of Puget Sound–and their fight for the restoration of treaty* rights they've long been denied.
The Northwest is arguably one of the most politically liberal regions in the country. Seattle's logo is an image of Chief Si'ahl. The names of our cities and towns are in Chinuk Wawa and Lushootseed, the region's native languages. If in this area, with these tribes that all kids learn about growing up in school, justice can't be found, then how does that bode for the rest of the country?
These tribes—who helped European settlers arriving in their homeland, signed treaties, and lost their land—are asking for their treaties (detailed here and here) to be honored.
In following their story, the film seeks to spark a discussion about identity and sovereignty. The discussion begins with indigenous recognition–the frontline of the battle for native sovereignty. The film also examines a larger problem in the way that the government, and we as a society, still look at tribal sovereignty.
Though the film begins in a specific region, the story it tells is one that countless tribes are going through not only throughout North America, but throughout the world as well. The message about whose land we inhabit and how we work to right these wrongs is universal.
The film ends by expanding its focus to issues such as aboriginal identity, blood quantum, and the struggle of indigenous communities for self-determination.
To redefine their recognition, to put blood quantum restrictions on who is and isn't native enough, to redefine treaties over and over, continues a toxic cycle of colonialism where the government, and the corporations it partners with, continues to unlawfully profit off of the resources of indigenous lands at great peril to our increasingly climate-challenged world.
About Promised Land
This documentary is presented without a narrator, so that only the voices of the tribal members themselves, along with their allies, are the ones presenting the story. The film draws attention to all issues of self-determination that all bands and tribes face in every country throughout the world. The hope is that the community seeing the film will not only hear, but understand.
Vasant and Sarah Salcedo are the filmmaking team Tall Firs Cinema, who began this project in 2013. The Salcedo's are the film's producers, directors, writers, cinematographers, and editors. It was sponsored and supported by 4Culture and San Francisco Film Society, working in cooperation with both the Duwamish and Chinook tribal councils, and receiving generous help from the community. The documentary was filmed in Washington, British Columbia, Oregon, California, Washington D.C., and New Jersey.
2017 Promised Land Seattle area public screenings
Promised Land is available for screening at your school, group, museum, or theater. Contact the filmmakers here.
For more information about these or other screenings across the country, visit the Promised Land schedule.
February 16, 2018 – Samish Nation; Fidalgo Bay Resort, 4701 Fidalgo Bay Rd, Anacortes, WA 98221. Screening is free and will be held in the Convention Center.
February 21, 2018 at 2:00 p.m. – Everett Community College; Everett, WA. Details coming soon!
February 24, 2018 – Evergreen State College, Sgʷigʷialʔtxʷ: House of Welcome; Olympia, WA. Details coming soon!
March 5, 2018 at 6 p.m. – Bastyr University; Kenmore, WA. Open to the entire community, and will include a panel discussion.
March 14, 2018 – Phinney Neighborhood Center; Seattle, WA. Hosted by Hands for a Bridge. Details coming soon!
March 15, 2018 at 6:30 p.m. – Lewis and Clark Law School, Legal Research Center; Portland, OR. Details coming soon!
April 8, 2018 – Seattle University; Seattle, WA. Details coming soon!
June 2, 2018 – Everett Public Library; Everett, WA. Details coming soon!
May 1, 2018 – Oregon State University; Corvalis, OR. Details coming soon!
June 2, 2018 – Everett Public Library; Everett, WA. Details coming soon!
June 10, 2018 – Unitarian Universalist Church of Vancouver; Vancouver, WA. Details coming soon!
November 2, 2018 – The Smithsonian's National Museum of the American Indian will host a screening of the film  in conjunction with the National Congress of American Indians and the Alliance of Colonial Era Tribes! Details coming soon.
*Treaty, a binding formal agreement, contract, or other written instrument that establishes obligations between two or more subjects of international law (primarily states and international organizations). … Treaties are expected to be executed in good faith, in keeping with the principle of pacta sunt servanda (Latin: "agreements must be kept"), arguably the oldest principle of international law. Without this principle, which is explicitly mentioned in many agreements, treaties would be neither binding nor enforceable. Source: https://www.britannica.com/topic/treaty.