The Ultimate Guide to Coupons is written by three "cheap" veterans from across the country who know the ins and outs of clipping coupons that save you money. They've compiled their considerable knowledge in this easy-to-read book, available in print or for download. The print version is available through Amazon. Or, save a few bucks on the downloadable version of the book
The book has a breezy, approachable style to explain the many ways to use coupons and save money on products you use every day. It explains everything you need to know to use coupons effectively: manufacturer versus store coupons, qualifying products, finding and organizing coupons, reading the fine print, learning store policies, coupon stacking and double-dipping, and the benefits of paper vs digital coupons.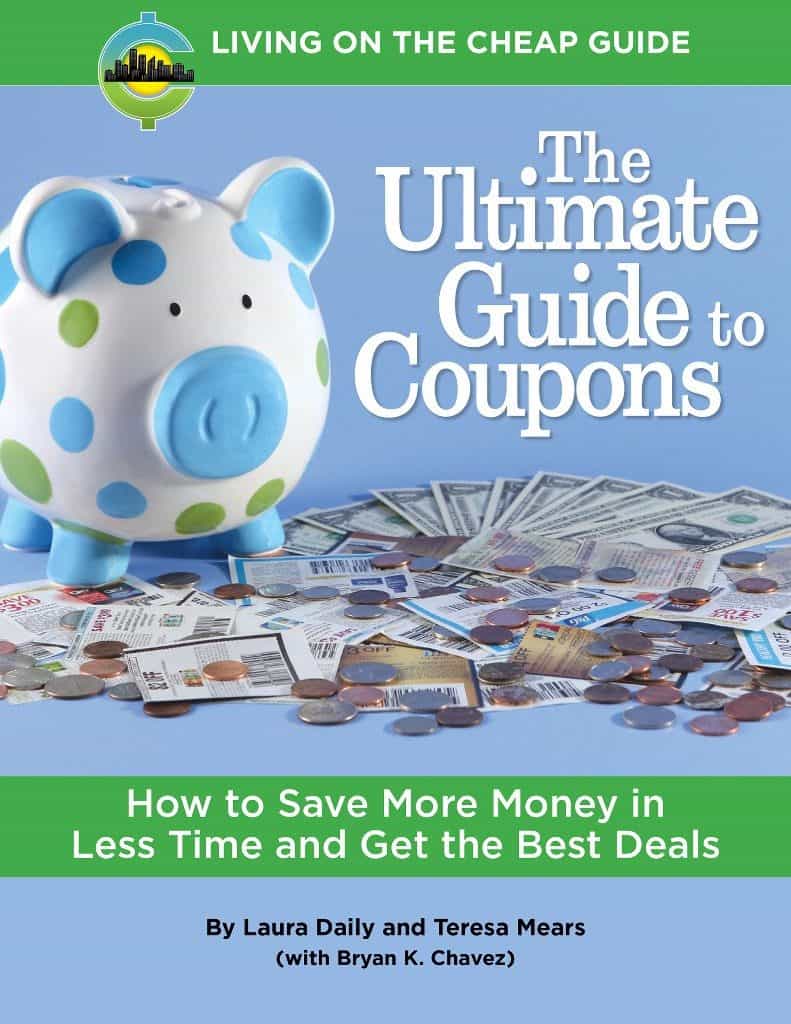 The Ultimate Guide to Coupons goes beyond coupons
However, using coupons goes beyond saving money on grocery products and toiletries. You can use coupons to save while dining out, going to the movies, for auto maintenance, and almost any other product or service you might need.
One of the book's features includes copies of actual receipts and coupons to explain details about how to use coupons to save money on the things you and your family use most often, from apples to movies and motor oil to Zest.
More persuasively, there is convincing evidence for using the practice of couponing to hone skills in budgeting, saving, and even disaster preparedness by frugally stocking up on emergency supplies. Some have used couponing to change bad spending habits into good ones, becoming debt-free in the process.
One entire chapter details one man's "outing" himself about clipping and using coupons, a tactic that most men avoid. Just a few years out of college, he's debt-free and already saved a down payment on his first house.
But this ultimate guide isn't just about couponing.
Get real-world money-saving techniques
The Ultimate Guide to Coupons offers plenty of real-world advice for adopting money-saving techniques across your entire lifestyle. The book encourages you to develop the mindset of never paying full price, and then gives you plenty of ideas and resources to do so.
Beyond coupons, you can use phone apps, cash back rebate apps, loyalty programs, seasonal shopping techniques (with or without coupons), discount coupon books, deal websites, discount gift cards available at shopper's clubs, discounted restaurant gift cards, and half-price tickets. The book even includes tips for stretching the value of gift cards.
Still not convinced because couponing isn't your "thing"? Then, there's a chapter on using couponing techniques to get free or nearly free products to donate to food banks and charities serving families in need.
Finally, the book includes a list of resources for adopting any of the recommended techniques. You don't have to do it all. Using just one or two of the many techniques detailed in The Ultimate Guide to Coupons will help you save money. But if you spend 30 minutes a week as the book recommends, you can expect to save more than a few dollars.
What's not to like?
Ultimate Guide to Coupons is written by Laura Daily and Teresa Mears with Bryan K. Chavez. Laura is owner and publisher of Mile High On The Cheap and co-owner of Living On The Cheap. Teresa is publisher of On the Cheap websites in Florida, including Miami On The Cheap and Fort Lauderdale On The Cheap. Bryan writes "The Coupon Insider" for Living On The Cheap.
If you want to learn tips and tricks for saving money every day on necessities—and niceties—you'll want to get a copy of the book. The print version is available through Amazon. Or, save a few bucks on the downloadable version of the book