Seattle's San Gennaro Festival street fair brings the best Seattle Italian food and entertainment to the Georgetown neighborhood, located south of SODO and the Industrial District.
About the Georgetown neighborhood
One of Seattle's oldest neighborhoods, Georgetown is located west of I-5, and just north of Boeing Field. It is a thriving community of families, artists, local restaurants, retailers, and several industries.
Georgetown is prominently featured in multi-Grammy award winning singer Ed Sheeran's 2017 music video adapted from his international hit song, "Shape of You," filmed on location in Georgetown. Also, Seattle's own Jennie Pegouskie, was the assistant production supervisor and co-star with Sheeran in the video, which you can watch below:
Love our cheap ideas? Get our FREE email newsletters. Choose from daily, weekly, and monthly lists. Click here to subscribe.
Who was San Gennaro and why is he celebrated?
Saint Januarius (or San Gennaro in Italian) is the Patron Saint of Naples, was a bishop in the 3rd century. He is believed to have been martyred around 303 A.D. His bones and blood are preserved as relics in the Naples cathedral. The "Blood Miracle of St. Gennaro" reportedly happens when the dried blood in the reliquary liquifies. The miracle is said to occur three times a year: on the Saturday before the first Sunday of May, on September 19—the saint's feast day, and on December 16—the anniversary of the eruption of Mount Vesuvius.
The Feast Day of San Gennaro is celebrated every September 19 in Naples, Italy. His feast day was first celebrated in the U.S. in 1926 by immigrants from Naples who had congregated along Mulberry Street in New York City, today known as "Little Italy". Then, as it does today, the Italian-American community follows the traditions from Naples to celebrate San Gennaro's Feast Day every September 19. Similar festivals are held in other cities including Belmar, New Jersey, Los Angeles, California, and since 2013 in Seattle, Washington. However, the San Gennaro Feast in Las Vegas is reported to be the biggest Italian food festival on this side of the Atlantic.
San Gennaro Festival in The Godfather

The San Gennaro Festival has made its way into popular culture., most notably in the Godfather movie series. In The Godfather Part II, young Vito Corleone assassinates Don Fanucci while the procession is underway in the streets, beginning Vito's rise in the neighborhood Mafia. In The Godfather Part III, Vito's grandson Vincent Mancini-Corleone, the illegitimate son of Sonny Corleone and Lucy Mancini (born shortly after Sonny's violent death), assassinates rival Joey Zasa during the festival, causing widespread panic throughout New York's Little Italy. Vincent ultimately succeeds Michael Corleone as Don of the Corleone family.
About the Seattle San Gennaro festival
In 2013, a group of Italian-Americans in Seattle decided to bring the wonderful tradition of the San Gennaro Festival to the Emerald city. The Seattle San Gennaro Festival celebrates the contribution of Italian-Americans to the city of Seattle and the Pacific Northwest region. Puget Sound Blood Center holds a blood drive during the event, in honor of the Blood Miracle of St Gennaro. Proceeds from festival go to local charities. Past charities include: Treehouse, Camp Goodtimes, and Bloodworks NW.
Other activities at the San Gennaro festival include the usual food festival fun: food vendors, beer and wine garden, children's activities, music stage featuring Italian-American bands, and Italian wares for sale.
When: Every September, the weekend closest to September 19.
Location: Georgetown Neighborhood in south Seattle
Admission: Free and family-friendly
The 2022 San Gennaro Festival is September 9-11, 2022.
The Seattle San Gennaro festival welcomes new sponsors, vendors, and volunteers. More information on the Seattle San Gennaro Festival website.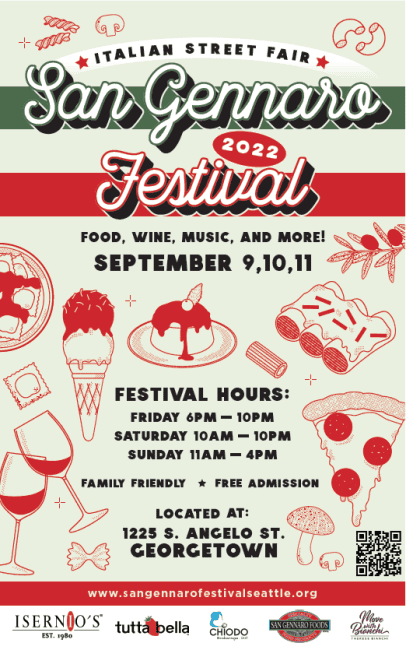 Food at the Seattle San Gennaro festival
Here's a list of some of the Italian food you might find at the Seattle San Gennaro festival.
Pizza and pasta dishes
Italian wines
Italian sausage and cheeses
Antipasti (salami, olives, marinated vegetables, etc.) often served as hors d'oeuvres before a meal
Bruschetta, an antipasto composed of grilled bread rubbed with garlic and topped with tomato, vegetables, beans, cured meat, or cheese
Arancini, stuffed rice balls
Polenta
Cannoli ("little tube"), a sweet snack consisting of pastry tubes filled with sweetened ricotta cheese, plus other ingredients such as nuts or chocolate
Zeppole, an Italian fried pastry, otherwise known as a donut
Lemon beverages.
Upcoming food festivals in the Puget Sound region
Listed below are upcoming food festivals, tastings, and other food events in the Puget Sound region.
(If nothing is listed here, we don't currently have any food festivals in our calendar. Theoretically this shouldn't happen. Food festivals occur almost every month of the year, with the most festivals occurring July-August)
But wait, there's more!
Love our cheap ideas? Get our FREE email newsletters. Choose from daily, weekly, and monthly lists. Click here to subscribe.
Georgetown neighborhood, Seattle, WA