Woodland Park Zoo remains open at limited capacity with timed entry tickets. Face coverings are required for ages 5 and over, and highly encouraged for ages 3 – 5. More info: Admission and Online Purchase FAQs – Woodland Park Zoo Seattle WA.
---
Love our cheap ideas? Get our FREE email newsletters.
Choose from daily, weekly, and monthly lists:
---
Visit Woodland Park "WildLanterns" by day and save 30%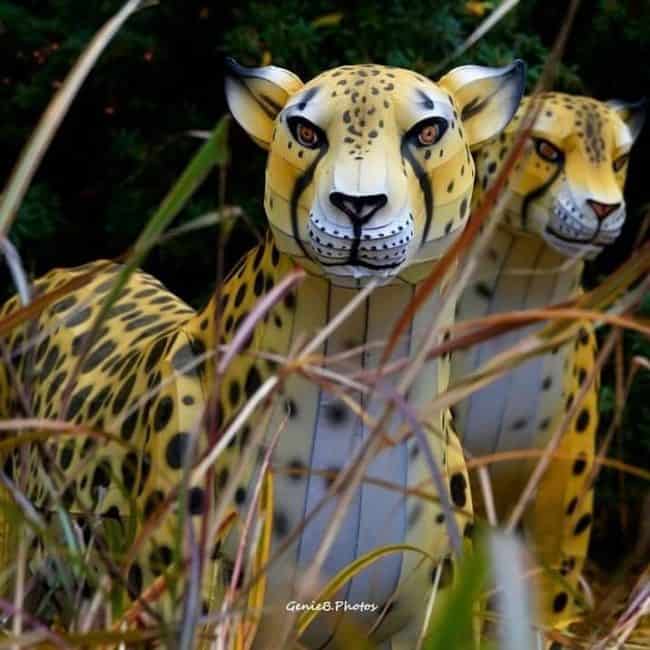 Woodland Park Zoo brand-new lantern festival "WildLanterns" presented by Sound Credit Union replaced their traditional WildLights event for 2020. The illuminated large-scale animal and nature scape lanterns can be marveled from November 13, 2020 – January 17, 2021 from 4:00 – 8:30 p.m. (Closed Mondays and November 26 and December 24 & 25.)
WildLanterns is sold out for the season, but you can still visit the zoo during the day and experience the beauty and craft of these fantastic lanterns! Plus, you'll save 30% off base admission prices! Lanterns will continue to be on display through January 17, 2021. Discount ticket prices: Adult (13-64): $17.00, Child (3-12): $11.50, Senior (65+): $15.00. Purchase advance tickets. The zoo is open rain or shine. No refunds will be issued.
Stroll through the Living Northwest exhibit with lanterns of animals many of us are familiar with, including grizzly bears, eagles and mountain goats. Next, march through the magical Jungle Lights exhibit, where you'll find lanterns of some of the most elusive creatures, such as snow leopards, tigers and gorillas. Your journey then takes a dive into the depths of the SeaMazium exhibit, filled with underwater and aquatic creatures, including sea turtles, jellyfish and seals. Finally, safari the African Savanna exhibit and discover herds of giraffe, zebra and much more!
To get to WildLanterns, use the Zoos' West Entrance: 5500 Phinney Ave. N., Seattle WA 98103 (Phinney Ave N between N 55th St & N 56th St).
Advance purchase time-tickets required. Face coverings required.
About Woodland Park Zoo
Seattle's Woodland Park Zoo is a 92-acre urban oasis visited by over 1 million people a year. The Zoo is open every day except Christmas Day, December 25. There are two entrances to the park:
West Entrance, 5500 Phinney Ave. N., Seattle, WA 98103 (Phinney Ave. N. between N. 55th and N. 56th St.)
Closed temporarily summer 2020: South Entrance: 750 N. 50th Street, Seattle, WA 98103 (N. 50th St. and Fremont Ave. N.)
Regular Zoo Admission Tickets are $22.95 for Adults (13-64) and $13.95 for children (3-12). Ages 2 and under are FREE. Parking is $4 all day or $6/2 hours plus $2/hour after that, depending on the lot. For more parking info, see: https://www.zoo.org/visit.
There are many ways to save on admission tickets. Scroll down for "How to get discount tickets to Woodland Park Zoo".
History of Woodland Park Zoo
The site of Woodland Park Zoo was originally an English-style estate owned by Guy Phinney. His property included a large house, formal rose garden, a deer park, pump house to bring water from Greenlake, impressive stone entrance on 50th Avenue, and an electric trolley line along Fremont Avenue for his private street car.
After his death in 1893, his widow donated the property to the City of Seattle who hired the Olmsted Brothers to create a public park out of Guy Phinney's estate. They retained the formal gardens, laid out new pathways, created animal quarters, and left the informal woods to the east. In 1930, the property was bisected when Highway 99, Aurora Avenue, was built through the park, creating "Upper" and "Lower" Woodland Park. Through the 1930s to 1960s, several projects were built, including beaver ponds, monkey island, bear and feline grottos, a children's zoo.
The 1968 Forward Thrust Bond began a new phase of zoo development, establishing new criteria organized around an ecological approach to zoo design. New exhibits developed included African Savanna, Gorillas, Primate Islands, and North American Marsh and Swamp.
The 1985 Zoo Bond Issue provided funding to build additional elements of a long-range plan, includng The Asian Elephant Forest exhibit, Tropical Rain Forest exhibit, Education Center, ZooStore, Animal Health Complex, Northern Trail exhibit and Trail of Vines.
In 2002, the Woodland Park Zoological Society was established to assume the responsibility for operations and management. New exhibits added since then include African Village, Jaguar Cove, the historic carousel and Zoomazium, the Humboldt penguin exhibit, Banyan Wilds, and Butterfly Garden.
Perched on Phinney Ridge looking eastward towards Green Lake, today's zoo is dedicated to wildlife conservation, strives to save animals in the wild, and presents exhibits to feature animals in their natural habitat. Woodland Park Zoo is accredited by the Association of Zoos & Aquariums and certified by the American Humane Conservation program, a validation of the zoo's high standards in animal welfare.
How to get discount tickets to Woodland Park Zoo
Listed below are the ways you can obtain discount tickets to Woodland Park Zoo. Some are available to everyone and some are available to select groups.
Become a member of Woodland Park Zoo and receive free admission. Individual membership begins at $54 and pays for itself in 4 visits. Customize your membership to fit your needs and family. Members receive free zoo admission for the year, a free subscription to MyZoo magazine and e-newsletter, free wall calendar, discount tickets to the WildLights winter festival, access to pre-sale tickets for ZooTunes summer concerts, invitations to special events, and reciprocal membership benefits at other zoos and aquariums, plus discounts on ZooStore merchandise, food/beverage, and special attractions. More info: https://www.zoo.org/membership.
Use your Seattle library card. The Seattle Public Library (SPL) Museum Pass program allow SPL and associated cardholders* to reserve a family pass to several museums, including the Woodland Park Zoo. You must reserve a pass for a specific date, and there are a limited number of passes available each day. So plan to reserve a pass well in advance of the date you wish to visit. For more information, visit https://www.spl.org/programs-and-services/arts-and-culture/museum-pass.
*Note that you can get a free SPL card if you live, work, own property, or go to school in Seattle, Bothell, or most of King County (except city of Yarrow Point and Hunts Point), or if you have a Library card issued by any of the following library systems: Everett, Kitsap, Pierce County, Puyallup, Sno-Isle, or Timberland.
Connections Community Program. The City of Seattle and human service organizations in King, Pierce, and Snohomish County offer qualifying individuals and families free or reduced fare tickets through the Connections program. This includes organizations such as the Boys & Girls Clubs, YWCA, public health facilities, DSHS offices, King county government offices, city governments throughout King County, Seattle Parks Community Centers, and many, many other organizations that serve children and families. The goal of the program is to provide opportunities for everyone to experience Seattle attractions, regardless of circumstance. If you are a client at a partner organization, inquire with them about obtaining Woodland Park Zoo tickets. For a complete list of partner organizations, visit: https://www.zoo.org/document.doc?id=2582 or visit: https://www.zoo.org/community
Seattle CityPass. Save 49% or more on Seattle's best attractions with CityPASS, including the Space Needle, Seattle Aquarium, Argosy Cruises Harbor Tour, Pacific Science Center OR Chihuly Garden & Glass, and Woodland Park Zoo. Purchase CityPASS online for immediate delivery to your mobile device or buy at zoo gates. More info: https://www.citypass.com/seattle
The following discounts are available to those who qualify. More info: https://www.zoo.org/discounts
Transit riders can present a valid Metro bus transfer or ORCA card to purchase a discount ticket.
Cyclists can present a bike helmet or Bike Benefits sticker to purchase a discount ticket.
Military.

Active, retired and veteran U.S. military personnel or military spouses and their family members can purchase discount tickets with valid ID.

EBT/WIC. Individuals, families, foster families, or kinship caregivers and their family members can purchase discount tickets and discount passes.
Persons with Disabilities can purchase discount tickets at zoo gates.
Microsoft Prime Card holders can purchase discount adult and child tickets.
AAA Members can purchase discount tickets.
Volunteer. Individuals ages 16 years and older can become volunteer ambassadors for Woodland Park Zoo, primarily working to engage with zoo guests by offering assistance and information. Volunteers accepted into the program are asked to pay a one-time fee of $30 (assistance is available), attend an information session and training, commit to the Volunteer Program for a minimum of one year, and volunteer a minimum of six hours per month. More info: https://www.zoo.org/volunteer
But wait, there's more!
Love our cheap ideas? Get our FREE email newsletters. Choose from daily, weekly, and monthly lists. Click here to subscribe.
Woodland Park Zoo (north entrance), 5500 Phinney Ave. N., Seattle, WA 98103