Listed below we keep a list of Christmas tree lighting celebrations in cities and communities around the Puget Sound region.
In case you are wondering where we got the custom of lighting trees in winter, we dug up some interesting history.
A short history of Christmas tree traditions
The tradition of the Christmas tree evolved over a period of several hundred years. There are a lot of twists and turns to the story. No two historians would likely tell the story the same way. But here is a very brief account of what has occurred:
Evergreen wreaths, garlands, and trees have been a symbol of eternal life in many cultures throughout history. Because they remained green all year, it was natural for people to develop various winter customs: to decorate the house in winter, provide a setting for birds, scare away evil spirits, and recognize the winter solstice as the turning point to spring, among other rites, traditions, and beliefs.
Christmas trees were considered pagan symbols and heathen traditions by some Christians, but embraced by others. In any case, these paths converged in post-medieval Europe. The various customs and ideas evolved further into the Christmas tree tradition most of us know today: an evergreen tree adorned with lights, ornaments, and gifts.
The two most famous trees in the U.S. are The Rockefeller Center Christmas Tree in New York City with over 25,000 Christmas lights and The National Christmas Tree at the White House in Washington, D.C.
2021 Christmas tree lighting events
We'll keep updating this list from prior year Christmas tree lighting events.
Most Christmas tree lighting events have music in some form. Many also have other family-friendly activities before and after the tree lighting. These might include Santa's arrival and/or photo ops, holiday markets, food vendors, and other activities. Check their link for details.
(Listed by date, then alphabetically by city)
Friday, November 26, 2021 tree lighting events
Seattle. Usher in the holidays at Downtown Seattle Association's annual tree-lighting celebration in Westlake Center Plaza (known in prior years as "Macy's/Bon Marché Star and Westlake Park Tree Lighting"). Come in-person or watch online: the event will be live streamed on DSA's and WARM 106.9's Facebook pages. In addition, the Holiday Star will return to shine on downtown for the season. Show will be emceed by Shellie Hart from WARM 106.9 and rumor has it a "special guest in a red suit" will be helping with the countdown! Throughout the day, Westlake Park will have music, light sculptures and other activities. More info: Tree-lighting Celebration (downtownseattle.org)
Saturday, November 27, 2021 tree lighting events
Seattle. Pike Place Market kicks off the holiday season with their annual Magic in the Market celebration on from 11am-5:30pm with plenty of holiday spirit across all 9-acres of the historic neighborhood. Bring the whole family to meet Santa, listen to caroling, sip some eggnog, and shop for loved ones, all leading up to the famous Market lighting ceremony at 5pm. More info: 26th Annual Magic in the Market | Pike Place Market
Snohomish. The Annual Snohomish Christmas Tree Lighting will be held at 5:00pm at the Town Christmas Tree. There will be live holiday music provided by local musicians. More info: Historic Downtown Snohomish | Home for the Holidays
Tacoma. For the 76th year, the holiday tree is up in front of the Pantages Theater at South 9th Street and Broadway. The long-standing, traditional holiday tree-lighting celebration will take place on Saturday, November 27, beginning at 5:00 p.m. Glowing in sparkling decorated trees, the Pantages Theater lobby will feature display tables, hosted by local resident arts organizations, including Tacoma City Ballet, Symphony Tacoma, Northwest Sinfonietta, Tacoma Concert Band, Puget Sound Revels and the Tacoma School of the Arts. More info: Holiday Celebration Lights Up Downtown Tacoma – City of Tacoma
Sunday, November 28, 2021 tree lighting events
Mercer Island will feature various light displays nightly from November 28, 2021 – January 3, 2022. Get the Mercer Island Preschool Association holiday map for the light-filled locations to check out around the Island! More info: Illuminate MI
Monroe. Santa & Mrs. Claus, a Car Parade, Cocoa and Cookies, Christmas Carols and MORE!! The Tree Lighting starts right after Santa arrives. This is going to be fun for the whole family. More info: Light Up Monroe (choosemonroe.com)
Wednesday, December 1, 2021 tree lighting events
Bothell, Kenmore, Lake Forest Park and Shoreline are partnering to celebrate communities shining bright with the 2021 Winter Porch Light Parade! From December 1 – 31, these cities invite their communities to create light displays that will become part of a virtual map, marking the many holidays and traditions celebrated during the winter season. More info: Winter Porch Light Parade – Info (google.com) and Winter Porch Light Parade – Map (google.com)
Thursday, December 2, 2021 tree lighting events
Seattle. Celebrate the installation of the first annual illuminated public art exhibition at Freeway Park. Seven local artists/artist teams created site specific art that responds not only to the Park's unique landscape, but to the theme of Wayfinding – finding one's way through challenging times. Art will be up in the park through the new year and the opening party will feature music, refreshments and self-guided tours to the art pieces through the park's twinkling pathways and lit up groves. December 2nd, 5-7pm at Seneca Plaza. More info: Freeway Park Illuminated | Facebook
Friday, December 3, 2021 tree lighting events
Mountlake Terrace has its Tree Lighting Ceremony on the first Friday evening in December each year. In 2021, they hope to have the 2nd virtual Tree Lighting Ceremony and 34th year of lighting the tree of lights on top of the water tower at 6:30 p.m. However, the plaza does not have full power yet and is not quite ready for the city to hold a virtual event there this year. Therefore, the city will continue the traditional lighting of the "tree" that is actually a frame constructed with over 1,800 LED lights and visible from Interstate 5 and for miles around. The event will include a glimpse of the new plaza, sponsor recognition, a visit from Santa, and the lighting of the tree. More info: Tree Lighting Ceremony | Mountlake Terrace, WA (cityofmlt.com)
University Place tree lighting on the first Friday in December from 4:00-7:30 p.m. in Market Square. Festivities continue after dark. More info: Events | University Place, WA (cityofup.com)
Saturday, December 4, 2021 tree lighting events
Auburn. Lighted Santa Parade & Tree Lighting along Main Street. From Auburn High School to City Hall, lighted entries will fill Main Street with holiday joy! Beginning at 4:30 PM the parade will feature lighted vehicles, floats, cars, and walking entries. More info: Special Events – City of Auburn (auburnwa.gov) and Santa Parade & Tree Lighting (auburnwa.gov)
Marysville. The festival kicks off at 4:00 PM in Comeford Park with food and craft vendors, holiday photo opportunities, and a bonfire. The Electric Lights Parade gets underway at 6:30 PM featuring a flotilla of vehicles, floats, and walking groups decked out in glistening holiday lights. The parade will make its way along State Avenue starting at the Municipal Court and will end at Comeford Park. More info: Merrysville for the Holidays | Marysville, WA – Official Website (marysvillewa.gov)
West Seattle. Hometown Holidays Tree Lighting and Night Market. More info: West Seattle Junction Association (wsjunction.org)
Sunday, December 5, 2021 tree lighting events
Gig Harbor Holiday Tree Lighting in Skansie Brothers Park from 5:30-7:00PM. The Mayor and special guest Santa Claus will be on hand to count down to the official lighting. Live acapella entertainment. More info: Event Calendar — Gig Harbor (visitgigharborwa.com)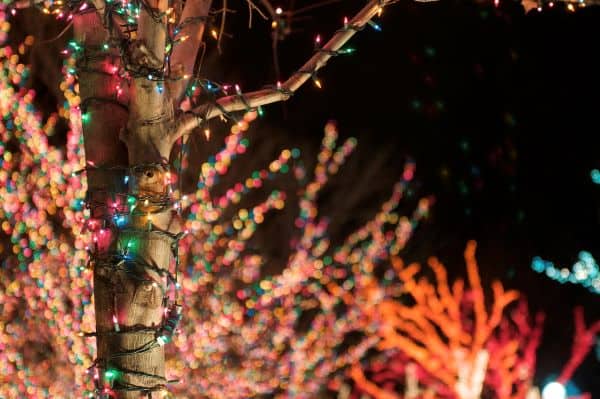 2019 Christmas tree lighting events
These are the locations and events from 2019 that did not have an event in 2020. As we verify their plans for 2021, we'll transfer them to the above list.
We last updated this information on 11/18/2021.
Listed alphabetically by city