Welcome the New Year with healthy, active outdoor fun. Polar Bear Dips are for those willing to brave icy Northwest winter water, including Lake Washington and Puget Sound. If you prefer to stay dry, then check out our list below of the many First Day Hikes at Washington State Parks around the region.
Polar Bear Dip Safety Tips
Heart health. Anyone with heart problems, consult your health care provider, or just plan to watch the fun.
Bring change of clothes and towel.
Do Not Drink Alcohol

: alcohol does not warm you up, it accelerates hypothermia.

Do not stay in the water longer than 15 minutes

; body heat is lost 25 times faster in the water than in air.

Do not remove your clothing

until swim time and remove wet clothing before getting back into dry clothes.

Events are free

, however some are fundraisers for charitable causes. Check their website for details.
---
Love our cheap ideas? Get our FREE email newsletters.
Choose from daily, weekly, and monthly lists:
---
2023 Polar Bear Plunges
(Listed alphabetically by location)
Seattle Parks & Rec Polar Bear Plunge at Matthews Beach
For the first time since 2020, the Polar Bear Plunge is returning in 2023 with an in-person event! Start off the New Year with a splash at noon on Sunday, January 1, 2023 at Matthews Beach, 9300 51st Ave. NE. Registration begins at 10 a.m., and the plunge starts at noon sharp. A 2023 Commemorative Badge of Courage will be given to all heroic Polar Bear participants who immerse themselves neck-deep in the water. The patch will show the world that participants braved the frigid waters.
While people wait for the plunge to kick off, there will be a variety of food trucks available, games, a photo booth, music and a t-shirt/sweatshirt vendor. Warming refreshments will be served. As in previous years, younger polar bears and anyone else who needs a little more room can take part in the Polar Cub Club part of the event immediately preceding the main plunge. For the truly hearty, double-dipping is allowed.
More info: Seattle Polar Bear Plunge 2023 – Parkways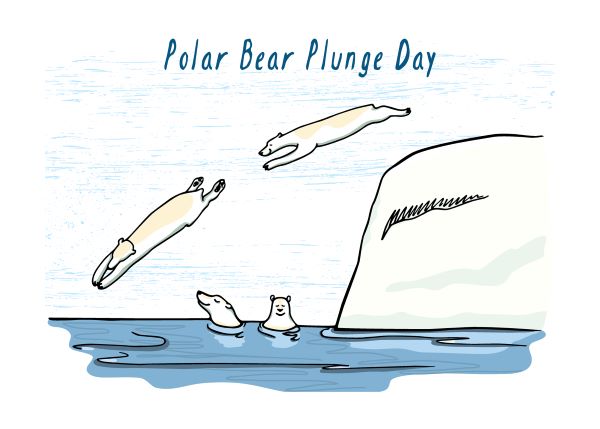 2022 Polar Bear Plunges
(As we verify events for the new year, we'll move them to the above list.)
Edmonds Polar Bear Plunge
The annual Edmond's Polar Bear Plunge takes place at 1:00 PM on New Year's Day at Brackett's Landing (just north of the Edmonds ferry terminal, 50 Railroad Ave). Most participants meet at the beach, but the diehards march from Daphnes on Main Street. All are welcome. Proceeds support local organizations. More info: Edmonds Polar Bear Plunge is 1 p.m. Jan. 1 – Edmonds Beacon
Gig Harbor Polar Bear Plunge
YMCA Camp Seymour is hosting a Polar Bear Plunge on New Year's Day from 10AM-2PM. This event will follow Covid-19 Safety Protocols. A lifeguard will be present, and all participants are required to wear a life jacket. Make the plunge even more special by dressing up in a costume!
Start the new year off with an invigorating dip in the Puget Sound. Reserve a time block for you and your family to take the plunge into the new year. Everyone who takes the plunge will receive a commemorative badge of courage. Changing rooms and hot showers are available as a part of your reservation.
Space is limited. Make a reservation today: https://www.campseymour.org/calendar/event/polar-bear/
Kirkland Parks January 22, 2022 Jump!
Join Kirkland Parks and Community Services for the January 22, 2022 Jump! Polar Bear Plunge. Take an icy cold splash with friends and family.
Enjoy vendor booths, cornhole, a best plunge costume contest, and trivia on the giant LED screen. Warm-up with coffee and cocoa from Kiwanis, the Mini Dough Nut food truck, and free clam chowder from Ivar's. Finally, get movin' with event sponsor, Sasquatch Strength.
Want to stay cozy and warm? Take a virtual plunge and donate $10 toward the Recreation Scholarship Fund.
More info: January Jump! Polar Bear Plunge – City of Kirkland (kirklandwa.gov)
Renton Polar Bear Plunge
Two different sessions will be offered at Gene Coulon Memorial Beach Park (1201 Lake Washington Blvd. N.) on New Year's Day.
Pre-registration is required, no drop-ins are allowed. Register: https://rentonwa.gov/city_hall/parks_and_recreation/recreation/events/polar_bear_plunge
Sammamish Polar Bear Plunge
Start New Year's Day with a splash at the Lake Sammamish State Park Polar Plunge. Festivities will begin at 10:30 a.m. with registration, music ,and merriment on the shores of Sunset Beach. The crowd will "plunge" at 11 a.m.
The entry fee is a minimum $10 per person donation to Friends of Lake Sammamish State Park, a non-profit dedicated to supporting the park. All proceeds go toward habitat restoration and capital projects that improve the park for everyone.
The first 180 registered participants will receive a Polar Plunge souvenir campfire mug, hand warmer and a coupon for a cup of Ivar's clam chowder. Get your friends or colleagues together and organize a team, or just come solo.
Costumes and team t-shirts are encouraged. Spectators are encouraged to come out to cheer on the athletes as they take a dunk in the freezing waters of lake Sammamish. If you can't make it to the plunge, do it virtually from wherever you are! Register and you get a gift.
More info or register: Lake Sammamish Polar Plunge Tickets, Sat, Jan 1, 2022 at 10:30 AM | Eventbrite
Washington Special Olympics Polar Plunge February 26, 2022
The annual Special Olympics Washington Polar Plunge is a unique opportunity for individuals, organizations, and businesses to support Special Olympics athletes by Freezin' for a Reason.
Make a giant splash to celebrate in Seattle at Alki Beach. Register and gather donations from friends, family, and colleagues. More info: Start Fundraising for 2022 Polar Plunge – West (sowa.org)
More info: Polar Plunge | Special Olympics Washington (polarplungewa.com)
2022 First Day Hikes
First Day Hikes happen all across the nation in America's State Parks on January 1st. These New Year's Day hikes provide a means for individuals and families to welcome the coming year in the outdoors, exercising and connecting with nature. For many it has become a tradition.
These hikes include traditional hikes, self-guided hikes, and trail challenges. Visitors can use the hike map and click on a pin to learn more about your state or specific opportunities. Distance and rigor vary from park to park, but all hikes aim to create a fun experience for the whole family. People are invited to savor the beauty of the state park's natural resources so they may be inspired to take advantage of these local treasures throughout the year.
2022 Washington State First Day Hikes
At least 42 state parks across Washington have scheduled staff-led hikes, self-guided hikes, dog strolls, cross-country ski trips and more for New Year's Day. Most First Day Hikes require advanced registration and group sizes may be limited. Find First Day Hikes in Washington State Parks. There are a few hikes listed on the Washington State Parks calendar for New Year's Day: Calendar • Washington State Parks and Recreation.
New Year's Day is also a Washington State Parks 'Free Entrance Day', when you don't need a Discover Pass to visit a state park. A Discover Pass is usually required for vehicle access to state parks.
You might also like:
2021 Polar Bear Plunges
As of December 22, 2021, the following locations had not announced polar plunge plans for 2022.
Kirkland Chump Change Polar Plunge
We can't gather as a crowd this year. So the Kirkland Polar Plunge is unofficially an ALL DAY event. Hundreds of people gathering at the same time is not in the cards this year so we kindly ask everyone to plunge throughout the day at Marina Park and post your photos online with the hashtag #KirklandPlunge. The few. The proud. The plungers.
More info: https://chumpchange.org/
West Seattle Polar Bear Scavenger Hunt
The West Seattle Polar Bear Challenge is a scavenger hunt with a cause. Their mission is to create joy for young and old and inspire support for West Seattle communities that need it most. How to participate:
Go on a Polar Bear Scavenger Hunt. Find bears and bins around the "island" and donate food to the West Seattle Food Bank.
Add a Polar Bear in your yard, window, or business. Big or small, the more the merrier!
Spread the word, spread the joy! The Polar Bear Challenge will take place 12/1/20 to 1/1/21.
More info: https://www.wspolarbearchallenge.com/
Other past Polar Plunges
2023 New Year's Day Polar Bear Dips and First Day Hikes
What
2023 New Year's Day Polar Bear Dips and First Day Hikes
Reader Interactions