Fremont Solstice Fair & Solstice Parade every June coincides with the Summer Solstice. The funky, friendly Fremont neighborhood celebrates all aspects of community: art, spirit, sharing, and working together to help each other. During Fremont Fair weekend, people from all walks of life come together to shop, eat, drink, perform, smile, dance, run, converse, debate, groove, and parade. There is beer, food, and merchandise for sale.
What is the summer solstice?
The summer solstice is longest day of the year and occurs sometime between June 20 to 22, depending on whether it is a leap year or other factors such as gravitational pull from the moon and the slight wobble in Earth's rotation (you knew about that, right?). At the winter solstice six months from now, just the opposite occurs: the sun is at its southernmost point, it is the shortest day of the year, and occurs between December 20 to 23.
More info: Solstice events, lantern festivals, and light shows – Greater Seattle on the Cheap
2022 Fremont Solstice Parade and Festival
Kick off summer in Seattle with a BANG and Seattle's largest outdoor summer market along with live music, food, beer gardens, parades, and more.
Saturday-Sunday, June 18-19, 2022 to coincide with the Summer Solstice (officially: Tuesday, June 21, 2022 at 2:13 am)

Parking is very limited in Fremont and there is no official parking area. Do not park in front of driveways, fire hydrants or crosswalks. Park enforcement is on full patrol during Solstice and will readily ticket and tow vehicles. Alternate transportation is strongly recommended.
All Weekend: Fremont Fair. Saturday, June 18: 10am-8pm, Sunday, June 19: 11am-6pm. Activities primarily take place west of Fremont Ave N on N 35th St. and N 34th St. Live music stages, a huge craft market, beer garden, and much more! The Fair benefits the Fremont Chamber of Commerce, a non-profit organization that supports Shop Local, procures and maintains most of the public art, works to develop the community, and promote business and education opportunities in the Fremont neighborhood. More info: Fremont Fair
Saturday: Fremont Solstice Parade. Saturday, June 18, 2022 at 1pm. Begins at the intersection of N. 36th St. and Leary Way, and winds through downtown Fremont, ending at Gasworks Park. A celebration of life and art that winds through downtown Fremont to Gas Works Park (starts at Leary Way NW & 2nd Ave NW). The Fremont Solstice parade is most famous for its nude (though painted) cyclists who ride first at the start of the parade. Note that the Parade is not a nudist event, it is an Art event that recognizes the human body as a canvas and the joy of riding as a part of our community's creative expression. There is a strict policy of No Lewd, Offensive, Obscene, or Otherwise Objectionable behavior. The parade isn't just about the nude cyclists, there are giant puppets, stilt walkers, floats, dancers, cyclists, and musicians. More info: Fremont Solstice Parade at Fremont Fair
Sunday: Dog Parade on Sunday, June 19, 2022 at 2:30pm. Registration fee to participate; register on Sunday from 11am-1:30pm at the Citizens for Off Leash Areas (COLA) tent on 34th Avenue. Fee benefits, (COLA). Paralleling its human counterpart, featuring furry friends of all shapes and sizes.
Is the Fremont Fair for your family?
The Fremont Fair welcomes family members of all ages. In fact, there are special activities just for kids and families. However, Fair goers should be aware this is a very eclectic and free-spirited event.
Some Fair guests appear in full or partial body paint, or trace amounts of clothing and a variety of colorful costumes – this is typically limited to Saturday's festivities, especially the parade.
The Fremont Arts Council does not support overt nudity in the parade, nor tolerates lewd behavior of any kind.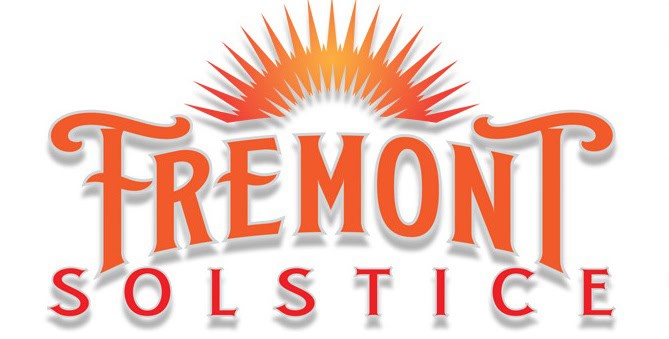 Fremont neighborhood in Seattle, WA
Fremont Ave N and N 35th St
Seattle, WA 98103