There are many ways to streamline grocery shopping and meal preparation, including online ordering, followed by grocery pickup or delivery. These services add expense that I usually like to avoid. Even if delivery is free, online prices are always higher. Also, I find grocery shopping to be a relaxing activity. So, I prefer to save the money spent on delivery and online ordering.
Still, there can be many times when online ordering with pickup or delivery is a great time-saver. When your schedule is hectic, you are house-bound, or simply enjoying a "staycation" from household chores. In these cases, online ordering and delivery can be a time-saver that is well worth the added cost.
---
Love our cheap ideas? Get our FREE email newsletters.
Choose from daily, weekly, and monthly lists:
---
Note: during the Covid-19 pandemic, many services are strained. Due to increased demand, you may experience out-of-stock items and longer wait times for delivery.
But, there are also ways to save money on grocery pickup and delivery:
Request a longer delivery time (one or two days, instead of two hour or same day).
Be on the lookout for online discounts, which can save money on products. (Note that online specials may be different than what's offered in-store or published the store's weekly flyer.)
Use the same ordering service consistently and buy a subscription membership that offers free delivery.
Listed below are available delivery options for groceries in the Seattle-Tacoma metro area. Most deliveries require someone to be at the delivery location to accept the order, otherwise it will be returned and re-scheduled and may incur restocking or other fees. So, confirm these details and make the necessary arrangements.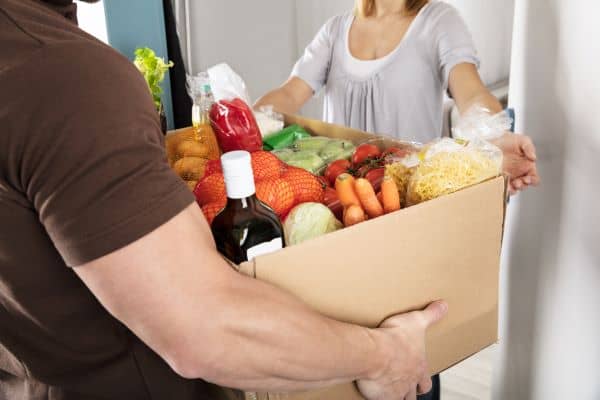 Local grocery delivery companies
These companies are based in the Pacific Northwest and offer delivery directly or though delivery partners such as Instacart and Prime.
Bartell Drugs offers delivery of most products in their stores (including many foods) through Instacart and Prime Now to Amazon Prime members. Bartells also offers prescription delivery at all locations through the third party service, Nimble.
CostcoGrocery online grocery delivery service offers free two-day delivery service on orders of $75 or more. Same day delivery via Instacart is available to qualifying zip codes for orders over $35.
Fred Meyer stores offer delivery service direct to your door for $9.95. Order your groceries online, apply digital coupons if you have them, use your Shopper's Card to earn fuel points on every purchase, select a delivery time slot (which can vary based on availability), and check out using your credit or debit card. You'll receive an alert when your order is on its way. For more info, visit: https://www.fredmeyer.com/topic/clicklist-2
Mercato offers delivery from independent grocery stores. In the days before the supermarket, people went to local shops to get food: the baker, the fruit stand, the small grocery store–the keystones of their communities. With the resurgence of food artisans and independent groceries in recent years, Mercato elevates your access to independent grocers and other food merchants, including fish markets, meat markets, ethnic grocers, and specialty stores.
Pacific Coast Harvest is a Seattle-based company offering subscription delivery of a box of produce from local farmers to Seattle, Bellevue, Kirkland, Redmond, Shoreline and Mercer Island. Last time we checked, boxes ranged in price form $18-$45, delivered weekly or bi-monthly. Each week a curated selection of seasonal products are offered. Subscribers can customize their orders with add-ons. Add-ons include a broad range of products, such as fruit juices, eggs, pasta, jams and honey, cheeses, chocolate, and more. Your delivery arrives the same day each week. GET $10 OFF your first order using code: PCH. The service is very similar to a CSA subscription. You can try the service once or twice before making more of a commitment.
PCC Community Markets offer online ordering and delivery via Instacart. Delivery fees start at $3.99 for an order of $35 or more delivered within two hours, and max out at $9.99 for orders less than $35 delivered within one hour. The first delivery is free if you're new to Instacart. PCC co-op membership is not required. However, for a $60 lifetime investment, each member owns an equal share of the co-op, and can receive discounts and other benefits.
Pike Place Market – Shop Market Businesses Online. Pick up Meat, Fish, Vegetables and More at Pike Place Market. Browse the list to see which Market businesses are open.
Seattle Neighborhood Farmers Markets food delivery and pick up. The Neighborhood Farmers Markets runs seven markets in Seattle that support small farms and local producers from around the region to provide customers with beautiful Washington-grown produce and fresh local products. They are committed to re-opening safe, permitted farmers markets for the 2020 season (April-October) and working closely with the city and public health to establish practices that will allow farmers markets to operate safely using extremely modified conditions using social distancing measures.
Love our cheap ideas? Get our FREE email newsletters. Choose from daily, weekly, and monthly lists. Click here to subscribe.
National grocery delivery companies
Due to increased demand, inventory may be temporarily unavailable and/or shipping can take longer than usual.
Amazon Prime Now offers free grocery delivery to Prime members, including fresh produce and perishables, and other everyday items from Amazon and Whole Foods. Amazon Prime is a subscription service that includes free services such as delivery or shipping on many items, streaming music and video, discounts on eligible products, and other benefits. Subscriptions begin at $12.99/month (cancel anytime) or $199/year. Discount membership is available to EBT, Medcaid, and students. Anyone can try Prime for free for 30 days; students can try it free for 6-months (courtesy of Sprint), and EBT members can use their SNAP EBT card to pay for eligible groceries.
Amazon Fresh. Like Prime Now, Amazon Fresh offers free grocery delivery or pickup to Prime members. But, the products are, as the name implies, focused on grocery delivery, while Prime Now includes other items. Also, note that delivery fees vary by location–free if your order exceeds the minimum (usually between $35-$50 depending on location).
Amazon Pantry offers a limited selection of household products and non-perishable foods. I think of it as the counterpart to Amazon Fresh. However, unlike Prime Now, no Prime membership is required for this service. Prime members get free shipping on orders $35 and over. In select areas, non-Prime members can shop the low-priced Pantry selection with a $5.99 shipping fee on each order.
NEW! (added April 17, 2020) Chefs' Warehouse (CW) has been the trusted source of the world's greatest ingredients to North America's top chefs for 35 years, including Thomas Keller, Jean-Georges Vongerichten, Eric Ripert, Missy Robbins, Michael Mina, Nancy Silverton, Dan Barber, Daniel Boulud, Jose Andres, and many others. For the first time ever, CW is making chef-driven selections available to you, the home chef, delivered right to your door! 10% of retail sales profits will be donated to front-line furloughed employees and other impacted members of the foodservice industry. Shop the Seattle Chefs' Warehouse: https://shop.chefswarehouse.com/collections/seattle
Google Shopping lets you search, browse, and compare products across your favorite stores. If you decide to buy online, you can check out on Google if you find a cart icon AND place your order on Google with your saved Google Account information. Otherwise, you can be transferred to the store's site. Google Shopping delivery is free if store minimums are met (usually $35). Orders are shipped via companies such as FedEx and UPS, so you can track your delivery.
Instacart is an online ordering service for grocery pickup and delivery available across Washington State. It is used by many local stores, such as Costco, QFC, Safeway, Uwajimaya, Whole Foods and others. Membership is optional via Instacart Express at $99/year or $14/month, which includes free grocery delivery on orders of $35 or more and other benefits. Non-members may use the service and pay a delivery and service fees. Fees vary based on specific products, order size, delivery time, and other factors.
Omaha Steaks offers meats, seafood, sides, and ready-to-prepare slow=-cooker and skillet meals. To save money, peruse sale items and items that include free shipping.
Postmates. Postmates is better known for restaurant delivery. However, they also deliver groceries, clothing, and other goods from a variety of merchants. For more info on what's available, install the app and create an account. The Postmates Unlimited monthly subscription program provides discounts on eligible orders. They also offer a referral program where you can earn delivery credits on new customers ordering through your referral link.
Safeway Delivery offers direct ordering for delivery or pickup from your nearest store through their smartphone app. Delivery is free on orders of $30 or more. Note that services in some areas or for special requests such as RUSH delivery may handled through an Albertson's store or a third party app, such as Instacart. Discount: Get $20 Off + FREE Delivery on your first order through 12/31/2020when you spend $75 or more using the Promo Code SAVE20 at checkout. (Fine print: Not valid on orders fulfilled by Instacart. SUBJECT TO APPLICABLE SERVICE FEE. Minimum purchase calculated based on subtotal of qualifying items in cart at checkout, excluding alcoholic beverages (where available), tobacco and fluid dairy products. VALID ONLY FOR 1ST TIME ONLINE GROCERY ORDERS. LIMIT 1 PER HOUSEHOLD. May not be combined with any other free/reduced delivery or service fee offer. We reserve the right to modify or cancel offers and/or to correct typographical, pictorial and other ad or pricing errors.)
QFC grocery stores offer online ordering and pickup at your selected store.
Target Grocery offers pickup and delivery for grocery items and other products in their website store or via the Target App. There is a $35 order minimum. Delivery is available through Shipt. For RedCard holders, delivery is free. Non-RedCard holders must pay a $2.99 per-order delivery fee. Target also offers free order pickup, but pickup excludes perishable food, flowers, or adult beverages.
Walmart Grocery offers both pickup and delivery of orders that can include groceries, household essentials, pet supplies, and other goods from their online store. Minimum order is $30. Their pickup service is free. Delivery is $9.95 per-order unless you enroll in their Delivery Unlimited plan, which is $12.95/month or $98/year after their 15-day free trial.
Whole Foods Market, owned by Amazon, offers delivery service through Prime Now. Prime members can shop Whole Foods Market on Amazon.com for free 2-hour delivery and free 1-hour pickup at select locations.
Shipt is a subsidiary of Target and a membership-based online ordering and delivery service for groceries and household essentials. Annual membership is $99 to use the ordering app. Delivery is free on orders over $35. Shipt is used by many local stores, including Fred Meyer, QFC, CVS pharmacies, Office Depots, Petco, Target, and others. To see what's available in your area, enter your zip code to see a list of available stores.
Food Access Programs and Services
There are several food access programs and services to help support during this difficult time. Please continue to look out for one another and check-in with your neighbors during this challenging time.
But wait, there's more!
Love our cheap ideas? Get our FREE email newsletters. Choose from daily, weekly, and monthly lists. Click here to subscribe.