Starting in 2020, many households came up with clever ways to deliver Halloween candy safely to revelers in the neighborhood. Some houses simply placed treats on a table on the porch, in the driveway or yard, or some other location where trick-or-treaters could help themselves to candy. (Of course, only commercially packaged, individually wrapped treats should be provided.)
But many homes also developed fun delivery methods, including 6-foot or longer chutes that are used to slide the treats to tricksters. We collected some of the best ideas for chutes from around the country.
---
Love our cheap ideas? Get our FREE email newsletters.
Choose from daily, weekly, and monthly lists:
---
Tips for candy chutes
Candy will slide successfully every time if there is at least 2 feet difference between the high end and the low end of the chute for every 6 feet of chute. If the slope is too shallow, the candy can get stuck in the middle somewhere. And no one wants that!
Place a bucket at the bottom to collect the candy when it slides out the bottom or use signage to instruct trick-or-treaters where to place their candy bucket to catch the treat.
Be sure to provide adequate lighting so trick-or-treaters can find the chute easily.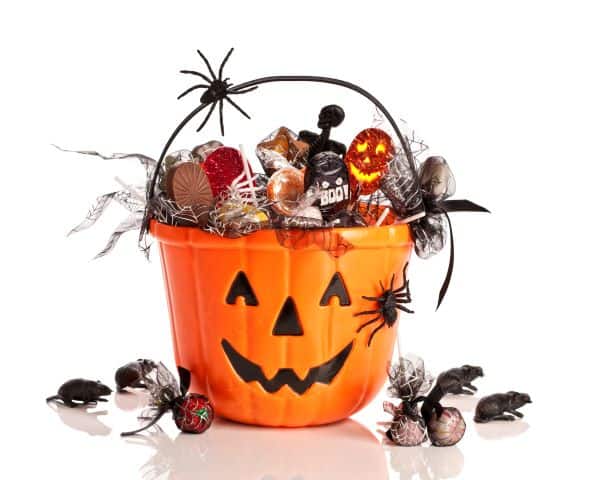 Stair rail candy chute
If your home has a stair rail 6-foot or longer leading up to the front door, this is the simplest and most cost-effective idea. If you need to buy tubes or a pipe, it will cost you less than 10 bucks. Use tape and decorating supplies you may have on hand or spend a little more to give your chute some character.
Use a cardboard tube (e.g. tape together two 3-foot mailing tubes) or PVC pipe the same length as the stair rail (remember, the chute needs to be at least 6 feet long to maintain safe distancing).
Decorate the tube. Several easy ways to do this are: spray paint the tube, wrap the tube with (decorative duct or red electrical) tape, or add a string of lights.
Tape or zip-tie the tube to the stair rail. Add other décor such as spiderwebs, ghosts, or other spooky Halloween accessories. Get creative! We saw examples that decorated the end of the chute to look like the mouth of a ghost, skull, or jack-o-lantern.
If you don't have a steep or long stair rail (many homes do not), you'll have to get a bit more creative. But there are many inexpensive ideas for candy chute stands out there. Listed below are a number of DIY candy chute ideas with instructions from around the country. Most take very little skill or money. We've listed them below in order of increasing complexity.
Candy Chute DIY stand
If you don't have a stair rail, you can use the simple tube design described above for stair rails, but you have to find a high and low object to hold the tube, and then attach it in some way. Most of the examples we saw use duct tape, electrical tape, or zip-ties to keep the candy chute in place. Here three candy chute stand ideas we found:
Place the high end on a ladder or sawhorse and rest the other end on a chair, footstool, or box.
Place one end through your living room window (use tape to secure it to the windowsill) and rest the other end on an object in your yard (box, bucket, patio chair, etc.).
Place one end on your deck railing and rest the other end on an object in your yard. Or shoot it straight down if your home design suggests it–I can attach a tube to the deck rail and shoot the candy straight down to the carport.
You get the idea. Check around the house and find two objects that will work. (Hint: don't use tape on wood furniture. Just sayin'.)
Candy Chute (socially distant) ghost stand
Here's a great DIY candy chute idea with a clever carboard ghost stand. It uses easy-to-find supplies costing about $15 (our favorite number for cheap fun!) and comes from working mom At Home with Aubrey:
PVC candy chute & wooden stand
Another idea uses PVC pipe and fittings purchased at a hardware store to build a free-standing chute. The short video below from pvcfittingsonline.com shows you how to do it. It goes together easily and pulls apart for compact storage. Find a supply list and instructions on their website: https://www.pvcfittingsonline.com/resource-center/diy-candy-chute-for-safe-trick-or-treating/. The supply list and instructions don't quite match the video. But either way it is a fairly simple project, though it costs more than previous examples.
Find PCV pipe and fittings at hardware stores in the Puget Sound region, including McClendon Hardware, Ace Hardware, True Value, and Home Depot. Many don't carry orange PVC pipe in the sizes in the video, but black or white and other sizes will certainly make an equally find candy chute. You can cut PVC pipe with a hand saw (or if you have one, a pipe cutter or an electric miter saw). Home Depot does not cut pipe for you, but some of the other locally owned stores might. Or they will certainly sell you the right handsaw to do the job quickly and easily.
Note: you want the PVC pipe to be AT LEAST 2-inches to accommodate fun size and larger candy bars. So, get something bigger if they don't have that size, such as 3-inch or 4-inch PVC pipe.
Homemade wooden stand for PVC candy chute
If you have the tools and basic carpentry skills, you can build a wooden stand for a PVC candy chute. It's not too costly–in fact you may have the wood lying around. However, it requires skills and the necessary tools for cutting wood, drilling, and putting in wood screws, plus hot glue and paint. But it's a thoughtful design and not too hard to build.
This father and son duo show you how to build this candy chute and wooden stand in the following YouTube video. Watch until the very end to see the fantastical paint job, which really makes the contraption Halloween worthy.
But wait, there's more!
Love our cheap ideas? Get our FREE email newsletters. Choose from daily, weekly, and monthly lists. Click here to subscribe.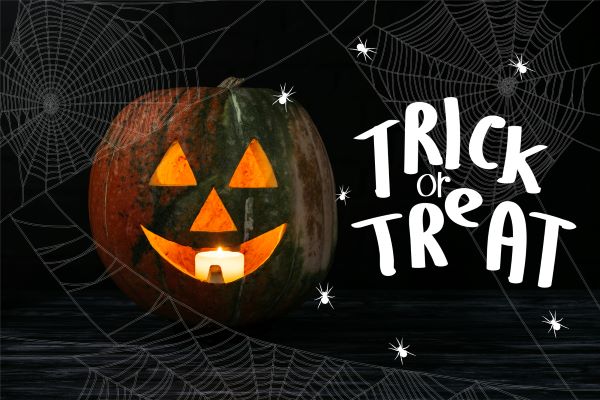 Calendar of Halloween events around Puget Sound
In the calendar list below, find free and cheap Halloween events and things to do around the Puget Sound region. We continue to add events through the month of October as details become available.
Friday, March 31, 2023