Jazz Alley eagerly anticipates the return to live music shows. As much as they wanted to open during 2020, conditions dictated that it would be unwise to do so. The music calendar is filled with artists waiting to return in 2021 as soon as it is safe to do so. Please know they've gone to great lengths in preparation, with nine HVAC units that now include new state of the art "Plasma Air Ionizers" which clean our air constantly, plus massive "Air Handlers" that circulate six tons of outside air continuously. More info: Dimitriou's Jazz Alley safety preparations
Jazz Alley has already scheduled a full calendar of great artists in the completely re-vamped showroom. Your experience will be spacious and welcoming with great food, cocktails, and your fill of soul feeding music, all while complying with healthy and safety measures.
Jazz Alley hopes that all "Alley Cats" are safe, healthy, and getting ready to get back into the swing of things. Become an Alley Cat to enjoy advance concert notice, discounts, and special invites.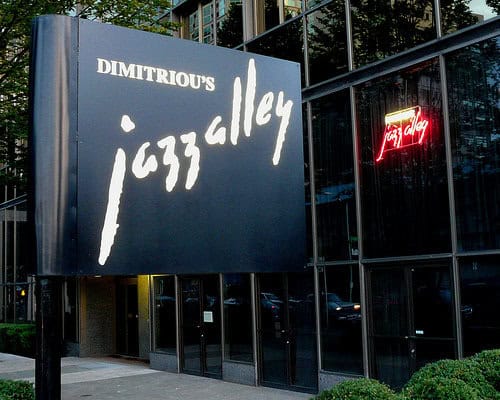 A message from Jazz Alley
Jazz Alley has taken steps to safeguard customers, staff, and artists, reaffirming a commitment to live music performance we all love. In order to re-open, the owners and staff have worked to make the space more-than-compliant will all safety guidelines and recommendations.
Upgrades to the club to include:
When patrons are not seated, they will be required to wear a face mask.
Revised seating configuration to provide more space between tables
New booths in the main section of the room with adequate spacing
Removal of excess tables and chairs for better mobility within the room
Complete remodel of bar area with new fixed seating to comply with social distancing
Plastic privacy shields throughout the club, on stage, and at the Host/Hostess stations
"Hands free" faucets and soap dispensers in our restrooms, and other public and staff areas
New air ventilation system to ensure constant fresh and filtered outside air
Staff trained in specific and ongoing sanitation protocol
Added a designated COVID-19 compliance officer to the team
Clear signage for all customers to include specific procedures for check-in upon arrival
With these changes in place, Jazz Alley is excited to return to presenting world class, uplifting music (soul food) to the community once again. The club is coming back stronger than ever.
About Jazz Alley
Dimitrou's Jazz Alley is a fixture of the West Coast and Seattle live music and dining scene, family owned and operated since 1979.
Towering figures in the world of jazz have played there, including stars such as Dizzy Gillespie, Oscar Peterson, Betty Carter, Bill Evans, Burt Bacharach, Judy Collins, Kenny G, Poncho Sanchez, Taj Mahal, Diane Schuur, John Mayall, Earl Klugh, and Bill Frisell.
Over the years, the club has been remodeled to add a state of the art sound system, expanded stage, and orchestra pit style tiered floor, while maintaining the original bistro ambience that continue to make Jazz Alley an intimate experience.
Jazz Alley has been in Seattle for 40 years and plans to be here another 40! More info: https://www.jazzalley.com/
Jazz Alley live music shows 2021
For a complete list of upcoming live music shows, visit the Jazz Alley calendar: https://www.jazzalley.com/www-home/calendar.jsp.
For live music shows around the Puget Sound region, check our live music calendar below.
But wait, there's more!
Love our cheap ideas? Get our FREE email newsletters. Choose from daily, weekly, and monthly lists. Click here to subscribe.
Calendar of live music events
The following calendar list includes upcoming live and live stream music events in all genres. We update music events on a rolling basis all year long. We also try to have several free and low cost live music events on the calendar every weekend.
Wednesday, May 12, 2021
Friday, May 14, 2021
Saturday, May 15, 2021
Sunday, May 16, 2021
Monday, May 17, 2021
Tuesday, May 18, 2021
Wednesday, May 19, 2021
Thursday, May 20, 2021
Friday, May 21, 2021
Sunday, May 23, 2021
Wednesday, May 26, 2021
Friday, May 28, 2021
Sunday, May 30, 2021
Wednesday, June 2, 2021
Friday, June 4, 2021
Sunday, June 6, 2021
Wednesday, June 9, 2021
Friday, June 11, 2021
Sunday, June 13, 2021
Wednesday, June 16, 2021
Friday, June 18, 2021
Sunday, June 20, 2021
Wednesday, June 23, 2021
Sunday, June 27, 2021
Wednesday, June 30, 2021
Friday, July 2, 2021
Sunday, July 4, 2021
Wednesday, July 7, 2021
Friday, July 9, 2021