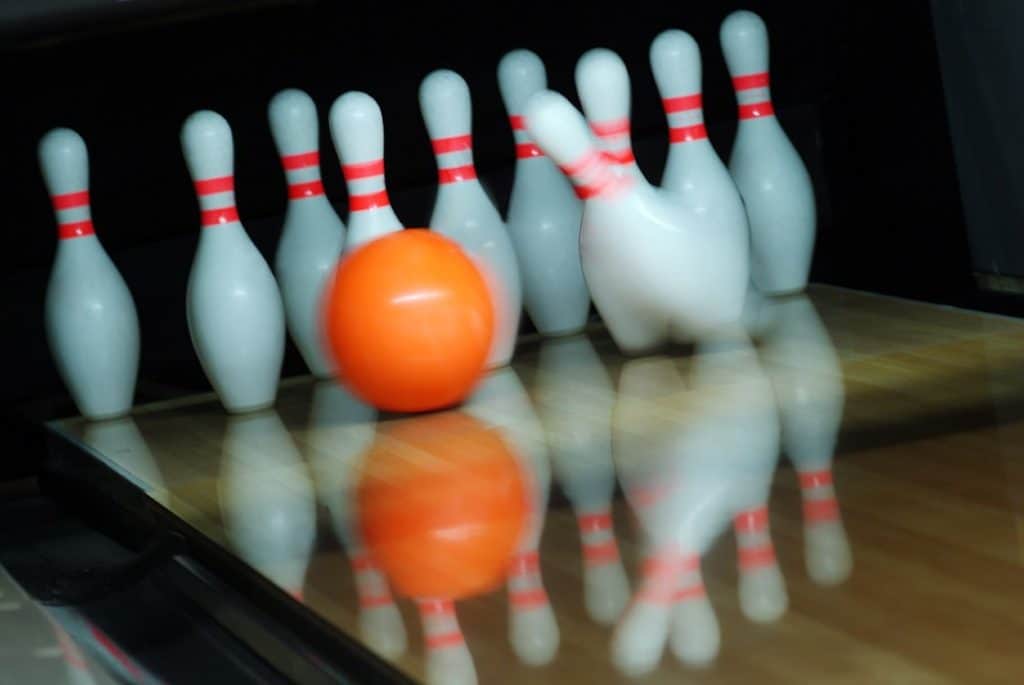 Bowling centers, schools, and other community organizations have worked together to provide affordable bowling to kids and families.
It's a great summer actitivty designed by bowling centers to give back to the community and to provide a safe, secure, and fun way for kids to spend time this summer.
About Bowling
Bowling is played by millions people around the world.
There are two types of bowling: pin bowling and target bowling. In the U.S., when someone talks about "bowling", they usually mean pin bowling, specifically 10-pin bowling.
In pin bowling, the goal is to use one large (volleyball-size) ball to knock over (often 10) pins at the end of the bowling lane. Today, pin bowling is most often played indoors on wooden bowling lanes and scoring is electronic. Indoor bowling in ordinary shoes isn't permitted, because it can damage the lanes. This is the type of bowling in the Kids Bowl Free summer program.
Pin bowling may also be played outdoors. Locally, you can enjoy lawn bowling with the Jefferson Park Lawn Bowling Club, located in south Seattle on Beacon Hill.
In target bowling, the aim is throw a few small (baseball-size) balls as close as possible to a small target (a ball or puck), or closer than any of your opponents' balls. Games of this type include bocce, pétanque, and boules. Target bowling is often played outside on grass or gravel. But it can also be played indoors on a wood or synthetic court or table, as well as on ice, as in the sport of curling.
About Kids Bowl Free
Select bowling centers and schools around the country participate in the Kids Bowl Free program. In conjunction with the Kidsbowlfree.com program, the Family Pass was created to allow adult family members enjoy bowling during summer as well.
Eligible children may register for TWO free games EVERY day, all summer long, courtesy of the participating bowling centers.
Some bowling centers include bowling shoes and some offer a discount or pass. But each center is different. (Remember, 10-pin indoor bowling cannot be played in street shoes.)
It's easy to sign up your children up for bowling all summer long. Just find your nearest bowling center and complete the registration form online. Over 14 million kids have participated.
Listed below are participating bowling centers in cities around the Puget Sound region and in Seattle. To find another bowling center, click here for a list of all participating bowling centers in Washington state.
Kids Bowl Free in the Puget Sound region
Click the bowling center link for more information.
(Listed alphabetically by city.)
Anacortes: San Juan Lanes
Burien: Hi-Line Lanes
Everett: Evergreen Lanes
Everett: Glacier Lanes
JBLM: JBLM-Lewis Bowl Arena Lanes
JBLM: JBLM-McChord Sounders Lanes & Family Cent
Kenmore: Kenmore Lanes
Lakewood: Bowlero Lanes
Lynnwood: Lynnwood Bowl and Skate
Mt Vernon: Riverside Lanes
Oak Harbor: Oak Bowl
Oak Harbor: Convergence Zone
Olympia: Aztec Lanes
Puyallup: Daffodil Bowl
Shoreline: Spin Alley Bowling Center
Tacoma: Bowlero Lanes
Tacoma: Chalet Bowl
Tacoma: Paradise Lanes
Tacoma: Tower Lanes
Yelm: Prairie Lanes
Kids Bowl Free in Seattle
West Seattle: Roxbury Lanes
West Seattle: West Seattle Bowl
But wait! There's more. Adults can bowl free, too!
In conjunction with the Kidsbowlfree.com program, the Family Pass was created to allow adult family members enjoy bowling during summer as well.
After you register your children for free summer bowling, you will have the opportunity to purchase a Family Pass. The Family Pass covers up to 4 adults for the entire summer and is a tremendous value. The family pass is a one time payment. It's not per person, per week or per month. You pay just a single payment and you can get 2 Games free all summer long for up to 4 adults during your centers Kids Bowl Free hours.
Cowabunga, that's a great deal.