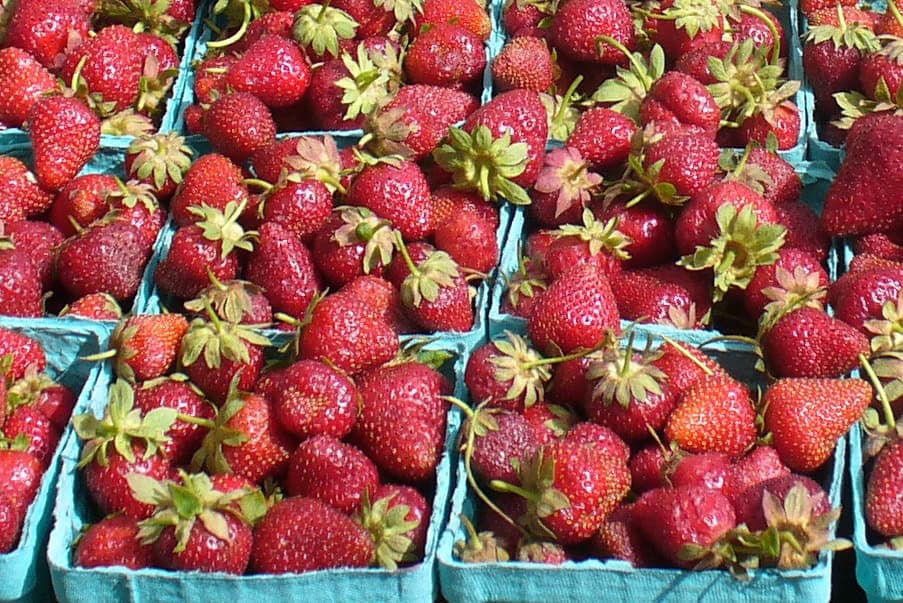 Strawberries are synonymous with summer. Red, ripe, juicy and delicious, who doesn't dream of strawberry shortcake, strawberry ice cream, fresh strawberry pie, smoothies and more!
About Washington State Strawberries
One of the first things to know about strawberries that grow in Washington State is that they are nothing like California strawberries typically found in grocery stores. By comparison, Washington State strawberries are small, deep-dark red, extremely fragile (spoil quickly), but very juicy and jam-packed full of flavor (pun intended). This is primarily because Northwest strawberries are mostly grown for the commercial, and especially the frozen food market. Our berries go straight from the field to the processing center and into large containers bound for the commercial market.
Some of the best strawberry varieties for growing in Washington State include (both June- and ever-bearing): Hood, Nanaimo, Puget Reliance, Quinault, Rainier, Selva, Shuksan, Tillicum, Totem, Tribute, and Tristar. But there are others, so go with the ones you see at a Puget Sound farmers market or u-pick farm. Find out more about strawberries in Washington State from the Washington State University Research Center for Northwestern Washington in Mount Vernon.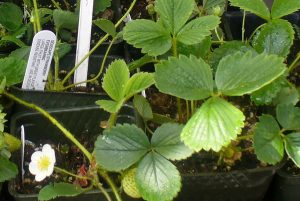 There are generally two types of strawberries: June-bearing and everbearing. The season for June-bearing Washington strawberries is relatively short–just 2-4 weeks in June. Like all fresh fruits and vegetables, strawberries are very weather dependent. In a "normal" year, Washington State June-bearing strawberries are ripe for picking from the middle to the latter part of June. But the season can start earlier or later, or go short or long, depending on the whims and vagaries of Mother Nature. Everbearing varieties of strawberries are usually available earlier in June and again in late summer.
A short history of Washington State Strawberry Growers
Washington State strawberry history goes back a ways. Commercial strawberry production began in the Pacific Northwest in the 1830s.
In the first part of the 1900s, Japanese farmers on Bainbridge Island (and later in Skagit Valley) adapted intensive cropping practices to supply the Seattle market. Their farming was interrupted in World War II when Japanese-Americans were interned in Labor Camps after President Roosevelt signed Executive Order 9066 to evacuate these American citizens from the West Coast.
Read more about Washington State strawberry history here.
Puget Sound strawberry festivals:
June 15 – 17, 2018 Marysville Strawberry Festival
Marysville Strawberry Festival is a volunteer run, scholarship and community festival, complete with a grand parade (Saturday evening on State Street) and kiddies parade, car show, carnival, vendors, beer garden.
June 16, 2018 Burien Wild Strawberry Festival
Burien Wild Strawberry Festival is a longstanding  community festival to celebrate summer with booths, derby races, corn hole tournament, Strawberry Beer Garden, and live music. Burien Town Square Park, 480 SW 152nd St, Burien, WA 98166.
June 23 – 24, 2018 Bellevue Strawberry Festival
Bellevue Strawberry Festival is a an old Bellevue tradition, dating back to when strawberry farming was one of the region's most famous activities. The festival celebrates with plenty of family fun. You are likely to see a strawberry or two (such as shortcake eating contests, strawberry flats, chocolate covered strawberries, …) along with historical and agricultural display, games, clowns, face painting, touch-a-truck, live music and entertainment, plenty of food and vendor booths, strawberries and more strawberries. Held the 3rd weekend in June at Crossroads Park, NE 8th St and 164th Ave NE, Bellevue WA. Free Shuttle Service from Highland Middle School (150th & Bel-Red Road) and Sherwood Forest Elementary School (164th Ave & NE 24th).
July 20 – 22, 2018 Vashon Island Strawberry Festival
Vashon Strawberry Festival includes Saturday kids and grand parades (11AM), classic car show (and Sunday morning parade), plus food, alternative carnival, local artists, vendor booths, live music, beer garden, children's activities and other fun (pancake breakfast, a fun run, firefighter's challenge, the Miss Lucy Dinner).
You might also like:
Where to find food trucks in Seattle and the Puget Sound region