In 2013,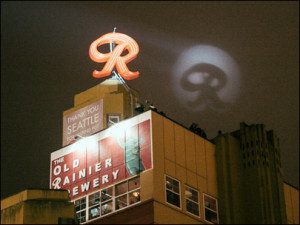 Seattle celebrated the permanent return of the nostalgic Rainier 'R' atop the Old Rainier Brewery building in the city's southern Industrial District.
Once a thriving brewery, The Old Rainier Brewery is now a Historic Landmark building located in the heart of the SODO district (South Of DOwntown Seattle). The newly renovated complex offers a variety of spaces and uses that are available for lease.
The nearly 1,100-pound sign contains 235 light bulbs on each side. The original R sat perched on the brewery for nearly 50 years, lighting the Seattle sky and serving as a recognizable landmark to visitors and residents alike.
But the Rainier R sign came off the building in 2000, and for a time could be seen at MOHAI–Seattle's Museum of History and Industry on Lake Union.
Rainier worked with MOHAI and Seattle sign company Western Neon to produce an exact replica of the original R. The restoration project was paid for through a partnership between Rainier and Columbia Distributing.
"We're so proud to have been able to bring the R back to the Seattle skyline," said Dan McHugh, chief marketing officer for Pabst Brewing Co., owner of Rainier.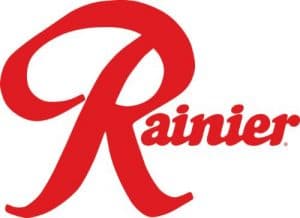 Rainier Beer dates back to 1878, 11 years before Washington became a state.
By 1904, Rainier had become so popular that the Seattle Brewing and Malting Company—brewers of Rainier at the time—was the largest brewery west of the Mississippi.
By 1912, it was the 6th largest brewery in the world. It is this fabled history that lives in each can, bottle and pint of Rainier beer today.
In 1999, the Rainier brand and recipe were bought by Pabst Brewing. Rainier is still made with pure spring water, golden barley and Yakima Valley hops. It can be found in stores, restaurants and bars throughout the West.